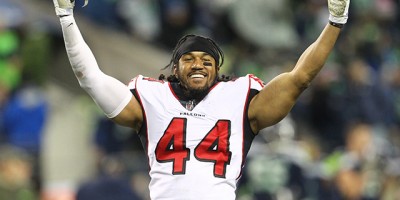 Vic Beasley Jr. celebrates after Atlanta's win at Seattle. Credit: Atlanta Falcons
The Falcons traveled to Seattle this week for their Monday night primetime showdown against the Seahawks. After last week's domination over the Cowboys, the Falcons looked as if they had returned to form. Their successful style of play didn't end there, and carried over to week 11. Seattle, normally a defense feared by all opponents, were weakened by the absence of safety Kam Chancellor and star cornerback Richard Sherman. The missing Legion of Boom left the door wide open for the Falcons to take advantage of the beaten-down defense, and they were able to best the Seahawks 34 to 31 thanks to a Blair Walsh game-tying 52-yard field goal attempt that fell just short of the crossbar.
The Falcons have undeniably picked up speed during the back half of the season. NFL's Michael Silver says Matt Ryan is responsible.
Dan Quinn likes what he saw from his team.
AJC's D. Orlando Ledbetter breaks down Matt Ryan's post game discussion about his team.
Mohamed Sanu is making strides to show that he is more than just a complementary receiver to Julio Jones.
Sports Illustrated's Conor Orr breaks down just how important the Falcons win over the Seahawks was.
The Falcons will look to continue their success to keep their playoff dreams alive. Falcons Wire Tim Weaver takes a look at Monday's game and points out some key takeaways.
The Falcons will host the Tamp Bay Buccaneers this coming Sunday in Mercedes-Benz Stadium. The Bucs will be without quarterback Jameis Winston, giving the defense increased opportunities to shut down the opposing offense. A win this week could keep on the ball rolling towards a Falcons playoff appearance.