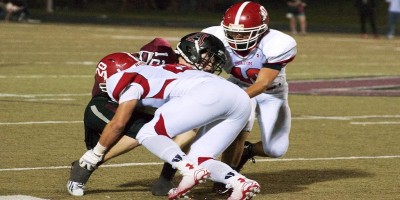 Milton Football
On the gridiron, the Milton Eagles hosted the Alpharetta Raiders in the Freedom Bowl, the official season opener for both teams.
After a defensive first quarter, the score remained 0-0 before Milton finally put points on the board with a 37-yard field goal from senior kicker Sam Riches early in the second. More defensive play led to three-and-outs from both teams, but with the half approaching Milton successfully converted two third downs to extend an Eagles' drive. Now in the red zone on fourth and six with the clock winding down, the Eagles we're denied by the Raiders to keep the deficit at 3 as the first half came to a close.
With 7:38 left in the third, Milton's senior running back Ahmad Junearick rushed one yard into the end zone for the first touchdown of the game, extending the Eagles' lead to 10. Junearick continued to be the life of the Milton offense, rushing 58 yards into the end zone just over three minutes later to keep up the scoring spree. With :06 left in the quarter, Junearick once again pulled through with a 28-yard rushing touchdown to give Milton a 24-0 lead heading into the fourth.
The fourth quarter was a continuation of the third-quarter dominance from Milton. The Eagles found the end zone three more times, once on the back of senior offensive lineman Paul Tchio who found pay dirt following a 1-yard rush set up by a fumble recovery.
The 45-0 victory over Alpharetta is just the start the Eagles were looking for as they now prepare for an upcoming game against Buford.
The remaining fall sports scores are below.
Football
Hardaway 52, Kendrick 28
Jeff Davis 22, Windsor Forest 14
Milton 45, Alpharetta 0
Murray County 28, Southeast Whitfield 14
Shaw 47, Northside-Columbus 26
South Atlanta 54, Druid Hills 0
Woodland-Stockbridge 36, North Clayton 16
Softball
Alcovy 6, Grovetown 3
Apalachee 12, Lanier 0
Baconton Charter 13, Miller County 1
Bowdon 5, Darlington 1
Brookwood 7, Norcross 0
Cairo 8, Columbus 5
Calhoun 10, North Murray 1
Calvary Day 6, Jenkins County 0
Camden County 5, Tift County 1
Camden County 7, Tift County 2
Central-Carroll 13, Sandy Creek 1
Chamblee 15, Miller Grove 1
Chattahoochee 21, Northview 4
Chattahoochee County 24, Randolph-Clay 13
Citizen's Christian 23, Valdosta 12
Collins Hill 10, Peachtree Ridge 2
Creekview 15, Osborne 0
Creekview 16, Osborne 0
Dacula 15, Winder-Barrow 2
Denmark 17, West Hall 3
Dodge County 9, Bleckley County 0
Dougherty 20, Americus-Sumter 1
Dunwoody 6, Alpharetta 2
Flowery Branch 5, Marist 3
Franklin County 13, Monroe Area 5
George Walton Academy 12, Providence Christian 0
Georgia Military 12, Glascock County 0
Harrison 11, Allatoona 2
Heritage-Catoosa 8, Gilmer 0
Jackson 11, Central-Macon 3
Jefferson County 11, Westside-Augusta 1
LaFayette 8, Northwest Whitfield 0
Lambert 9, West Forsyth 0
Lanier County 11, Clinch County 3
Lee County 15, Northside-Warner Robins 0
Lincoln County 19, Greene County 1
Lovejoy 13, Morrow 2
Marion County 4, Crawford County 3
McIntosh County Academy 8, Claxton 7
Mill Creek 7, Duluth 1
Milton 4, South Forsyth 2
Mt. Pisgah Christian 3, Mt. Paran Christian 2
Newnan 9, Troup County 1
Newton 4, Shiloh 2
North Gwinnett 5, Mountain View 0
North Springs 19, Douglas County 7
Northgate 15, Mays 0
Pataula Charter 16, Calhoun County 1
Pelham 25, Terrell County 8
Pierce County 13, Liberty County 1
Pike County 19, Peach County 4
Pope 15, Centennial 0
Ringgold 7, Coahulla Creek 0
Rockmart 6, Dade County 4
Rutland 14, Westside-Macon 2
Salem 17, North Clayton 1
Schley County 5, Brookstone 1
Social Circle 9, Rabun County 0
Sonoraville 11, Murray County 5
South Effingham 9, Wayne County 0
South Paulding 15, Langston Hughes 0
Stephens County 11, St. Pius X 5
Stratford Academy 16, Twiggs County 0
Strong Rock Christian 10, Mt. Vernon Presbyterian 1
Tattnall Square 3, Academy For Classical Education 0
Taylor County 15, Manchester 2
Telfair County 12, Irwin County 0
Terrell Academy 18, Crisp County 4
Thomasville 13, Early County 0
Tiftarea Academy 3, Valwood 2
Trion 5, Mt. Zion, Carroll 2
Union County 15, Putnam County 0
Upson-Lee 12, Mary Persons 4
Veterans 8, Bainbridge 3
Vidalia 13, Swainsboro 1
Ware County 11, New Hampstead 2
West Laurens 7, Howard 2
Woodland-Cartersville 12, Rome 0
Worth County 19, Monroe 1
Volleyball
Arabia Mountain 2, Heritage-Conyers 0
Arabia Mountain 2, Stephenson 0
Calhoun 2, Kell 0
Central-Talbotton 2, Heard County 0
Chamblee 3, Chattahoochee 1
Chattooga 2, Woodland-Cartersville 0
Colquitt County 2, Americus-Sumter 0
Douglas County 3, Jackson 0
Dutchtown 2, Jackson 0
Eagle's Landing Christian 2, Stratford Academy 0
East Hall 2, Eastside 0
East Jackson 2, Monroe Area 0
Eastside 2, Johnson-Augusta 0
Fannin County 2, Coahulla Creek 0
Fannin County 2, Stephens County 0
Gainesville 2, North Forsyth 0
Glynn Academy 2, Brunswick 0
Glynn Academy 2, Effingham County 0
Greater Atlanta Christian 2, Lanier 1
Harris County 3, Houston County 0
Hebron Christian 2, George Walton Academy 0
Hebron Christian 2, Pinecrest Academy 0
Kell 2, Gilmer 0
LaFayette 2, Rome 0
LaFayette 2, Sonoraville 0
Morrow 2, Riverdale 0
Morrow 2, Washington 0
North Cobb Christian 2, North Cobb 1
North Cobb Christian 2, Wheeler 0
Oconee County 2, Hart County 1
Oconee County 2, Prince Avenue 0
Pepperell 2, Chattooga 0
Prince Avenue 2, Hart County 0
Richmond Academy 2, Westside-Augusta 0
Troup County 3, Shaw 1
Union County 2, Eastside 1
West Hall 2, Rabun County 0