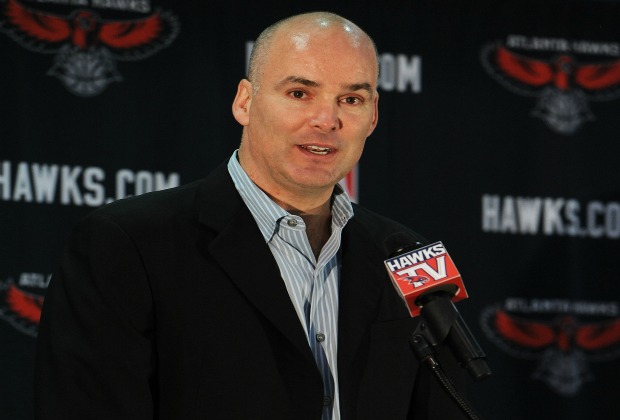 Atlanta Hawks
The Atlanta Hawks re-signed Ivan Johnson, one of their key pieces from last season's postseason run to a new contract. The terms of the deal are undisclosed, but it is presumably a multi-year deal since this comes little over a week after Johnson signed his restricted free agent offer sheet.
Johnson provided quite the spark off the bench last season and was the rookie of the month in April when he averaged 10.7 points, 5.9 rebounds, 1.8 blocks and 1.5 steals per game in 11 appearances. Johnson was vital to the Hawks being able to overcome Al Horford's injury early in the season, and was thrust into the regular rotation and exceeded expectations. Johnson was never a great offensive weapon, but he was stellar defensively and played at a high energy level at both ends of the floor.
GREAT SCOTT
Second-round pick Mike Scott signed his rookie contract recently which makes him an official member of the Hawks. Scott impressed in Summer League with his defense, rebounding skills and shooting ability. A little undersized at 6-foot-8, Scott makes up for his lack of height at the power forward spot by playing with a lot of energy. He crashes the boards with reckless abandon much in the way DeJuan Blair of the Spurs or Kenneth "The Manimal" Faried of the Nuggets do. Scott should figure into the regular rotation as a nice bench option for Larry Drew when he needs a spark, much like Ivan Johnson last year.
SO LONG
The Hawks have requested waivers on Jordan Williams, who was acquired this offseason from the Nets in the Joe Johnson trade. Williams did not figure much into the Hawks plans this season, and, by placing him on waivers, the Hawks cleared room for Johnson.
The current roster features 13 players, which leaves two open spots to be filled in training camp come October. The guard slots are filled up with seven guards on the roster currently and power forward slots are filled as well. True small forwards are the glaring omission from this Hawks team which means they will likely look to get two wing players in training camp to add to the final 15-man roster.