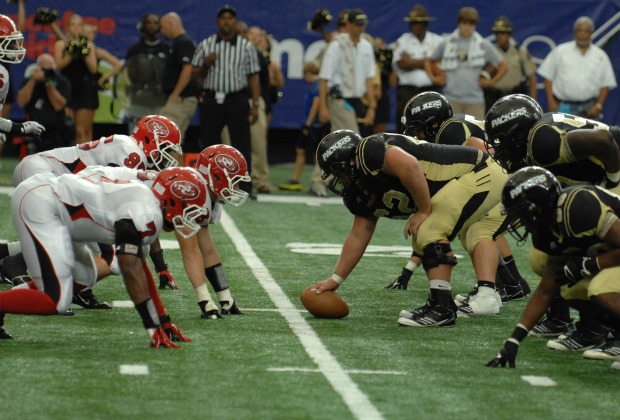 Sonny Kennedy
By Stephen Black, Sean Conway, Joe Deighton, Ricky Dimon, Alex Ewalt, Robby Kalland and Jay Underwood
Centennial got its first win of the season while GAC opened region play with a convincing win over Westminster. See our recaps below for more metro Atlanta football action.
Alpharetta 55, North Forsyth 21: The host Raiders had an interception by Michael Downing on North Forsyth's first drive. Josh Dobbs led the offense with five passing touchdowns. His top targets were Carlos Burse, who caught three touchdowns, and Rodney Morris and Daniel Clements, who each had one. Julian Macon, Sefohn Perry and Lem Cobbs added a rushing touchdown each.
Archer 23, Central Gwinnett 8: Sean Fowler scored a touchdown and led the visiting Tigers with 130 yards rushing. K.J. Parmer added 106 rushing yards for Archer and kicker Zach Wacholz finished out the scoring with three field goals. Eman Westmoreland scored on a 32-yard run and J.B. Ezzell added a safety for the Black Knights.
Brookwood 30, Shiloh 24: Brookwood built a 21-3 advantage then survived a furious second-half Shiloh rally to hang on for victory. Zach Moon threw touchdown passes of 60 yards to Colin Cotter and 25 yards to Jamaal Cole for the visiting Broncos. They also got a six-yard scoring run from Cole and three field goals from Brandon Morrow.
Centennial 26, Lambert 7: The Knights won their first game of the season as quarterback Chase Rosenberg hit receiver Christian Robinson on three touchdown passes in the first half from 21, 85 and six yards. Lambert scored their first-half touchdown on a 1-yard plunge by quarterback Brock Maxwell. Rosenberg threw for 190 yards, 145 of them to Robinson.
Chattahoochee 28, South Forsyth 24: After South Forsyth kicked a go-ahead field goal with two minutes remaining, Travis Marshall threw a 19-yard touchdown pass to Avery Ward with 17 seconds left to win it for visiting Chattahoochee. The Cougars first three scores came on strikes of 32, five and 29 yards from Marshall to Collin Lisa. Marshall threw for 403 yards, 259 of which went to Lisa.
East Coweta 24, Westlake 7: Visiting East Coweta opened the scoring in the second quarter with a 9-yard touchdown pass from Bryce Gemmel to Alex Portress. Westlake had a punt return for touchdown called back in the third quarter that would have brought the Lions to within three points.
Grayson 62, Berkmar 0: The Rams jumped out early on the host Patriots and cruised. The Rams scored 35 points in the first quarter and were up 42-0 at the half. Grayson's offense was led by running back Wayne Gallman who had 155 yards and one touchdown in the first half before the second unit went on the field.
Habersham Central 31, Meadowcreek 12: The Habersham Central running game was too much for visiting Meadowcreek as Sydnee Mulligan had 25 rushes for 197 yards and a 4-yard touchdown and Brandt Rinehart had 25 carries for 126 yards and touchdown runs of 7 and 48 yards. Juan Domingo hit a 37-yard field goal at the end of the first half to give the Raiders a 21-6 halftime lead.
Langston Hughes 34, Douglas County 7: The host Panthers jumped on top early and held a big lead throughout much of the second half. Langston Hughes was attempting to pitch a third straight shutout, but Douglas County quarterback Ellis Richardson scored a late touchdown on a short plunge to the end zone.
Lovejoy 50, Morrow 0: Lovejoy surged to a 42-0 halftime lead and coasted to victory over Morrow. Travis Custis led the visiting Wildcats with eight carries for 111 yards and three touchdowns, all in the first half. Montrell Custis added a 25-yard blocked punt returned for touchdown and Brandon Davis picked off a pass and took it 100 yards.
Marietta 56, Kennesaw Mountain 21: The visiting Blue Devils controlled the game from start to finish. Marietta had 362 total yards of offense and star quarterback Anthony Jennings went 9-of-11 passing for 205 yards and four touchdowns and also rushed for 57 yards on 12 carries including a touchdown. Marietta's defense added a pair of fumble recoveries for touchdowns.
Newnan 34, Tri-Cities 16: The visiting Cougars coughed up the football three times inside their opponents' five-yard line, including twice in the endzone. Tyler Mulvenna booted two field goals for Newnan and Tonaris Portress returned an interception for a touchdown.
Norcross improved to 7-0 on the season by defeating host Collins Hill 35-23 in a key Region 7-AAAAAA matchup. The Blue Devils got 300 rushing yards and three touchdowns from Alvin Kamara, who on the first play from scrimmage ran for an 80-yard scoring run. Kamara also had rushing touchdowns from 61 and 30 yards out.
In the second quarter, JaQuan Simpkins of Norcross had a 98-yard kickoff return for a score and Myles Autry took a Joseph Wilber screen pass 50 yards for a touchdown. Collins Hill (4-2) suffered its first region loss of the season.
North Gwinnett 47, Mill Creek 28: Quarterback Michael Haynes led the visiting Bulldogs by completing 19-of-30 passes for 247 yards and four touchdowns. Haynes rushed for 116 yards on 20 carries, while Cam Lewis added 118 yards and two touchdowns for North Gwinnett. Bulldogs' wide receiver Nate Brown pitched in with seven catches for 97 yards and two touchdowns.
Peachtree Ridge 34, Mountain View 12: The visiting Lions coasted to victory over Mountain View thanks to a big night by running back Jordan Ellis, who scored three touchdowns and rushed for 232 yards on 30 carries. Connor Rouleau added two field goals for Peachtree Ridge.
Rockdale County 21, Luella 20: The Bulldogs needed a gutsy decision and some tough running to squeak past visiting Luella. Kentavius Preston scored his second touchdown with under two minutes to play to pull Rockdale County within one point of Luella. Head coach Venson Elder then elected to go for the win, and Preston rushed for the two-point conversion and deliver the thrilling home win.
AAAAA
Creekview 56, Northview 42: Hayden Hall threw four touchdown passes to help visiting Creekview improve to 5-1. Hall had three scoring passes in the first quarter, two to Hunter Udall for 88 and 30 yards and one to Will Kirby for 49 yards. Kirby caught a second touchdown pass from Chandler Wold on a halfback pass. Wold also had a 28-yard touchdown run.
Forsyth Central 42, Cambridge 13: Michael Branigan and C.J. Cochran each had two rushing touchdowns against visiting Cambridge. Branigan scored on runs of 69 and 1 yards, and Cochran found the end zone from 43 and 13. Shay Hollis and Jake Gorczyca also rushed for touchdowns for the Bulldogs.
Heritage-Conyers 23, Clarke Central 20 (OT): The Patriots erased a 10-0 halftime deficit to defeat the visiting Gladiators. The Patriots tied the game with 3:20 to play on a 28-yard touchdown pass from Isaiah Spencer to Ryan Phillips. Heritage held Clarke Central to a field goal in overtime and won it on a Myron Fears touchdown run.
Sequoyah 50 North Springs 8: The host Chiefs used a committee of running backs to cruise past North Springs on homecoming. Blake Ingleton rushed for two touchdowns and caught a scoring pass from Trenton Dorner. Jake Jensen and Stuart Glassic also added two rushing touchdowns apiece. Sequoyah held the Warriors to negative yardage in the first half.
Sprayberry 24, Riverwood 21: Sprayberry jumped out to a 21-0 halftime lead then held on when Riverwood missed a field goal in the final seconds. The host Yellow Jackets got fumble returns for touchdowns by Shane King and Sawyer Page, with both fumbles being forced by Tevin Moore. Shane Young scored on a quarterback sneak for Sprayberry and Rodrigo Blankenship added a 43-yard field goal.
Villa Rica 21, Lithia Springs 7: The Wildcats used an opportunistic defense and a clock-burning ground game to beat visiting Lithia Springs. On defense, Villa Rica recovered two fumbles and intercepted two passes. On offense, running back Jaylon Cox rushed for two touchdowns and 125 yards on 26 carries and quarterback Kevin Martin also rushed for a score.
Whitewater 48, McIntosh 13: The visiting Chiefs fell to Whitewater after falling behind 34-0 at the half. The Wildcats rushed their way to the win, led by Kendall Conley. Conley had 260 yards and four touchdowns, two of which were 80 yard runs and another that went for 70 yards. Colton Clemons added two interceptions, returning one 50 yards for the score.
AAAA
Banneker 36, South Atlanta 22: James White completed 13 of 17 passes for 257 yards and three touchdowns to lead Banneker past South Atlanta. Quandarius Lee, Jahmmir Taylor and Antonio Todd hauled in the scoring strikes. The visiting Trojans also got 178 yards and two touchdowns on 16 carries from running back Jalen White.
Marist 40, Lithonia 14: The host War Eagles sprinted away from Lithonia in the second half, outscoring the Bulldogs 19-0. Grey King had touchdown runs of 71 and 18 and Griffin King, Myles Willis, Steven Wallace and Matt Perez also scored touchdowns for the War Eagles. Lithonia quarterback Franco Turner ran and passed for touchdowns.
North Clayton 19, Upson-Lee 14: The visiting Eagles trailed 14-13 late in the fourth quarter until running back La'Darrius Mathis scored on a touchdown run to give North Clayton its first win of the season. Upson-Lee kept North Clayton off the scoreboard early by intercepting a pass for a touchback, but was unable to stave off the late Eagles rally.
Sandy Creek 51, Shaw 26: The host Patriots received big contributions from running backs Eric Swinney and Maceo Brown, as they combined for four touchdown runs. Khari Lain pitched in with an interception for a touchdown and Mitchell McMillin connected on a school-record 54-yard field goal for victorious Sandy Creek.
Woodland-Stockbridge 23, Locust Grove 14: The host Wolfpack were led by Malcolm Miller, who carried the ball 23 times for 136 yards and two touchdowns. Quarterback Taylor Poss threw for 182 yards and a score. The Wolfpack defense paced the game with three interceptions by Romairo Minter, Malik Wallace and Mark Bussey.
AAA
Blessed Trinity 28, Decatur 14: The host Titans rolled up a 21-0 halftime edge behind touchdown runs from quarterback Spencer McManus (1 yard), Milton Shelton (40) and Tim Mertz (9). McManus completed 7-of-12 passes for 112 yards and tacked on another rushing score in the second half. The Blessed Trinity defense intercepted three Decatur passes.
Buford 49, White County 14: The visiting Wolves carved up the White County defense for 358 rushing yards and 443 yards of total offense in a runaway victory. Running back Dontravious Wilson scored two touchdowns in the first half for Buford. Quarterback Will Brock scored two touchdowns on carries of four and 31 yards for the Warriors.
Woodward Academy 62, Towers 6: The host War Eagles got eight touchdowns from eight different players in rolling past Towers. Quarterback Terry Googer threw two touchdown passes, and Benji Russell and Marcus Hyatt both had interception returns for scores. Alex Robinson connected on field goals of 31 and 22 yards.
AA
Greater Atlanta Christian 30, Westminster 0: Greater Atlanta Christian took care of Westminster in the Region 6-AA opener for both teams. The Spartans raced to a quick start behind first-half touchdown runs of one yard and 31 yards from Kyle Scales.
A decisive blow was struck just before halftime when Darius Slayton picked off a Wildcat pass in the endzone and returned it 49 yards. Rafe Chapple promptly connected with Chris Williams on a 60-yard scoring pass one play later. Chapple added a five-yard touchdown run midway through the fourth quarter to deliver the winning margin.
Wesleyan 37, Hapeville Charter 20: Will Anderson threw four touchdown passes — three to Jahmai Jones and one to Charles Mack — to lead visiting Wesleyan to a win in its Region 6-AA opener. The Wolves led 34-6 late in the third quarter, and a Rhett Delk field goal capped Wesleyan's scoring. Miles Smith had a 1-yard rushing score.
A
Athens Christian 41, Hebron Christian 14: The host Eagles were led to victory by Taylor Hardigree. The sophomore had four touchdowns and 170 rushing yards including runs of 80 and 60 yards for scores. The Eagles' defense also performed well with four interceptions.
Holy Innocents' 23, Our Lady of Mercy 17: With the host Bobcats driving to tie the game with less than a minute to play, safety Jason Grimes intercepted a pass to save the game for Holy Innocents'. Running back Clay Pfohl scored on runs of 38 and 80 yards for the Golden Bears.
Landmark Christian 49, Strong Rock Christian 0: The host War Eagles dominated the Patriots from start to finish. Landmark Christian had 420 total yards of offense, rushing for 259 yards and passing for 161. The War Eagles led by running back Jeremiah Kirkland, who rushed for 155 yards and four touchdowns.
Mt. Pisgah 35, King's Ridge Christian 26: Quarterback Aaron Winchester led the host Patriots by completing 8 of 14 passes for 189 yards and four touchdowns. Rondy Brownlee started the scoring for Mt. Pisgah with a 15-yard touchdown catch. Defensive end Shingirai Chigwere tallied 18 total tackles and Austin Harper scored on a two-yard run for the Patriots.
Walker 54, Fellowship Christian 7: The Wolverines dominated the host Paladins. Evan Kasian rushed for 282 yards and four long touchdowns of 19, 45, 21 and 46 yards respectively. Special teams came up big for the Wolverines who blocked a punt, returned a punt 54 yards for a touchdown and kicker Mitch Van Den Eynde made seven extra points and two field goals.
Whitefield Academy 14, Mount Paran 3: Despite losing two fumbles, an interception and totaling only nine first downs, the WolfPack defeated host Mount Paran. Everett Pollard and Sky Dupree each scored rushing touchdowns in the second quarter for Whitefield Academy. Mount Paran outgained Whitefield Academy 273-187 yards, but turned the ball over four times.