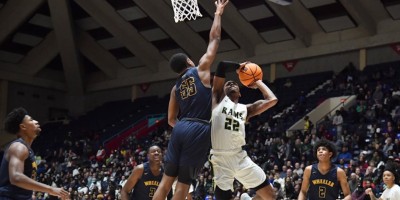 In boys Class AAAAAAA, Wheeler's championship clinching victory over nationally-ranked Grayson gives the Wildcats the top spot. The Rams come in at No. 2 with a 30-2 overall record and Shiloh, Milton and McEachern make up the rest of the top 5.
Chattahoochee is No. 1 in Class AAAAAA after defeating Lanier for the program's first-ever state title and Class AAAAA state champion Dutchtown reached the top of the poll for the first time.
Woodward Academy leads the Class AAAA top 10 and Sandy Creek is No. 2 ahead of No. 3 Cross Creek, which makes the Patriots the only non-finalist to finish No. 2.
Four defending champions on the girls side– Westlake, Buford, Douglass-Atlanta and Holy Innocents' – finish the season at the top of their respective classes after successful title defenses after a weekend of games at the Centerplex in Macon.
In the state's highest class, Westlake has won the girls basketball championship for three-straight seasons after its convincing 72-53 victory over Collins Hill. The Lions controlled all aspects of the game and consistently build its lead over four quarters. Westlake led 11-9 after the first quarter, 28-18 at the half and 52-38 entering the fourth quarter. Westlake's TaNiya Latson, a sophomore guard, and Raven Johnson, a junior guard, each scored 23 points in the romp. Collins Hill finishes at No. 2 ahead of Cherokee, Campbell and North Forsyth.
In Class AAAAAA, Forest Park's Sania Feagin and Joi Reid combined for 21 points to lead the Panthers to its first state championship since the program won a Class AAA title in 1970. The victory — in which Forest Park led 13-2 after the first quarter and 21-13 at the half and 34-22 entering the fourth quarter – was delivered to eight-year coach Steven Cole. Saturday was his birthday. In the end, Feagin – a top-recruit for the class of 2021 and recently named the Gatorade girls player of the year – scored 10 points on 3-of-6 shooting from the field and 4-of-9 shooting from the free-throw line. Glynn Academy finished second ahead of Valdosta, Langston Hughes at Dacula.
In Class AAAAA, Buford's latest state championship – following its 66-63 victory over Kell – marked the most difficult victory the Wolves have faced since its 44-43 victory over Carrollton in the 7-AAAAA region championship. The win in this game – to capture its fourth title in a row and eighth overall – was by far its most difficult championship victory for Buford. Last year, the Wolves beat Villa Rica 67-59, in 2017-18 it beat Flowery Branch 60-49 and in 2016-17, it defeated Southwest DeKalb 60-42. Kell finished at No. 2 ahead of Eagle's Landing, Jones County and Woodland-Stockbridge.
Americus-Sumter outscored Troup 17-9 in the first quarter and 20-14 in the fourth to take advantage as the Panthers capture its second title and first since 2016. Before becoming Americus-Sumter, Americus won a Class A title in 1966. Troup finished second ahead of Luella, Carver-Columbus and Spalding.
Kaleigh Addie led Greater Atlanta Christian to its ninth state championship – first since 2007 – while finishing with a game-high 28 points and capping off a season where pre-region preparation paid dividends for the Spartans. In its first 13 games, the Spartans lost nine. Those nine losses included teams in the championships games from AAAAA (Buford, 59-25), A-Private (Holy Innocents', 60-54). It also included semifinalists from Class AAAAAAA (Campbell, 61-47), A-Private (Hebron Christian, 59-31/Wesleyan 59-44) and AAA (North Hall, 49-48). Johnson, the two-time defending champions, finished No. 2 ahead of Beach, Jefferson and North Hall.
Douglass successfully defended its 2019 championship in part by a scoring flurry in the second and third quarters where the Astros outscored Southwest-Macon 29-17 after trailing 13-12 following the first quarter. Southwest-Macon led early – its largest lead by five points with 4:17 left in the first quarter – but Douglass responded to lead 27-21 at the half. Southwest-Macon finished second ahead of Rockmart, Early County and Laney.
In Class A-Public, after being a runner-up in 1960 and 1978, a semifinalist in 2016-17, and a quarterfinalist in 2015-16 and last season, Wheeler County finally won a state championship for coach Angelia Wright, who has been at Wheeler County for decades and never won a state championship. Central-Talbotton, Calhoun County, Turner County and Greenville round out the top 5.
In Class A-Private, Holy Innocents' overwhelmed St. Francis with 12-0 runs in the start of the second and third quarters on way to capturing its fourth basketball championship while successfully defending its 2019 title. St. Francis finished second ahead of Hebron Christian, Wesleyan and Mount Paran.
BOYS
Class AAAAAAA
1. Wheeler
2. Grayson
3. Shiloh
4. Milton
5. McEachern
6. Norcross
7. Berkmar
8. Newton
9. Pebblebrook
10. Archer
Class AAAAAA
1. Chattahoochee
2. Lanier
3. South Cobb
4. Tri-Cities
5. Tucker
6. Sequoyah
7. Hughes
8. Evans
9. Valdosta
10. Richmond Hill
Class AAAAA
1. Dutchtown
2. Cedar Shoals
3. Kell
4. Buford
5. Lithonia
6. Southwest DeKalb
7. Eagle's Landing
8. Clarke Central
9. Warner Robins
10. Columbia
Class AAAA
1. Woodward Academy
2. Sandy Creek
3. Cross Creek
4. Americus-Sumter
5. Denmark
6. LaFayette
7. St. Pius
8. Upson-Lee
9. Blessed Trinity
10. McDonough
Class AAA
1. Pace Academy
2. Jefferson
3. Johnson-Savannah
4. Central-Macon
5. Windsor Forest
6. Monroe
7. Long County
8. Dawson County
9. Lovett
10. Greater Atlanta Christian
Class AA
1. Swainsboro
2. Therrell
3. Glenn Hills
4. Washington County
5. Spencer
6. Chattooga
7. Douglass
8. Banks County
9. Butler
10. Josey
Class A-Private
1. St. Francis
2. Greenforest Christian
3. Mt. Pisgah
4. Walker
5. Trinity Christian
6. Galloway
7. Pinecrest Academy
8. Providence Christian
9. Christian Heritage
10. North Cobb Christian
Class A-Public
1. Hancock Central
2. Treutlen
3. Wilcox County
4. Terrell County
5. Calhoun County
6. Wilkinson County
7. Drew Charter
8. Lincoln County
9. Dooly County
10. Mitchell County
GIRLS
Class AAAAAAA
1. Westlake
2. Collins Hill
3. Cherokee
4. Campbell
5. North Forsyth
6. North Cobb
7. McEachern
8. Pebblebrook
9. Norcross
10. Brookwood
Class AAAAAA
1. Forest Park
2. Glynn Academy
3. Valdosta
4. Langston Hughes
5. Dacula
6. Lovejoy
7. Harrison
8. Sprayberry
9. Johns Creek
10. Douglas County
Class AAAAA
1. Buford
2. Kell
3. Eagle's Landing
4. Jones County
5. Woodland-Stockbridge
6. Carrollton
7. Veterans
8. Statesboro
9. Arabia Mountain
10. Southwest DeKalb
Class AAAA
1. Americus-Sumter
2. Troup
3. Luella
4. Carver-Columbus
5. Spalding
6. Woodward Academy
7. Marist
8. Cross Creek
9. Sandy Creek
10. White County
Class AAA
1. Greater Atlanta Christian
2. Johnson-Savannah
3. Beach
4. Jefferson
5. North Hall
6. Sonoraville
7. Ringgold
8. Cedar Grove
9. Pierce County
10. Fannin County
Class AA
1. Douglass
2. Southwest-Macon
3. Rockmart
4. Early County
5. Laney
6. Washington County
7. Vidalia
8. Rabun County
9. Union County
10. Josey
Class A-Private
1. Holy Innocents'
2. St. Francis
3. Hebron Christian
4. Wesleyan
5. Mount Paran Christian
6. Greenforest
7. Stratford Academy
8. Darlington
9. Eagle's Landing Christian
10. Trinity Christian
Class A-Public
1. Wheeler County
2. Central-Talbotton
3. Calhoun County
4. Turner County
5. Greenville
6. Clinch County
7. Wilcox County
8. Bowdon
9. Pelham
10. Georgia Military