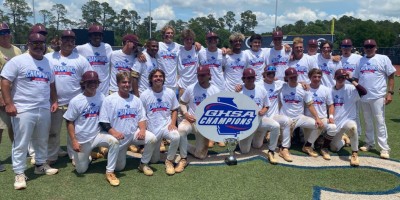 In Class 7A, Woodstock closes out the year No. 1 after sweeping its way to the state title—including a 5-0, 4-0 win over No. 2 Etowah in the finals. Parkview earns No. 3 and was defeated by Woodstock in the semifinals 4-3, 6-4, while Mill Creek comes in at No. 4 after falling to Etowah 3-2, 4-2 in the semis. Lowndes rounds out the top 5 ahead of No. 6 Walton, No. 7 North Gwinnett and Newnan, Cherokee and Denmark—who also cracked the final rankings.
Class 6A state champion Pope leads the poll ahead of runner-up Allatoona in the No. 2 spot. Buford comes in at No. 3 after falling to Pope in the semifinals and Houston County takes No. 4 ahead of semifinalist Lassiter at No. 5. Houston County fell to Buford in three games in the quarterfinals. South Paulding, Evans, Cambridge, Richmond Hill and Carrollton round out the poll.
Loganville defeated Cartersville in three games to win the Class 5A title and closes out the year at No. 1. Apalachee's run to the semifinals lands the Wildcats at No. 3 and Decatur comes in at No. 4. Ware County rounds out the top 5 ahead of Greenbrier, Whitewater, Starr's Mill, Wayne County and Blessed Trinity.
North Oconee closed out a phenomenal 39-1 season with its first-ever state title and occupies No. 1 in Class 4A ahead of runner-up LaGrange. Pike County's run to the Class 3A crown puts the Pirates at No. 1 ahead of runner-up Redan and Vidalia closes out Class 2A at No. 1 after topping Thomasville for the program's first state title since 2003.
Class A Public state champion Metter tops the poll and Class A Private state champion Wesleyan also closes out the year on top.
Class 7A
1. Woodstock (33-7)
2. Etowah (33-11)
3. Parkview (30-8)
4. Mill Creek (26-14)
5. Lowndes (27-9)
6. Walton (22-13)
7. North Gwinnett (20-18)
8. Newnan (23-12)
9. Cherokee (22-12)
10. Denmark (22-11)
Class 6A
1. Pope (33-7)
2. Allatoona (33-7)
3. Buford (28-10)
4. Houston County (28-6)
5. Lassiter (28-12)
6. South Paulding (28-8)
7. Evans (29-8)
8. Cambridge (25-9)
9. Richmond Hill (24-9)
10. Carrollton (22-13)
Class 5A
1. Loganville (32-9)
2. Cartersville (32-8)
3. Apalachee (23-16)
4. Decatur (26-12)
5. Ware County (21-9)
6. Greenbrier (23-11)
7. Whitewater (25-9)
8. Starr's Mill (19-14)
9. Wayne County (20-14)
10. Blessed Trinity (22-11)
Class 4A
1. North Oconee (39-1)
2. LaGrange (31-12)
3. Cedartown (27-11)
4. Benedictine (30-8)
5. Perry (26-11)
6. Troup (26-12)
7. Thomas County Central (26-9)
8. Marist (26-9)
9. Heritage-Catoosa (23-14)
10. Flowery Branch (21-12)
Class 3A
1. Pike County (36-6)
2. Redan (29-8)
3. North Hall (32-7)
4. Pierce County (30-6)
5. Franklin County (27-8)
6. Greater Atlanta Christian (28-8)
7. Harlem (27-8)
8. Cherokee Bluff (25-10)
9. Long County (21-9)
10. Appling County (18-9)
Class 2A
1. Vidalia (30-11)
2. Thomasville (30-7)
3. Pace Academy (29-6)
4. Lovett (28-10)
5. Model (28-6)
6. Jeff Davis (23-12)
7. Callaway (24-8)
8. Bleckley County (24-12)
9. Elbert County (27-6)
10. Cook (23-8)
Class A Private
1. Wesleyan (35-5)
2. North Cobb Christian (30-9)
3. Mt. Paran (32-4)
4. Fellowship Christian (28-5)
5. Savannah Christian (28-9)
6. Prince Avenue Christian (26-8)
7. First Presbyterian Day (23-9)
8. St. Anne-Pacelli (23-12)
9. Tattnall Square (22-10)
10. Calvary Day (22-10)
Class A Public
1. Metter (31-5)
2. Charlton County (32-8)
3. Commerce (26-14)
4. Social Circle (27-13)
5. Gordon Lee (22-12)
6. ACE Charter (25-9)
7. Wilcox County (27-2)
8. Washington-Wilkes (25-7)
9. Irwin County (29-4)
10. Schley County (21-12)