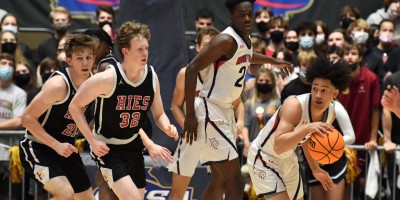 In Class 7A, Norcross earned the top slot with a 58-45 championship-clinching victory over Berkmar and Pebblebrook comes in at No. 3 ahead of No. 4 Newton and No. 65 North Gwinnett. Milton fell 65-59 to Pebblebrook in the quarterfinals and finishes at No. 6 ahead of quarterfinalists Grayson and Archer. East Coweta was defeated in the second round by No. 5 North Gwinnett and finishes at No. 9 and McEachern closes out the poll at No. 10 after tough first-round exit to No. 4 Newton.
Class 6A state champion Grovetown tops the poll and runner-up Buford comes in at No. 2 ahead of No. 3 Sequoyah and No. 4 Wheeler. Groves defeated Wheeler in the quarterfinals and semifinalist Hughes comes in at No. 5 ahead of No. 6 Kell.
Class 5A state champion Tri-Cities tops the poll and runner-up Eagle's Landing finishes at No. 2 ahead of No. 3 Calhoun, No. 4 Jonesboro and No. 5 Chapel Hill. The Class 4A poll is led by state champion Spencer. Fayette County earned the top seed out of Region 5, but comes in at No. 10 after falling to No. 9 Dougherty 66-65 in the second round.
Cross Creek used a 60-53 win over Windsor Forest in the Class 3A state championship to earn the top spot and Westside-Augusta's 64-55 win over Butler in the Class 2A finals earned Westside its No. 1 finish. State champion Greenforest Christian closes out a top finish in Class A Private and the Class A Public is topped by state champion Drew Charter. Social Circle closes out the year at No. 2 and finalist Warren County comes in at No. 3. Social Circle's 30-1 season gave the Redskins the higher position and they are the highest ranked team that did not appear in this year's finals.
Class 7A
1. Norcross (26-6)
2. Bermkar (26-5)
3. Pebblebrook (28-3)
4. Newton (25-6)
5. North Gwinnett (26-4)
6. Milton (22-8)
7. Grayson (20-9)
8. Archer (21-10)
9. East Coweta (18-11)
10. McEachern (16-10)
Class 6A
1. Grovetown (29-3)
2. Buford (25-7)
3. Sequoyah (25-7)
4. Wheeler (25-5)
5. Hughes (19-13)
6. Kell (19-11)
7. Westlake (20-6)
8. River Ridge (24-6
9. Tucker (22-5)
10. Alexander (24-5)
Class 5A
1. Tri-Cities (25-3)
2. Eagle's Landing (27-4)
3. Calhoun (22-7)
4. Jonesboro (21-9)
5. Chapel Hill (22-5)
6. St. Pius (26-4)
7. Woodland-Stockbridge (24-6)
8. Lithonia (21-9)
9. Hiram (19-10)
10. Walnut Grove (23-6)
Class 4A
1. Spencer (30-2)
2. Westover (25-4)
3. McDonough (26-3)
4. Marist (21-10)
5. Druid Hills (25-5)
6. Monroe (24-4)
7. Jefferson (25-4)
8. Baldwin (22-4)
9. Dougherty (15-12)
10. Fayette County (21-9)
Class 3A
1. Cross Creek (26-6)
2. Windsor Forest (23-7)
3. Thomson (23-3)
4. Sumter County (27-3)
5. Sandy Creek (26-4)
6. Groves (18-6)
7. Beach (16-9)
8. Greater Atlanta Christian (23-7)
9. LaFayette (25-1)
10. Johnson-Savannah (17-11)
Class 2A
1. Westside-Augusta (28-3)
2. Butler (22-7)
3. Pace Academy (25-5)
4. Columbia (25-5)
5. Northeast-Macon (21-10)
6. Woodville-Tompkins (18-11)
7. Vidalia (27-2)
8. Washington County (23-5)
9. Rabun County (23-6)
10. Model (22-7)
Class A Private
1. Greenforest Christian (28-4)
2. King's Ridge (28-5)
3. Heritage School (23-8)
4. Galloway (20-8)
5. First Presbyterian Day (23-4)
6. North Cobb Christian (19-8)
7. Calvary Day (17-7)
8. Providence Christian (19-9)
9. Mt. Vernon (16-11)
10. Christian Heritage (19-7)
Class A Public
1. Drew Charter (31-1)
2. Social Circle (30-1)
3. Warren County (25-4)
4. Manchester (28-3)
5. Calhoun County (26-1)
6. Dublin (28-2)
7. Wilkinson County (15-12)
8. Towns County (20-8)
9. Dooly County (18-7)
10. Portal (17-8)