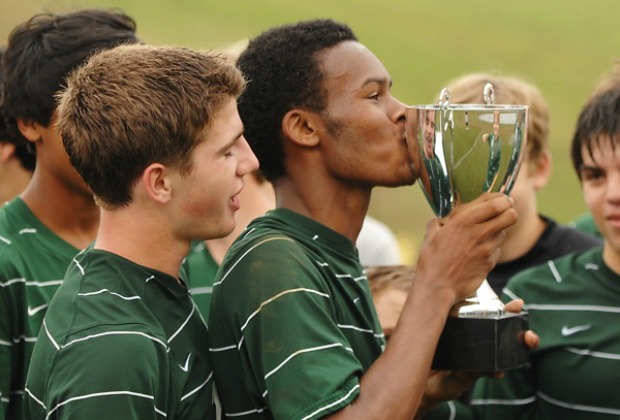 Sonny Kennedy
The Directors Cup has been awarded to the top athletics programs in the GHSA each year 1999-2000. The standings are made up of schools that saw varsity athletics teams earn points through the year in each sport. A top eight finish garnered points.
TIGHT RACE …
Walton and Brookwood have combined for nine titles and, each year, the competition always seems to be a photo finish. Walton leads the Broncos after winning this year for their sixth total cup (Brookwood has three). The Raiders edged them 1110.5 to 1108.0 (just 2.5 points). A top eight finish awards points. They earned points in 18 different sports and received a full 100.0 for the girls volleyball and girls tennis state titles.
This was the first year that six classifications divided the field, McIntosh finished seventh in points last year in AAAA, but dominated its new Class AAAAA field. McIntosh topped Starr's Mill with a total of 1175.0. A trio of state titles in boys cross country, track and soccer helped give them the edge.
Class AAAA saw a familiar juggernaut return to the podium as Marist racked up its 14th straight overall title. The War Eagles topped second-place Carrollton by nearly 400 points scoring 1366.5. Three boys state titles and four girls titles elevated them this year.
St. Pius X saw its three-year winning streak ended a year ago by Woodward Academy, but reclaimed the cup this year. The Class AAA Golden Lions have won four of the last five cups and six state titles and 90.0 points from their runner up finish in football this year marked a great year.
If you watched any Class AA sports this year it is no surprise that Westminster took the cup. The Wildcats were this year's most dominant team and accumulated 1513.0 points in the standings. Westminster claimed its 14th overall cup this year. Eleven state titles and four runner-up finishes accounts for one impressive school year.
If there were an award for most improved, it would be this year's Class A cup winner. After a 13th-place finish last year, Gordon Lee tallied 1188.00 total points, almost doubling last year's total of 553.00. Softball and girls basketball won state titles for Gordon Lee. The boys earned full points for their titles in wrestling and golf. Holy Innocents' finished second with 992.0 points in the overall.
Class 1A
Overall Winner: Gordon Lee
Boys Winner: First Presbyterian
Girls Winner: Gordon Lee
Class 2A
Overall Winner: Westminster
Boys Winner: Westminster
Girls Winner: Westminster
Class 3A
Overall Winner: St. Pius X
Boys Winner: St. Pius X
Girls Winner: St. Pius X
Class 4A
Overall Winner: Marist
Boys Winner: Marist
Girls Winner: Marist
Class 5A
Overall Winner: McIntosh
Boys Winner: Starr's Mill
Girls Winner: McIntosh
Class 6A
Overall Winner: Walton
Boys Winner: Brookwood
Girls Winner: Walton
Region Winners
Class A
1. Baconton
2. Irwin County
3. Savannah Christian
4. Brookstone
5. Holy Innocents'
6. Gordon Lee
7. First Presbyterian
8. Athens Academy
Class AA
1. Thomasville
2. Vidalia
3. Screven County
4. Bleckley County
5. Bremen
6. Westminster
7. Calhoun
8. Jefferson
Class AAA
1. Pierce County
2. Pike County
3. Dodge County
4. Chapel Hill
5. Cartersville
6. St. Pius X
7. Buford
8. Oconee County
Class AAAA
1. Westover
2. Veterans
3. South Effingham
4. Eagles Landing
5. Carrollton
6. Marist
7. Dalton
8. Chestatee
Class AAAAA
1. Northside, Columbus
2. Lakeside, Evans
3. Ware County
4. McIntosh
5. Allatoona
6. Lakeside, Dekalb
7. Pope
8. Gainesville
Class AAAAAA
1. Tift County
2. Rockdale County
3. East Coweta
4. Harrison
5. Walton
6. Lambert
7. Mill Creek
8. Brookwood