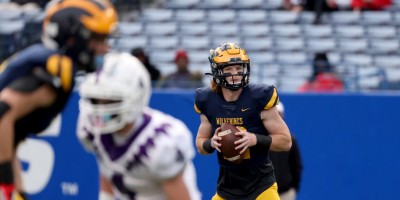 The Grayson Rams close out the year with a perfect 14-0 record and the No. 1 slot in Class 7A. The Rams topped Collins Hill 38-14 in the championship—a game the led 35-0 at the half and are also listed as the No. 3 ranked team in the entire country according to Maxpreps. Norcross, Colquitt County and Lowndes round out the top 5 with Milton, North Cobb, Archer, North Gwinnett and Parkview closing the poll.
Buford topped Lee County in an overtime thriller to take home the Class 6A championship and closes out the year at No. 1 ahead of the Trojans. Westlake, Allatoona, Valdosta, River Ridge, Hughes, Carrollton, Dacula and Richmond Hill comprise the remainder of the top 10.
In Class 5A, Warner Robins used an explosive 62-28 victory over Cartersville to finish the season at No. 1. Cartersville earned the No. 2 slot ahead of No. 3 ranked Blessed Trinity, which fell to Warner Robins in the quarterfinals.
Top-ranked Marist completed its perfect 13-0 season with a 30-14 win over No. 2 Jefferson. Benedictine, Bainbridge and Carver-Columbus round out the top 5 in Class 4A behind the War Eagles and Cedartown, Flowery Branch, Perry, Cairo and Troup also finished in the poll.
Pierce County won its first state title and ended the season ranked No. 1 for the first time in school history after its victory over Oconee County in the title game. Oconee finished No. 2. In Class 2A,
Callaway defeated Fitzgerald in the title game and finishes at No. 1. Fitzgerald, Rabun County, Thomasville and Jefferson County fill the top 5. In Class A Public, Irwin County won its second straight title and tops the class ahead of runner-up Brooks County
Prince Avenue Christian won the state title game and ends the season on top of Class A Private with runner-up Trinity Christian at No. 2 ahead of ELCA, Fellowship Christian and Wesleyan.
Class 7A
1. Grayson
2. Collins Hill
3. Norcross
4. Colquitt County
5. Lowndes
6. Milton
7. North Cobb
8. Archer
9. North Gwinnett
10. Parkview
Class 6A
1. Buford
2. Lee County
3. Westlake
4. Allatoona
5. Valdosta
6. River Ridge
7. Hughes
8. Carrollton
9. Dacula
10. Richmond Hill
Class 5A
1. Warner Robins
2. Cartersville
3. Blessed Trinity
4. Ware County
5. Coffee
6. Jones County
7. Starr's Mill
8. Calhoun
9. St. Pius
10. Creekside
Class 4A
1. Marist
2. Jefferson
3. Benedictine
4. Bainbridge
5. Carver-Columbus
6. Cedartown
7. Flowery Branch
8. Perry
9. Cairo
10. Troup
Class 3A
1. Pierce County
2. Oconee County
3. Crisp County
4. Greater Atlanta Christian
5. Peach County
6. Cedar Grove
7. Rockmart
8. Appling County
9. Richmond Academy
10. Carver-Atlanta
Class 2A
1. Callaway
2. Fitzgerald
3. Rabun County
4. Thomasville
5. Jefferson County
6. Bleckley County
7. Fannin County
8. Lovett
9. Bremen
10. Haralson County
Class A Public
1. Irwin County
2. Brooks County
3. Commerce
4. Metter
5. Dublin
6. Clinch County
7. Washington-Wilkes
8. Turner County
9. Wilcox County
10. Pelham
Class A Private
1. Prince Avenue Christian
2. Trinity Christian
3. Eagle's Landing Christian
4. Fellowship Christian
5. Wesleyan
6. Athens Academy
7. Savannah Christian
8. George Walton Academy
9. Christian Heritage
10. North Cobb Christian