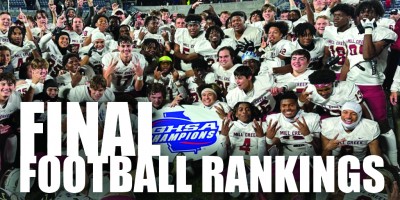 In Class 7A, Mill Creek closes out 2022 at the top of the poll following its 70-35 win over Carrollton in the state finals. The Hawks earned their first state title and finished 14-1 with a 29-point average margin of victory and a school-record 712 points (47.47 ppg). Mill Creek faced eight ranked opponents over the course of the 2022 season and its lone loss came to No. 4 ranked Buford. Runner-up Carrollton (14-1) comes in at No. 2 ahead of No. 3 Colquitt County—who the Trojans topped 35-27 in the semifinals. Milton finishes at No. 5 after earning its second-straight semifinal berth. The log-jam continues with No. 6 North Cobb—who beat No. 5 Milton 21-7 and No. 7 Walton 33-6, but fell in the second round 43-7 to Mill Creek.
Hughes opened the season No. 1 and finished No. 1 with a 15-0 record and state-record 792 points scored to go with a 41-point average margin of victory. Runner-up Gainesville finishes No. 2 and its 35-28 loss to the Panthers in the finals is the closest margin any team achieved this season. Class 5A is headlined by 14-0 Ware County and Benedictine closes out No. 1 in Class 4A with its 14-13 win over No. 2 Cedartown in the state championship. The Cadets finish the year 10-2 and have not lost to a Class 4A opponent since its loss to Jefferson in the 2020 quarterfinals.
Sandy Creek topped Class 3A after beating top-ranked Cedar Grove in the 3A title game to win the program's fourth championship and first since 2012. Carver-Atlanta, Oconee County and Calvary Day rounded out the final top 5.
Thomson defeated Fitzgerald in the 2A title game to finish atop the Class with Fitzgerald, Appling County, Fellowship Christian and Rockmart rounding the top 5. In Class A Division I, Prince Avenue Christian beat No. 2-ranked Swainsboro in the final to complete its 14-0 season. Irwin County, Rabun County and St. Francis round out the top 5.
Bowdon captured the program's first title in 20 years after beating Schley County in the Class A Division II final. Schley finished No. 2 with Johnson County, Early County and Clinch County rounding out the top 5.
Class 7A
1. Mill Creek (14-1)
2. Carrollton (14-1)
3. Colquitt County (13-1)
4. Buford (11-1)
5. North Cobb (9-3)
6. Milton (10-4)
7. Walton (10-3)
8. Westlake (9-4)
9. Lambert (10-2)
10. Grayson (10-3)
Class 6A
1. Hughes (15-0)
2. Gainesville (14-1)
3. Roswell (12-2)
4. Thomas County Central (12-1)
5. Rome (11-2)
6. Woodward Academy (11-2)
7. Marist (10-3)
8. Houston County (10-3)
9. Brunswick (10-1)
10. Lee County (8-4)
Class 5A
1. Ware County (14-0)
2. Warner Robins (10-5)
3. Dutchtown (12-2)
4. Creekside (10-3)
5. Cartersville (12-2)
6. Calhoun (9-4)
7. Coffee (10-3)
8. Cambridge (9-3)
9. Mays (8-5)
10. Kell (10-2)
Class 4A
1. Benedictine (13-2)
2. Cedartown (14-1)
3. North Oconee (13-1)
4. Bainbridge (8-5)
5. Troup (12-2)
6. Wayne County (10-3)
7. Perry (10-2)
8. Stockbridge (10-3)
9. Burke County (9-3)
10. Whitewater (8-3)
Class 3A
1. Sandy Creek (13-2)
2. Cedar Grove (11-3)
3. Carver-Atlanta (9-4)
4. Oconee County (9-5)
5. Calvary Day (11-1)
6. Stephens County (9-3)
7. Thomasville (9-4)
8. Carver-Columbus (9-3)
9. Savannah Christian (11-2)
10. Peach County (8-4)
Class 2A
1. Thomson (14-1)
2. Fitzgerald (14-1)
3. Appling County (11-2)
4. Fellowship Christian (10-4)
5. Rockmart (10-3)
6. South Atlanta (11-1)
7. Pierce County (11-2)
8. Callaway (9-4)
9. Eagle's Landing Christian (7-5)
10. Putnam County (9-3)
Class A Division I
1. Prince Avenue Christian (14-0)
2. Swainsboro (13-1)
3. Irwin County (11-2)
4. Rabun County (12-1)
5. St. Francis (10-4)
6. Metter (9-4)
7. Mount Pisgah Christian (9-4)
8. Bleckley County (10-3)
9. Brooks County (7-3)
10. Elbert County (10-2)
Class A Division II
 1. Bowdon (13-1)
2. Schley County (12-3)
3. Johnson County (13-1)
4. Early County (9-4)
5. Clinch County (10-3)
6. McIntosh County Academy (10-2)
7. Lincoln County (10-3)
8. Wilcox County (9-4)
9. Charlton County (8-3)
10. Dooly County (7-6)