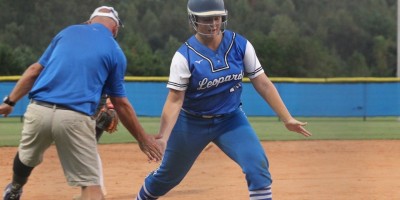 Photo by Banks County News/MainStreet News
The GHSA softball season is over after a rain-soaked delay which postponed seven of the eight finals from Saturday in Columbus to Monday at the home fields of the undefeated teams.
Mountain View, Pope, Locust Grove, Heritage-Catoosa, Ringgold, Banks County, Gordon Lee and Mount de Sales walked away as the winners in their respective classes. Five programs ranked at the top of their respective classifications in the pre-playoff rankings captured state championships. The lowest-ranked program to take a state title was then-No. 6 Mountain View in Class AAAAAA. Pope, the Class AAAAAA champion, was ranked No. 5 entering the playoffs. Mount de Sales, the A-Private state champions for the first time, was ranked No. 4 in the pre-playoff poll.
Here's how the teams finished.
Class AAAAAAA
1. Mountain View
2. Grayson
3. Etowah
4. Peachtree Ridge
5. East Coweta
6. North Forsyth
7. Colquitt County
8. Parkview
9. Cherokee
10. Hillgrove
Class AAAAAA
1. Pope
2. Lee County
3. Dacula
4. River Ridge
5. Northgate
6. Creekview
7. Apalachee
8. Evans
9. Effingham County
10. Alexander
Class AAAAA
1. Locust Grove
2. Harris County
3. Jones County
4. Buford
5. Walnut Grove
6. Carrollton
7. Starr's Mill
8. Whitewater
9. Statesboro
10. Woodland-Cartersville
Class AAAA
1. Heritage-Catoosa
2. Marist
3. Oconee County
4. Northside-Columbus
5. Madison County
6. LaFayette
7. Central-Carroll
8. LaGrange
9. Northwest Whitfield
10. Perry
Class AAA
1. Ringgold
2. Franklin County
3. Lovett
4. Calhoun
5. Southeast Bulloch
6. East Hall
7. Jefferson
8. Lumpkin County
9. Sonoraville
10. Pierce County
Class AA
1. Banks County
2. Bremen
3. Rockmart
4. Harlem
5. Lamar County
6. Heard County
7. Jeff Davis
8. Vidalia
9. Dade County
10. Bacon County
Class A-Public
1. Gordon Lee
2. Trion
3. Commerce
4. Bowdon
5. Georgia Military
6. Emanuel County Institute
7. Marion County
8. Lanier County
9. Academy for Classical Education
10. Schley County
Class A-Private
1. Mount de Sales
2. Wesleyan
3. George Walton
4. Tattnall Square
5. Hebron Christian
6. Eagle's Landing Christian
7. Stratford Academy
8. Mount Paran Christian
9. Strong Rock Christian
10. Christian Heritage