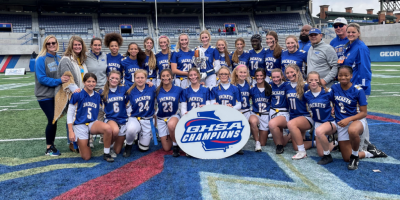 Southeast Bulloch's 20-0 victory against Portal in the GHSA state flag football championships at Georgia State's Center Parc Stadium in Atlanta marked the first-ever state championship in a girl's sport for the Yellow Jackets.
Delanie Thames was the star of the show in the Yellow Jackets' championship victory. She caught three passes from quarterback Ainsleigh Littles for 69 yards and two touchdowns. For Southeast Bulloch's stifling defense – which has accounted for 11 shutout victories this season including each playoff game – Thames had one interception. Littles scored on short option run, capping a four-play, 33-yard drive which put the Yellow Jackets up 13-0 just before halftime.
For Portal — a school about 30 minutes away from Southeast Bulloch on the opposite side of Statesboro — it's a bitter-sweet ending and second-straight loss in the state championship game. The Panthers lost to Calvary Day 6-0 last season in Class A-5A before the GHSA expanded to include three classes.
The victory was the third overall football title after Southeast Bulloch' boys won the Class B state championships in 1972 and 1973. In what was the inaugural season for flag football at Southeast Bulloch in Brooklet — a small community just outside Statesboro — the Yellow Jackets finished 19-0.
I guess they'll have to learn how to lose a game next season.
Follow the LINK for the full brackets.
Stay tuned for the recaps of the later games.
Class 7A
Hillgrove 20, Marietta 6
Lauren Render's two interceptions, one returned for a touchdown, were enough to lead Hillgrove past Marietta in the 7A flag football championship. Render also added a touchdown reception.
Render's interception and 40-yard touchdown return put the Hawks ahead 7-0 with 14:54 left in the game. Her touchdown reception with 14:19 remaining pushed Hillgrove's lead to 13.
Marietta got back in the game on a touchdown reception from Laila Perryman with 7:29 left. Hillgrove responded on a touchdown run from Lacey Carder with four minutes left to seal the victory.
Class 5A-6A
Dodge County 6, Lithia Springs 0 3OT
Senior running back Ileisha Mitchell's 3-yard touchdown run in the third overtime period was exceptional and it lifted the Indians over Lithia Springs in the second game of the day.
In the third overtime period, quarterback Annie Jones spread the Lithia Springs defense with pass attempts to endzone following a defensive penalty on Lithia Springs, which opened space for Mitchell. On the game-winning play, Jones took the snap, handed the ball off to Mitchell, who was running from left to right in front of Jones.
Mitchell – who led Dodge over Riverwood in the semifinals – made use of a flawless block from senior Trinity Brown and took the ball up the right side of the field and into the endzone untouched. The victory marked the first-ever football championship for Dodge County, boys or girls.
Class A-4A
Southeast Bulloch 20, Portal 0