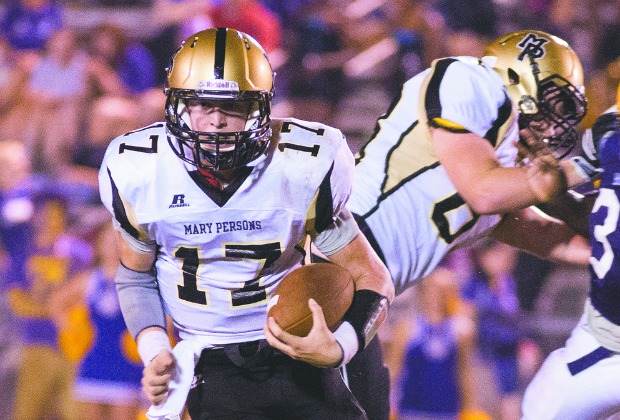 Kim Holderfield
There's a new No. 1 in Class AA as Calhoun lost Friday night in blowout fashion. GAC (4-0) has taken over the top spot after a fast start in which the Spartans and quarterback Rafe Chapple have dominated the opposition. A big matchup looms in Region 6-AA as GAC and Lovett, now ranked No. 5, are scheduled to meet in the final regular season game. The 3-0 Lions are coming off yet another impressive win over competition from larger classifications. Lovett upset Class AAAA-power Marist in double overtime Friday.
In Class AAAAAA, Colquitt County, Valdosta and Coffee each added quality wins. The Coffee Trojans joined the "ranks of the ranked" this week after a decisive win over Class AAAA No. 2 Burke County. Hillgrove entered the top 10 after a solid victory over Region 4-rival Marietta, which fell out of the top 10. Norcross dropped to No. 9 after a beating by top-ranked North Gwinnett.
M.L. King was shocked by Mays Saturday night and left the rankings as a result in Class AAAAA.
Mary Persons improved to 3-0 on the season and was rewarded with a top 10 ranking in Class AAAA.
In Class AAA, Hart County and North Oconee joined the top 10, while Benedictine joined the AA rankings.
Darlington and Gordon Lee each joined their respective top 10 polls in Class A.
Class AAAAAA
1. North Gwinnett
2. McEachern
3. Colquitt County
4. Peachtree Ridge
5. Mill Creek
6. Valdosta
7. Hillgrove
8. Coffee
9. Norcross
10. Lovejoy
Class AAAAA
1. Northside-Warner Robins
2. Tucker
3. Kell
4. Stephenson
5. Thomas County Central
6. Gainesville
7. Warner Robins
8. Allatoona
9. Creekside
10. Ware County
Class AAAA
1. Sandy Creek
2. Carrollton
3. Griffin
4. Statesboro
5. Burke County
6. Monroe Area
7. Stockbridge
8. Westside-Macon
9. Marist
10. Mary Persons
Class AAA
1. Buford
2. St. Pius X
3. Cartersville
4. North Hall
5. Washington County
6. Jefferson County
7. Pierce County
8. Carver-Columbus
9. Hart County
10. North Oconee
Class AA
1. GAC
2. Lamar County
3. Calhoun
4. Washington-Wilkes
5. Lovett
6. Jefferson
7. Brooks County
8. Vidalia
9. Cook
10. Benedictine
Class A Private
1. ELCA
2. Landmark Chr.
3. Savannah Chr.
4. Aquinas
5. Prince Ave. Chr.
6. George Walton Aca.
7. Pace Aca.
8. Mount Paran
9. Brookstone
10. Darlington
Class A Public
1. Irwin County
2. Marion County
3. Seminole County
4. Trion
5. Lincoln County
6. Johnson County
7. Clinch County
8. Charlton County
9. Gordon Lee
10. Wilcox County