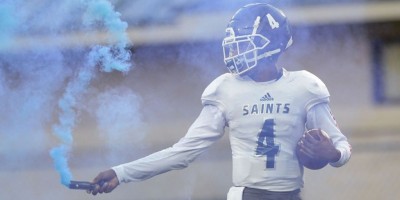 Daniel Varnado/Special for AJC
A rain-soaked Friday night caused delays, postponements and cancellations in football games across the state but on Saturday, teams got back on the field.
Blaine McAllister passed for three touchdowns to three different receivers with one rushing touchdown as Class AAA No. 9 Lovett defeated Class AAAA Mary Persons at home 29-27. McAllister, a 6-foot-3, 201-pound Princeton-commit, passed to Logan Givens, Henry Beery and Andrew Pinkston. His rushing touchdown with 8:19 left in the game gave Lovett a 29-21 lead. Mary Persons scored a touchdown in the fourth quarter to cut into the lead, but a missed field goal late in the quarter gave Lovett the victory. McAllister has seven touchdowns on the season with two rushing touchdowns.
Luke Lee passed for two touchdowns while the Bulldogs rushed for three scores to beat Madison County 32-29 on the road. Malachi Thomas rushed for a 30-yard touchdown in the first quarter and short run in the third quarter. Thomas caught a 15-yard touchdown pass from Lee with seven minutes left in the game. Lee passed to Notre Dame-commit Cane Berrong for a short touchdown pass in the first quarter. J'Len Lackey scored on a short run early in the second quarter. Madison County's touchdown came on a 59-yard pass from Colby Smith to Tay Cooper.
See the rest of the scores below
Football
Allatoona 38, River Ridge 0
Apalachee 21, Jackson County 14
Cass 36, Woodland-Cartersville 7
Cherokee 38, Kennesaw Mountain 0
Dunwoody 21, Cambridge 19
East Jackson 38, Banks County 0
Etowah 45, Pebblebrook 32
Harlem 35, Glenn Hills 0
Hart County 32, Madison County 9
Jackson-Atlanta 42, KIPP Atlanta Charter 0
John Curtis, La. 55, Westlake 27
JSerra Catholic, CA. 17, Milton 14
LaGrange 18, Hampton 14
Lithia Springs 52, Clarkston 14
Lovett 29, Mary Persons 27
McEachern 29, Cedar Grove 7
North Cobb Christian 28, Monticello 21
Northeast 56, Manchester 6
Osborne 48, Creekview 0
Pope 48, Centennial 28
St. Pius X 21, Decatur 0
Washington County 42, Greenbrier 7
Softball
Appling County 6, Duluth 3
Appling County 7, Social Circle 1
Banks County 9, Strong Rock Christian 1
Bryan County 7, Jeff Davis 3
Cass 15, St. Pius X 11
Collins Hill 6, Forsyth Central 5
Collins Hill 6, South Forsyth 5
Dacula 7, Parkview 6
Dacula 7, Walnut Grove 1
Eastside 3, Vidalia 0
Emanuel County Institute 5, RTCA 1
Gordon Lee 3, Lamar County 0
Hillgrove 11, Harris County 1
Jones County 12, Oconee County 3
Jones County 7, West Laurens 0
LaGrange 5, Cartersville 0
Mill Creek 6, South Forsyth 1
Model 6, Pepperell 0
Newnan 12, Union County 9
Newton 6, Vidalia 5
North Cobb Christian 10, Providence Christian 3
North Cobb Christian 17, Providence Christian 8
North Murray 6, St. Pius X 5
Northwest Whitfield 5, South Effingham 2
Portal 6, McIntosh County Academy 5
Ringgold 10, Woodland-Cartersville 4
Ringgold 7, Tattnall Square 3
Rockmart 8, Sonoraville 2
Sequoyah 19, South Cobb 0
Sonoraville 3, Heritage-Catoosa 2
Strong Rock Christian 6, Duluth 5
Strong Rock Christian 9, Morgan County 1
Trion 11, Miller County 0
Trion 12, Baconton Charter 0
Vidalia 10, Jackson 0
Walnut Grove 3, Parkview 2
Wesleyan 7, Calhoun 4
Westminster 7, Appling County 5
Wheeler County 8, Calvary Day 5
Volleyball
Apalachee 2, Athens Academy 0
Athens Academy 2, George Walton Academy 0
Athens Academy 2, Lithonia 0
Athens Academy 2, Oconee County 0
Bishop Snyder 2, Effingham County 1
Bradley Central 2, Harris County 0
Brookwood 2, Savannah Christian 1
Centennial 2, Denmark 0
Centennial 2, Lakeside-DeKalb 0
Chattahoochee 2, West Forsyth 0
Christ's Church Aca. 2, Effingham County 0
Coosa 2, Cedartown 0
Coosa 2, Model 0
Creekside Christian 2, Clarkston 0
Dominion Christian 2, Aquinas 0
Harris County 2, Prince Avenue 1
Harris County 2, Signal Mountain, Ten 0
Hebron Christian 2, Wando, SC 0
Jackson County 2, Discovery 0
Jackson County 2, Morgan County 0
Lakeside-DeKalb 2, Denmark 1
Lakeside-Evans 2, Dominion Christian 0
Lambert 3, South Forsyth 0
Lassiter 2, Hardin Valley Acad. 0
Loganville Christian 2, Loganville 1
North Forsyth 2, Hixson 0
North Forsyth 2, Unicoi County 0
Northgate 2, West Forsyth 0
Northside-Columbus 2, Centennial 0
Northside-Columbus 2, Denmark 0
Oconee County 2, Jackson County 0
Pace Academy 2, Hillcrest 1
Pope 2, Heritage-Conyers 0
Pope 2, Overton 0
Providence Christian 2, Clarkston 0
Providence Christian 2, Loganville Christian 0
Richmond Academy 2, Baldwin 0
Richmond Academy 2, Cross Creek 0
Science Hill, Tenn. 2, North Forsyth 1
Seymour 2, North Hall 1
South Forsyth 3, Douglas County 0
St. Pius X 2, Father Ryan 0
St. Pius X 2, St. John Paul II 0
St. Pius X 2, Teurlings Catholic 0
Thompson 2, Glynn Academy 0
Trinity Christian 2, Providence Christian 0
West Forsyth 2, Denmark 0