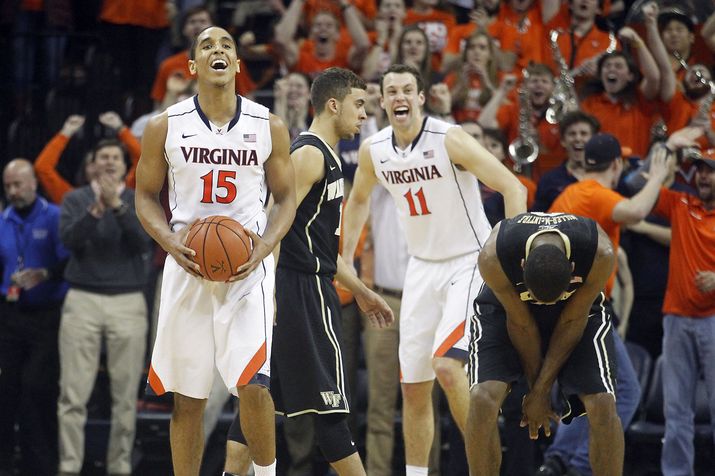 Ryan M. Kelly
Malcolm Brogdon – Virginia (Greater Atlanta Christian) – 13.9 points/3.9 rebounds/2.5 assists
For a second consecutive season, "Uncle Malcolm" has been named to the All-ACC First Team and has helped UVA to a second straight ACC regular season title. Not a lot of flash in his game, it's Brogdon's grown man strength that helps him get past defenders and get to the rim at will when he wants to. He leads a trio of Cavs from the peach state which includes himself, Evan Nolte (Milton) and Isaiah Wilkins (GAC).
Ryan Harrow – Georgia State (Walton) – 18.7 points/2.1 rebounds/3.7 assists
The free-scoring guard passed the 1,000 point mark in his career this season and helped lead the Panthers to their first tournament appearance since 2001. Harrow has dealt with numerous injuries this season and did not play in the Sun Belt title game due to a strained hamstring. When healthy, Harrow teams up with R.J. Hunter to form one of the highest scoring backcourts in the entire nation.
Karl Cochran – Wofford (Wheeler/Walton) – 14.6 points/5.8 rebounds/2.7 assists
Cochran started his prep career at Wheeler before finishing across town at Walton. He has averaged double figures his entire career at Wofford and is the Terriers' leader in all categories including scoring, rebounding, assists, steals, and blocks.
Georgia Bulldogs
Charles Mann (Milton), Marcus Thornton (Westlake), Kenny Gaines (Whitefield Academy), and J.J. Frazier (Faith Baptist Christian) are four of UGA's top five scorers on the season, all averaging over nine points per game. Thornton is the eldest of the bunch and is a senior while Mann and Gaines are juniors and Frazier, just a sophomore. The pack of Dawgs have helped Georgia reach the tournament for the first time since 2011.
Tony Parker – UCLA (Miller Grove) – 11.1/6.6
It was a slow start to his collegiate career, but Parker has since trimmed up into shape and has turned himself into a major contributor for the Bruins. The big man is averaging 17.2 points over his last five games as UCLA has slowly begun to gain a head of steam heading into the tournament, winning four of its last five games.
Tekele Cotton – Wichita State (Whitefield Academy) – 9.6/4/2.9
The senior is one of the toughest defenders on the perimeter for the Shockers. Though he is having a down year shooting the ball (40% down from 45%), Cotton has averaged a career high in assists. The experienced veteran has already made one trip to the Final Four and will lean on that journey to try and get there again in his final season.
Shannon Scott – Ohio State (Milton) – 8.5/3.7/5.9
Scott won a state title at Milton but has yet to taste the same team success at the college level. He is the Big Ten leader in assists per game and also ranks third in steals. Scott's main objective is to run the show on offense and limit turnovers. He has played a key role in the Buckeye's backcourt for three seasons now.
Tim Quarterman – LSU (Johnson, Savannah) – 11.3/5.1/3.9
The sophomore has exploded onto the scene for the Tigers and is a major reason why LSU has made the tournament for the first time since 2009. At 6-foot-6, "Puncho" uses his length to frustrate opponents and score in a multitude of ways. His versatility allows him to guard many positions, and his play making ability is helped out by his vision over smaller defenders.
James Webb III – Boise State (Curtis Baptist School) – 11.3/7.9
Webb has jumped around from school to school but has found a home in Idaho. He ended up at North Idaho College before transferring to Boise State. Webb scores both inside and out as the Broncos' second leading scorer and top rebounder.
Madarious Gibbs – Texas Southern (East Coweta) – 14.1/3.4/4.3
Gibbs averaged 26.3 points per game his senior season at East Coweta and now as a senior at Texas Southern, has begun to find his explosive scoring ability leading the Tigers at 14.1 points. Gibbs has struggled from deep this season (25%), but has done damage at the foul line taking 164 attempts. He will hope to leave behind a legacy at Texas Southern and be a part of the first team in school history to win a tournament game.
E. Victor Nickerson – Valparaiso (Norcross) – 6.2/2.2/2.0
Nickerson and the Crusaders enter the tournament with a 28-5 record and wear the No. 13 seed for their opening matchup with No. 4 Maryland. Nickerson has settled in nicely after transferring from Charlotte and sitting out the 2013-14 season due to the NCAA's transfer rules. Nickerson notched his fifth double-digit scoring game of the season last Tuesday in the Crusaders' 54-44 win over Green Bay. Nickerson netted 11 points off 4-9 shooting and added two rebounds, two steals and an assist. 30 games for the 49ers as a sophomore in 2012-13 … made 15 starts … averaged 5.8 points and 2.6 rebounds per game.
Andre Chatfield – Harvard (Norcross) – 1.7/1.2/0.5
Chatfield is in his freshman season at Harvard after winning the 6A state title as a junior at Norcross and finishing his last two seasons with the Blue Devils with a 52-13 overall record. The 6-foot-4 guard has seen action off the Crimson bench this year and scored a season-high seven points in Harvard's 61-40 win over Cornell on Valentine's Day. No. 13 seed Harvard sits at 22-7 and will open the tournament with No. 4 North Carolina.