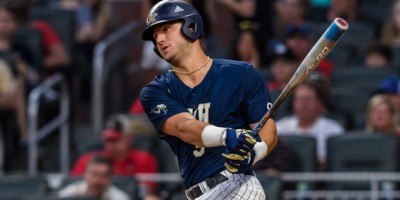 Joey Bart was taken No. 2 overall in the MLB Draft. Courtesy of Georgia Tech.
At the MLB Draft Monday night, some of Georgia's finest baseball players were selected in the first round. Former high school standouts Joey Bart, Austin Seigler, Seth Beer and Ethan Hankins all heard their names called by Commissioner Rob Manfred as their dreams of being drafted were realized.
With the second overall pick in the draft, the San Francisco Giants took Joey Bart, a catcher from Georgia Tech. Bart is from Buford and played high school baseball at Buford High School. Having won ACC player of the year and being named first-team All-America from both Baseball America and Collegiate Baseball, and winning the ACC defensive player of the year among many other accolades, Bart was viewed as one of the top prospects in the entire draft. During the 2018 season, he hit .359, smashed 16 home runs, drove in 38 runs and had a .471 on-base percentage. Bart should be a welcome addition to the Giants organization, as they rank near the bottom of almost all farm system rankings.
The next Georgia high school star taken in the first round was Austin Seigler out of Cartersville High School. Seigler was taken with the 23rd overall pick by the New York Yankees. He is a unique talent because he is not only a switch hitter, but can also pitch with both his right and left hands. This past season, Seigler had a 1.09 ERA through 25 and ⅔ innings and batted .421, crushed 14 home runs and had 34 RBIs while leading his team to the AAAA state championship series. Seigler is signed to play college baseball at the University of Florida, but it will be hard to turn down the opportunity to make millions and play for the New York Yankees organization. Siegler's coach, Kyle Tucker, had nothing but outstanding things to say about Austin's ability on the field and his character. "Austin has a ton of God-given ability, but he couples that with a work ethic and competitiveness that is second to none. He is the hardest working player I have ever been around," Tucker said. "The Yankees clearly did their due diligence with this selection because Austin eats, sleeps and breathes baseball." Tucker also said that while it is very exciting to see a guy who can pitch with both hands, Seigler will most likely be used exclusively as a catcher on the professional level.
Five picks later, Seth Beer was drafted with the 28th overall pick by the Houston Astros. Beer was born in Maryville, Illinois, but attended Lambert High School and grew up in the Suwanee area. Beer played first base and outfield at Clemson and is leaving the school after his junior year. This past season, Beer hit .301, hit 22 home runs and had 54 RBIs. While these numbers are impressive, they do not compare to his freshman season when he won the Dick Howser Trophy, an award given to the top college baseball player in the country. Beer was the first freshman to ever win the award, posting a superb .369 batting average, with 18 home runs and 70 RBIs during that season.
The last Georgia high school player that was taken in the first round was Ethan Hankins from Forsyth Central High School. Hankins was selected with the 35th overall pick by the Cleveland Indians. Going into the season, Hankins was viewed as one of the top high school players, if not the top high school player, in the nation, but an injury-riddled and inconsistent senior season saw his stock dip a little bit heading into draft night. Hankins is best known for his performance for Team USA in the 18-and-under World Cup, where he struck out 27 batters during a 12-inning stretch. If Hankins is able to stay healthy, this pick could go down as one of the steals of the first round. Hankins' coach, Kevin McCollum, is extremely proud of his young pitcher's accomplishments so far and thinks he has an extremely bright future. "I think he has all the tools to have a great MLB career," McCollum said. "This is just the first step and he needs to continue to work hard and prove himself. He is a good kid who has worked extremely hard to get to where he is at." Hankins will have a decision to make as he is also signed to play college baseball at Vanderbilt.
With the likes of Bart, Seigler, Beer and Hankins, Georgia baseball has an extremely bright future in the MLB. Hopefully these guys will be able to live up to standards that other Georgians selected in the first round like Clint Frazier and Austin Meadows have set so far in their young MLB careers.