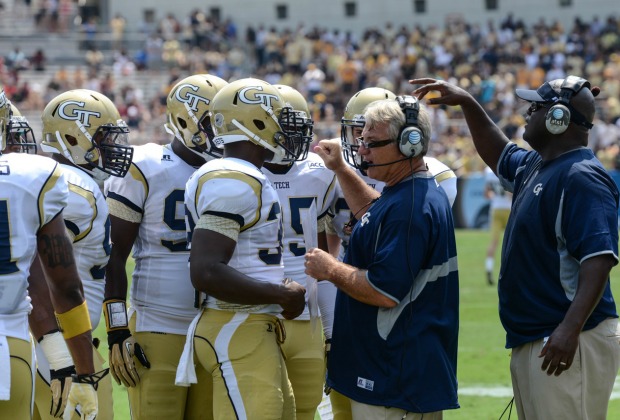 Photo by Jon Barash
The two high-powered offenses combined for 1190 yards of total offense as North Carolina edged the visiting Yellow Jackets 48-43, handing the Rambling Wreck their second second straight loss since being ranked in the AP poll.
Georgia Tech trailed 21-17 at the half but Justin Thomas hit Darren Waller on a 55-yard touchdown pass to give Tech the lead at 24-21. The lead would not hold as Marquis Williams and Romar Morris ran in touchdowns to give North Carolina a 35-24 lead heading into the fourth quarter.
GT opened the final frame with another deep shot from Thomas, this time finding Smelter for the 46-yard touchdown. The Tar Heels answered with a big play of their own, with Williams firing a 35-yard pass to Mack Hollins for the score to make it 42-31, but the Yellow Jackets continued to buzz.
Georgia Tech responded with a 72-yard drive that saw B-back Zach Laskey go up the middle 14 yards for the touchdown. The following two-point conversion failed and Tech trailed 42-37. Following a UNC punt, Paul Johnson pulled a trick out of his bag of play calls, as Smelter took a reverse 75 yards for the score as Tech took the lead at 43-42 with 3:07 remaining.
However, UNC's quarterback was at it again, completing 6-of-7 passing totaling 68 yards on the following drive, setting up the two-yard touchdown run for T.J. Logan with nine seconds left as the Tar Heels pulled out the 48-43 victory.
Among the many offensive stars, Laskey ran for 75 yards and two touchdowns before leaving with a shoulder injury in the fourth, while Smelter compiled 133 yards of offense with two touchdowns in the contest.
Tech quarterback Justin Thomas completed 8-for-18 passing for 238 yards and three touchdowns while the triple option totaled 376 yards on the ground. Williams had a career night for the Tar Heels' high-octane offense, going 38-for-47 through the air for 390 yards and four scores