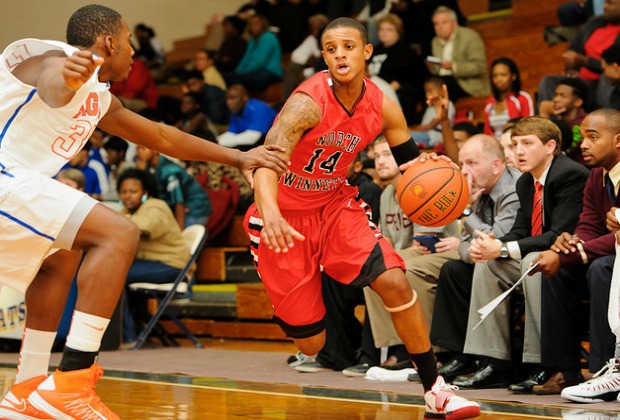 Ty Freeman
The Hoops In Overdrive Shootout brought plenty of incredible talent to Centennial High School over the past few days as top players from across the nation participated in the event. Faith Baptist's J.J. Frazier opened a lot of eyes as many people were curious to see the 5-foot-9 point guard that recently signed with Georgia. In a 85-79 win over Legacy Charter (S.C.), Frazier notched 22 points to go with six assists and three steals. He would add 18 points in a win over Quality Education (N.C.)
One of the top juniors in the nation, Ahmed Hill scored 36 points in a 65-37 Aquinas victory over the host Centennial Knights. Hill already holds offers from Alabama, Cincinnati, Clemson, Connecticut, Florida State, Georgia, Georgia Tech, Indiana, Kansas, Marquette, Missouri, NC State, Texas, Villanova and VCU, according to rivals.com.
Jabari McGhee could not lead Monroe-Albany to a victory in the Hoops In Overdrive Shootout as his team lost to Northeast (Fla.) Monday 52-51 and then to Luella 73-67 Tuesday. However, McGhee did score 20 against Luella and 11 against Northeast. Monroe-Albany was close in both games, with poor free throw shooting leading to their first loss and Luella pulling away in overtime in the second thanks in part to TeMarcus Blanton, who finished with 20 points.
Perhaps the game of the weekend was Morgan County and Shiloh to wrap up the showcase. Morgan County rallied back to force overtime before pulling away to win on a Tookie Brown game-winning 3-pointer with 1.3 seconds remaining. Shiloh had previously dominated Luella 76-45 as multiple players scored double-digit points to pace the Generals.
Other standout performances included Tobais Howard of North Gwinnett pouring in 19 points in a 67-62 win over North Florida Educational Institute; Ethan Mayo's 16 points for Centennial in a loss to Arabia Mountain as Bakari Copeland scored 20 for Arabia Mountain; Demetrius Houston scoring 15 points for Carver-Montgomery and teammate Brandon Murphy pulling down 11 rebounds in the win over Jonesboro; Zach Hodskins with 12 points in Milton's win over St. Jude's (Ala.).
Tuesday's results
Aquinas 65, Centennial 37
North Florida Educational Institute 60, Newnan 50
Faith Baptist 83, Quality Education (N.C.) 65
Jonesboro 69, Rockdale County 52
Luella 73, Monroe-Albany 67
Morgan County 81, Shiloh 79
Monday's results
Carver-Montgomery 51, Jonesboro 46
North Gwinnett 67, North Florida Educational Institute 62
Faith Baptist 85, Legacy Charter (S.C.) 79
Milton 75, St. Jude's (Ala.) 39
Lee (Ala.) 61, Alcovy 44
Northeast (Fla.) 52, Monroe-Albany 51
Saturday's results
Shiloh 76, Luella 45
Arabia Mountain 67, Centennial 51