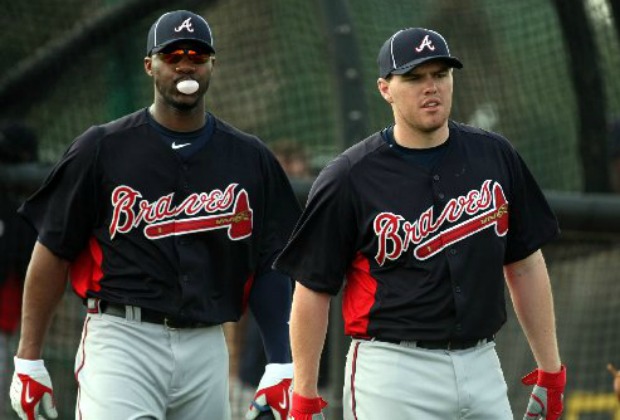 Photo by Jason Getz/AJC
The Braves' offseason was uneventful. Not even a record-setting contract can change that. What it can do, however, is alter the mood as spring approaches. Last year, Atlanta was giddy (emotions not yet justified by results) for the newly-acquired Upton brothers. This time around, the Braves bring no fresh faces into a new season. They did, however, lock up core players who took them to the 2013 National League East title. Freddie Freeman signed an eight-year deal for a franchise-best $135 million and Jason Heyward inked a two-year contract extension.
Suddenly, it looks like the Cobb County-bound Braves are willing to ante up extra cash in anticipation of extra revenue.
"I think the great attribute that Cobb County gives us, is it helps us stay competitive,general manager Frank Wren told the Atlanta Journal Constitution. "It gives us the revenues and the additional ability to stay competitive in our division. But this is a comprehensive plan. It's not just about Freddie, although this is one of the first big steps."
Big steps are not what the Braves made between last season and this one, but recent developments at least give this city hope that they are signs of things to come. More impor-tantly, they give Atlanta hope for 2014.
BRACKETOLOGY …
The excitement of the unknown is hitting baseball fields throughout Arizona and Florida this week while infusing fan-bases with energy across the nation. On the college hardwood right now, however, blissful anticipation of March Madness is based on what we already know. That's why this city should be buzzing not about the Jackets of Georgia Tech or the Dawgs of UGA, but the Panthers of Georgia State. GSU is a No. 14 seed in Joe Lunardi's current NCAA Tournament Bracketology on ESPN.com, which he posted on Monday. The Panthers have been to the Big Dance on two previous occasions: 1991 as a No. 16 seed and 2001 under head coach Lefty Driesell. That year, as a No. 11 seed, they upset Wisconsin before falling to Maryland.
If current form is any indication, Georgia State may be on course for its third-ever NCAA Tournament appearance and second—or more?—victory. Making its debut in the Sun Belt Conference after previously competing in the Colonial Athletic Association, GSU is taking its new league by storm. Head coach Ron Hunter's squad has won 14 games in a row heading into a Thursday night home date with Texas State. The Panthers are 17-6 overall and 10-0 in the SBC. Among their standouts are sophomore shooting guard R.J. Hunter (19.9 ppg), the coach's son, and junior point guard Ryan Harrow (17.9 ppg, 4.5 apg), a transfer from Kentucky. With two stars who could log minutes for any team in the nation and a relatively deep roster on which seven players average at least 12 minutes of PT per game and nine see the floor for at least eight minutes per contest, Georgia State should be able to play with any opponent in the first week of the NCAA Tournament.
Still, there can be no looking ahead because the bottom line is the Sun Belt Confer-ence is a one-bid league. No matter how well the Panthers play throughout this month, they will have a four-day season March 13-16 at the SBC Tournament in New Orleans. That is not to say, of course, that the remaining eight regular-season games are of little importance. Far from it. Eight more wins would ensure the Panthers of the No. 1 seed and a double-bye in New Orleans while also putting them in position for some-thing as good as a No. 12 seed in the Big Dance.
"We have said all year that we have to take care of business at home and do well on the road," the elder hunter told GSU's official website. "So far this season, we have yet to lose at home. We need our students and fans to keep coming out to support us at home so that we can continue to give GSU the best home-court advantage in the league."
Hunter does not have anything to worry about. Nobody will be getting off this band-wagon anytime soon.