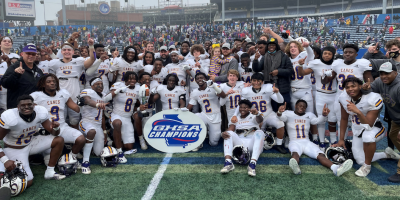 Buford rallied back from a 14-0 deficit in Friday's nightcap and blocked Hughes' 35-yard field goal as time expired to win the Class 6A state title 21-20 and secure its third-straight state title and 14th all-time. Hughes' hit Buford early with a blend of Antonio Martin rushes and playmaking by quarterback Prentiss Air Noland and built a 14-0 lead. Armani Tookes got the Panthers on the board with a 33-yard touchdown catch from Noland and Martin's 5-yard run extended the lead to 14-0. Buford was able to close out the half with a 10-play, 61-yard last-second touchdown drive that was capped off with a 3-yard CJ Clinkscales score to make it a 14-7 game.
Stanford-commit Ashton Daniels evened it up 14-14 with a 1-yard touchdown in the third quarter, but Martin capped an 80-yard scoring drive with a 30-yard touchdown to put Hughes up 20-14 heading into the final frame; the Panthers missed the point, leaving Buford down six. Buford's game-winning touchdown drive started with 5:49 left on the Wolves' own 25-yard line and Clinkscales' 2-yard score gave the Wolves a 21-20 edge with 2:55 left to play.
Hughes drove down to the Buford 18-yardline and set up for the potential game-winning field goal, but Buford got a hand on it and the kick fell short—denying Hughes of the program's first-ever championship. Hughes finished with 290 total yards of offense and Buford finished with 280. Martin finished with two touchdowns and a game-high 164 rushing yards off 24 carries and Air Noland finished 8-of-13 passing for 114 yards and a touchdown. Buford's Clinkscales (50) and Victor Venn (46) rushed for 96 of the Wolves' 106 yards and Daniels went 14-of-20 through the air with 179 yards and a touchdown.
CLASS 4A
Benedictine 35, Carver-Columbus 28
Benedictine closed out a thrilling 35-28 victory over Carver-Columbus to take home the program's third all-time state championship and first since 2016. The Cadets scored with a 4-yard Justin Thomas touchdown run on their 13-play opening drive and continued finding big plays to answer Carver's explosive offense. After both teams went three-and-out, Carver found the endzone with a 23-yard touchdown pass from Devin Riles to Cameron Hudson on a crucial 4th-and-8 call to cut the deficit to 7-6. Minutes later, Benedictine quarterback Holden Geriner connected with Thomas on a 61-yard strike to grow the lead to 14-6, but Carver's Jaiden Credle evened it back up with a 59-yard touchdown run to make it 14-14 heading into the second half.
Carver went three-and-out to start the third quarter and Benedictine reclaimed the lead on a 58-yard touchdown pass from Geriner to Za'Quan Bryan. Both teams turned it over and then it appeared Carver was about to score, but Credle's fumble was recovered by Michael Smith in the endzone for a touchback. On the next snap, Geriner tossed an 80-yard touchdown pass to Kameron Edge that pushed the lead to 28-14. Carver continued to claw back and cut the deficit to 28-22 on a Riles touchdown pass to Williams Bonilla and a successful two-point conversion. The high-powered offensive showdown continued midway through the fourth quarter as Geriner extended the lead to 35-22 with another touchdown to Bryan—this time from 23 yards out. Just 23 seconds later, Credle broke loose for a 53-yard Carver-Columbus touchdown to make it a 35-28 game with just 5:14 left. Benedictine received the ball and then used a 10-play, 51-yard drive that ate up the rest of the clock and ended with a victory formation snap at the Caver 8-yardline. The foggy weather did not stop Geriner from his outstanding performance and the Auburn-commit finished 24-of-30 passing for 397 yards and four touchdowns. Credle led the rushing category and paced the Tigers with 184 yards off 20 carries to go with his two touchdowns. Benedictine's Justin Thomas had seven catches for 169 yards and a touchdown to go with his 55 rushing yards and a score and teammate Za'Quan Bryan finished with 10 catches for 121 yards and two scores. Carver outgained Benedictine by a mere two yards (467-465) in total yardage.
Class 2A
Fitzgerald 21, Thomasville 7
The Fitzgerald Hurricanes opened Friday's GHSA football championship triple-header at Center Parc Stadium by avenging their 15-8 loss to Region 1 rival Thomasville on Oct. 22 and capturing the program's first state title since 1948 with a dominant 21-7 victory in the Class 2A championship game. Thomasville kicked off to Fitzgerald to open the game and the Canes capped off a 13-play, 70-yard scoring drive with a 2-yard EJ Lightsey touchdown run to grab a 7-0 lead. Thomasville went three-and-out and Fitzgerald's next scoring drive took up 7:09 of clock—lasting into the second quarter and going for 77 yards off 14 plays. Running back Dennoris Goodwin was pivotal in Fitzgerald's long scoring marches and his 6-yard run put the Canes up 14-0.
No. 2 ranked Thomasville had averaged 41 points per game through the first four rounds of the playoffs, but could not get anything going in the first half against Fitzgerald. The Canes added their third double-digit-play scoring drive of the half to go up 21-0 and Goodwin cashed in on a 12-yard run for his second score to cap the 11-play, 71-yard drive. Fitzgerald had lost its last six-straight finals appearances prior to Friday's triumph and looked comfortable at the half with a 219-to-9 edge in yardage, 21-0 lead and a 19:56-to-4:09 advantage in time of possession.
The Bulldogs found life in the third quarter on a 61-yard touchdown pass from Shannen White to Cole Shaw to cut the deficit to 21-7, but Fitzgerald was able to preserve the margin—largely in part to a 30-carry, 176-yard effort by Goodwin. Fitzgerald freshman Christian Solomon intercepted White late in the third quarter and teammate Jamar Joseph hauled in an interception in the fourth quarter to squash Thomasville's attempted comeback. Fitzgerald missed a 30-yard field goal attempt with 6:09 left to play and Anthony Hill ended the victory with a sack. Fitzgerald and Thomasville both finish their seasons with 13-2 records.