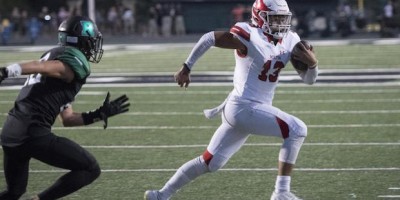 Jordan Yates of Milton runs against Roswell. Credit: John Amis/AJC
AJC featured recaps: Milton 40, Roswell 7; Kell 42, East Paulding 35; Marist 39, Gainesville 14; North Gwinnett 35, Mill Creek 21; Buford 45, Clarke Central 7; Stephenson 27, Jonesboro 0; Douglass 27, Washington 24
CLASS AAAAAAA
Central Gwinnett 38, Lakeside-DeKalb 36
Central Gwinnett hosted Lakeside-DeKalb and the Black Knights found themselves in another close game. Plagued by injuries, Central Gwinnett was missing four starters on defense and struggled to contain the Vikings on their way to a narrow 38-36 victory. Jarren Williams had a huge game at quarterback, throwing for 232 yards and three touchdowns (to Jallah Zeze, Skylar Adams and Khmari Thompson) and ran for two more. Eric Walker's fumble recovery in the fourth quarter secured the win.
Collins Hill 45, Discovery 12
Collins Hill's run game led the Eagles to a comfortable road victory. After an early touchdown, the Eagles scored again on an 81-yard touchdown run from Najji Germana late in the first. A 2-point conversion made the score 15-0. Germana scored another touchdown in the second quarter, and a touchdown run from Jalen Johnson and a field goal gave Collins Hill a 32-0 lead at halftime. Collins Hill's Evan Anderson scored touchdowns on runs of 56 and 43 yards for the Eagles.
Etowah 41, Cherokee 10
Etowah built a 28-3 halftime lead with a big second quarter to beat visiting Cherokee. Cherokee struck first with a field goal, but Patrick Ferris answered with a 40-yard pass to Jackson Sisk to put the Eagles up 6-3. Ferris found Blake Jones twice in the second quarter (35 and 12 yards), and Nick Maddox III ran for the first of his two touchdowns before the end of the half. Maddox had 24 carries for 79 yards, and Ferris was 13-of-20 for 184 yards passing and three touchdowns.
Grayson 42, Ramsay (Ala.) 16
D.J. Irons ran in a pair of first-quarter touchdowns to give the visiting Rams a 14-0 lead. Kenyon Jackson caught a 23-yard pass from Irons to add to the lead in the second quarter. Irons then found Jaquavius Lane on a 75-yard pass to put the Rams up 28-0. Ronald Thompkins Jr. scored on runs of 23 and 13 yards in the third quarter to push the lead to 42-2 after a Ramsay safety.
Lowndes 37, Ware County 6
Tayvonn Kyle caught a 40-yard touchdown pass from Michael Barrett four minutes into the game to give host Lowndes a 7-0 lead. Ware County scored five minutes later on a short run from Jeremiah O'Hara, but a missed extra-point made it a 7-6 game. Travis Tisdale caught a 43-yard pass from Barrett to push the lead to 13-6, and Gary Osby added another short Vikings rushing touchdown. Barrett found Kyle again on a 73-yard touchdown pass and then rushed in from 12 yards out to give Lowndes a 34-6 lead. A 43-yard field goal by Ashton Musgrove pulled the game to its final tally.
Mountain View 44, Duluth 7
Mountain View quarterback Matt Edwards threw touchdowns to three different receivers, including a pair of touchdown passes to Malachi Carter to fuel a four-touchdown performance. Keelan Marion and Thomas Stewart were the other recipients of Edwards' touchdowns, and running back Davian Criss led the Bears' ground game with a pair of rushing touchdowns. Defensively, Mountain View's Blake Carroll registered three sacks and Dennarrio Stewart corralled two interceptions.
Newton 30, South Gwinnett 8
Newton quarterback Myron Middlebrooks was 14-of-21 passing for 189 yards and accounted for four touchdowns. Adarius Thomas rushed for 70 yards on 14 carries and had four catches for 71 yards with a touchdown for host Newton. Michael Mathison scored on a pass for the first touchdown of the game, giving Newton a 6-0 lead heading into the second quarter. Jerrol Hines scored to extend the lead to 13-0 at halftime. Hines had his second touchdown catch on a slant in the first minute of the third quarter. Thomas ran for a touchdown with less than five minutes remaining.
Shiloh 14, Rockdale 12
Shiloh put together a comeback win over Rockdale in a down-to-the-wire finish for the Generals' first win of the season. An interception by Shiloh set up Jakobi Givens for a 3-yard touchdown to put the Generals up 6-0. Rockdale scored to tie the game at 6-6 for the halftime score. With 1:39 left in the third, Rockdale's Jermaine McSween found the end zone to increase the Bulldogs' lead to six points. With less than eight minutes left in the game, Shiloh's Dakota Thomas caught the tying touchdown to make it a 12-12 game. Shiloh attempted a 2-point conversion, and Darrell McDowell found the end zone to give the Generals a two-point lead. Shiloh's defense forced a fumble with 47 seconds left, securing the win.
CLASS AAAAAA
Alexander 21, Northgate 14
In the first quarter, visiting Alexander took an early lead when quarterback Mason Wood threw a pair of touchdown passes to receivers Joel Phillips and Michiah Randolph while strong safety Aaron Casey caught a one-handed interception to keep the momentum in Alexander's favor. Cougars return man Ryan Shepard ran a kick back 93 yards for a score to help give Alexander the win.
Alpharetta 35, North Atlanta 7
Nolan Edmonds rushed for 96 yards and a touchdown and Kevin Watkins rushed for 51 yards and a touchdown for Alpharetta. Matthew Downing rushed for one touchdown and passed to Spencer Gaddis and Michael Marbaugh for a touchdown each. On defense, Reid Schulz had nine tackles. Jack Stanton and Nick Markus both had five tackles and one sack. Alpharetta scored two touchdowns in each of the first two quarters to North Atlanta's one touchdown in the second quarter to make the halftime score 28-7. Gaddis rushed for the final touchdown of the game for 62 yards in the third quarter.
Cambridge 27, Johns Creek 7
Quarterback Hogan Dykes and wide receiver Ridge Polk connected for all of the Bears' touchdowns. Cambridge got on the board first on a Victor Valentine field goal. Polk caught the first touchdown for 43 yards, making it a 10-0 Cambridge lead before the half. Johns creek scored with 7:22 left in the third quarter for its first points. Dykes and Polk responded with a 30-yard touchdown completion, and the duo added one more touchdown for 35 yards. Valentine finished the scoring with another field goal.
Centennial 45, Chattahoochee 28
Julian Nixon scored three touchdowns for the Knights. Chattahoochee struck first with a touchdown, but the extra point was blocked. Nixon scored his first touchdown with 7:21 to go in the opening quarter. The Cougars responded with a touchdown and two-point conversion giving them the lead 14-7. Centennial recovered the lead following a field goal by Nicky Solomon and a touchdown by Cal Dickie. Max Brosmer also added a touchdown before the end of the quarter. The score was 31-22 at the half. Julian Nixon added his last two touchdowns, one each in the third and fourth quarters.
Dalton 28, Creekview 22
Dalton's J.P. Tighe had nine rushes for 90 yards and was 5-of-12 passing for 80 yards and a touchdown. Jahmyr Gibbs had two rushing touchdowns and finished with 79 yards on 12 touches. Tyis Love had 19 carries for 89 yards and one touchdown. Yendry Cruz had three receptions for 31 yards. Dalton had 15 first downs to visiting Creekview's 18, and Harrison Hughes had an interception in the victory.
Drew 19, M.L. King 12
A shutout in the second half and resiliency from the offense provided just enough for Drew to win a close game against M.L. King at Southern Crescent Stadium in Riverdale. Drew's first touchdown came on a 5-yard touchdown catch by running back Cedric Davenport. Drew missed the extra point and trailed 12-6 until a quarterback keeper from Gary Tyner evened the score at 12-12. Drew failed to convert the 2-point try but was able to get the game-winning touchdown and successful PAT late in the fourth quarter on a 35-yard touchdown pass from Tyner to wide receiver Tyrek Presley.
Hughes 32, Creekside 7
Hughes scored 25 straight points to break open a game that was tied at 7-7 midway through the first quarter as the Panthers eventually overwhelmed visiting Creekside. T.J. Portress put Hughes in front with a 2-yard touchdown run, and Christian Royalston gave the home team a 12-point lead with a 12-yard run late in the third quarter. Rashun Walton returned an interception 25 yards to the end zone early in the fourth quarter, and Jacquez Milam tacked on a 3-yard scoring run with five minutes left for the game's final points.
Northview 35, Dunwoody 13
After an even first half, Northview jumped on Dunwoody as senior quarterback Colton McDaniel accounted for four touchdowns, two of them to David Diamond and one to Zach Clowe and one a rushing score. Running back Will Caylor rushed for two touchdowns for host Northview.
Sequoyah 28, River Ridge 3
River Ridge scored the game's first points on a field goal, but that would be the only production their offense had on the road against Sequoyah Friday night. Sequoyah running back Cameron Gales responded with a 1-yard touchdown run early in the second to put the Chiefs up 7-3. A 32-yard touchdown pass from Collier Pecht to Cole Jacobs pushed Sequoyah's lead to 14-3 right before halftime. Two Luke Jensen touchdowns in the second half, one a 26-yard TD run on a reverse, put Sequoyah ahead for a comfortable 28-3 victory.
Tucker 54, Mundy's Mill 12
Taurean Taylor rushed 11 times for 163 yards and three touchdowns for Tucker, which led 41-0 at halftime at Twelve Oaks Stadium in Hampton. Darick Stephenson had five rushes for 50 yards and two scores, and Josh Vann had two catches for 55 yards and a touchdown and one rush for 27 yards. Quarterbacks Travon Ford, the starter, and Bryce Spradling each threw touchdowns, Ford to Vann and Spradling to Miles Bowens. David Davis had nine rushes for 57 yards and a touchdown.
Winder-Barrow 56, Apalachee 14
Quarterback Brock Landis rushed for 168 yards and four touchdowns. He also passed for 129 yards and added a touchdown pass to Tyreek Perkins. Scoring in the "Battle of Barrow" opened with an interception return for a touchdown by Winder-Barrow's Ryan Maynard. Lamonta Mack and Sterling Sumpter scored on rushing touchdowns for the Bulldoggs in the third quarter.
CLASS AAAAA
Banneker 27, Lithia Springs 20
Visiting Banneker took an 8-0 lead before Lithia Springs scored a touchdown at 4:58 in the first quarter. Banneker was down at the half 14-8. Brandon Holt tied the game with an interception return for a touchdown in the third quarter. With 47 seconds remaining in the quarter, Banneker took the lead 20-14 and scored again to make it 27-13 with 8:30 remaining in the fourth.
Eagle's Landing 10, Dutchtown 7
After a scoreless first quarter for both teams, Eagle's Landing's Cameron Lewis completed a 43-yard pass to Emmanuel Stores for a touchdown in the second. Lewis had 211 passing yards. The game was tied 7-7 in the fourth quarter with 5:10 remaining on the clock with a Dutchtown score, but Eagle's Landing's Logan Friddell kicked the game-winning 31-yard field goal with 2.2 seconds remaining.
Flowery Branch 35, Cedar Shoals 21
Malik Drayton and Malik Damons combined for all five of Flowery Branch's touchdowns as the host Falcons held off Cedar Shoals. Flowery Branch never trailed, but the Jaguars tied the game at 7-7 in the second quarter and 14-14 in the third before seeing their comeback attempts finally fall short. Drayton had touchdown runs of 12, 13 and 83 yards. Damons scored from 44 yards out in the second quarter and on a 3-yarder early in the fourth. For Cedar Shoals, quarterback Kiyonnice Smith threw touchdown passes to Altavious Wright and JaiVanni McDavid. Jerphari Colbert of the Jaguars scored on an 80-yard run on the first play of the second half to briefly make it a 14-14 game.
Griffin 29, Starr's Mill 28
After a scoreless first quarter, Starr's Mill was first to score with a 1-yard rushing touchdown. Shortly after, the Panthers rushed 25 yards for a quick second touchdown to put them up 14-0. Down with less than three minutes left in the first half, Griffin managed to score but missed the extra point to make it 14-6 heading into halftime. Griffin managed to gain a lead with a pair of touchdowns and a 2-point conversion to give it a 29-28 lead with two minutes left to play. Starr's Mill was set to attempt a game winning 22-yard field goal, but the kick was no good to give Griffin the upset win.
Walnut Grove 42, Johnson-Gainesville 0
Walnut Grove returned the opening kickoff for an 88-yard touchdown. Connor Hix scored two consecutive touchdowns on the ground, one from 22 yards out, giving Walnut Grove a 21-0 lead going into halftime. Walnut Grove extended its lead to 28-0 after an 80-yard punt return for a touchddown by Joc Pledger in the third. Malik Campbell added two more rushing touchdowns to give Walnut Grove its final points.
Whitewater 42, Morrow 26
Visiting Whitewater took a 15-0 first-quarter lead with a 60-yard touchdown pass from sophomore quarterback Maddox Mueller to Nolan Wallace and a run from Kyris Bryant. Morrow responded with two scores with a 14-yard catch by Jimmy Calloway and a fumble recovery and return for a touchdown by Alfred Jackson with 2:07 left in the first. Whitewater would expand its lead with receiving touchdowns by Jamal Jenkins and Hunter Williams, while Morrow's Kristopher Clark would score on a quarterback keeper to make the halftime score 28-20 Whitewater. Whitewater got second-half scores on Wallace's second touchdown and a rushing TD by Miles Montgomery to secure the win.
Woodland-Stockbridge 21, Ola 17
Woodland-Stockbridge overcame a 14-0 deficit in the second quarter for a comeback victory over the visiting Ola Mustangs. Quarterback Shariff Brown found Kareem Rogers in the final moments of the first half for the Wolpack's first points and threw another touchdown pass to Terrance Ellis early in the third to tie it at 14-14. Jalen Echols ran for a touchdown for the lead and Woodland's defense held Ola to a field goal in the fourth, and both Dequan Mosley and Michael Tanks II intercepted the Mustangs' quarterback, with Tanks' interception coming on the final play of the game.
CLASS AAAA
Cartersville 55, Central-Carroll 6
Cartersville quarterback Trevor Lawrence threw three of his five touchdown passes in the opening quarter to grow a 21-0 Hurricanes lead. Rico Frye added a 57-yard touchdown run in the second quarter, and the Hurricanes took a 28-6 lead into the second half. Lawrence's fourth touchdown pass went 64 yards to T.J. Horton on Cartersville's first play of the third quarter. Less than two minutes later, Frye ran in a 43-yard touchdown to push the lead to 42-6. Lawrence connected with Horton for the duo's third touchdown of the game with 5:48 left in the third quarter and then the starters were pulled with a 49-7 lead. Terry Berdin added an 8-yard touchdown run with 8:55 left in the game, and Dylan Henderson registered his second interception in the final quarter.
Eastside 56, Druid Hills 14
Host Eastside scored six of its eight touchdowns on the ground and rushed for 324 yards as a team. The Eagles took a 21-7 lead in the first quarter after a 1-yard Taylor Carter touchdown run, an 11-yard touchdown run by Shamar Hunter and a Spurgeon Gaither return for touchdown that came off his own blocked punt. A receiving and rushing touchdown by Carter and a 19-yard touchdown run by Quincy Collins grew Eastside's lead to 42-7 before the half. Hunter added a 33-yard touchdown to put Eastside up 49-14 and Collins capped off the scoring with a 15-yard touchdown run.
Mary Persons 42, Spalding 18
Braylen Harvey ran in a 24-yard touchdown with 7:40 left in the first quarter to give host Mary Persons a 7-3 lead. In the second quarter, J.T. Hardage found Ladamion Sands for a 14-yard touchdown pass, and Harvey added a 20-yard touchdown run. Mary Persons' Tre Slaton ran in a pair of second-half touchdowns, including a 38-yard touchdown run with 8:06 left.
Salem 28, Luella 14
Junior free safety Keevan Bailey of Salem had a 54-yard interception return in the first quarter. The Seminoles then added another score with a 31-yard pass to receiver Makari Pruitt from junior quarterback Donald Wilson to give the home team a 14-7 lead. Head coach Jarrett Laws said he was impressed with his defense tonight, as it got its second touchdown with two minutes left in the game when defensive tackle Khalil Maxwell ended the scoring with a fumble recovery for touchdown.
Troup 71, Sandy Creek 16
Troup quarterback Montez Crowe threw for a school-record eight touchdown passes by the time the visiting Tigers' 55-point blowout was complete. Crowe threw four touchdowns to Kobe Hudson (38, 25, 67, 39 yards) and found Mark-Anthony Dixon (45 yards), Jamari Thrash (14 yards), Ja'Rell Smith (44 yards) and Kenly Bridwell (5 yards) each for scores. Tyree Carlisle and Trey Williams each rushed for Troup touchdowns in the first half to build the Tigers' 43-10 lead.
Woodward Academy 56, Henry County 27
Woodward quarterback Christian Wylder went 7-for-8 with 149 yards passing and two touchdowns while also rushing for a score as the visiting War Eagles defeated Henry County. Mike Wright also excelled under center for Woodward, going 8-for-11 with 185 yards and two touchdowns. Tahj Gary caught a 59-yard scoring strike from Wylder in addition to his 141 rushing yards and two scores on five carries. Jacorrei Turner had three receptions for 126 yards and a touchdown in the War Eagles' offensive assault. Hunter Sellers and William Cooper also had touchdown receptions for Woodward, while Kimani Vidal rushed for a 2-yard score. The War Eagles put up the game's first 21 points in the opening quarter and never again led by fewer than 14 points.
CLASS AAA
Calhoun 41, Haralson County 10
Calhoun quarterback Gavin Gray was 18-of-25 passing for 350 yards and two touchdowns and added six carries for 28 yards and a touchdown. Zach Fuller rushed for 61 yards and two touchdowns on his eight carries, and Bralin Barton had four receptions for 94 yards and a touchdown. Luke Moseley had four receptions for 89 yards and Payton Morrow had a 50-yard touchdown catch to help fuel Calhoun's 507 total yards of offense.
East Hall 62, Union County 42
East Hall quarterback Austin Parker completed 18 of 26 passes for 409 yards and three touchdowns, while rushing for 110 yards to pace the host Vikings. Junior running back Cambren Wilson's sixth touchdown of the night gave East Hall its 62-42 lead with 1:46 left. East Hall finished with 707 total yards of offense in the victory.
Greater Atlanta Christian 55, Fannin County 7
Greater Atlanta Christian scored touchdowns in all three phases of the game to overwhelm visiting Fannin County. In addition to six scoring drives engineered by the offense, the Spartans also got a 55-yard punt return for a touchdown from Max Burke and a 20-yard interception return to the end zone by Jake Floyd. Burke also caught a 44-yard scoring strike from Josh Rose. Jackson Hardy threw two touchdown passes, one to Montae Bailey and another to Jonathan Moore. Kyler McMichael got the Spartans off to a strong start with a pair of first-quarter touchdown runs. Fannin County got on the scoreboard with a touchdown pass late in the third quarter before a running clock in the fourth.
CLASS AA
B.E.S.T. Academy 34, Therrell 14
B.E.S.T. Academy hosted Therrell and coasted on a big early lead to a 34-14 victory. Quarterback Nakia Davis Jr. ran for a 14-yard touchdown for the first score of the game before Blaine Gibson scored the second on a 10-yard run. Davis threw to Jalen Cannon for two touchdowns (66 and 7 yards) for a 28-0 halftime lead. Cannon scored again in the fourth on an 80-yard run and finished with 128 yards on seven carries and 73 yards on two receptions. Davis was 5-of-15 but threw for 113 yards and two touchdowns and carried the ball 12 times for 69 yards.
Rabun County 45, Banks County 7
Rabun County quarterback Bailey Fisher rushed for a 7-yard touchdown and completed 10 of 14 passes for 191 yards and three touchdowns in the first half as the 5-0 Wildcats jumped out to a 31-0 lead. Brison Beck added a 3-yard rushing touchdown with 7:09 left in the third quarter, and then Fisher ran in a 7-yard touchdown five minutes later to make it 45-0. Andrew Barnes kicked a 38-yard field goal in the first half.
CLASS A
Hebron Christian 29, Towns County 7
Troy Allen and Chandler Lewis had two touchdowns each as Hebron Christian ground down Towns County at Lions Field in Dacula. Towns County scored first, as Trent Bradshaw scored from 12 yards out after a Zack Davenport punt return deep in Hebron territory. After that, it was all Hebron Christian. Allen scored from 2 and 20 yards out, while Lewis had a 1-yard TD run before his final touchdown, a 30-yard score with 1:38 remaining.
Mt. Pisgah Christian 45, King's Ridge 14
Mt. Pisgah quarterback Jacob Cendoya threw for 236 yards and three touchdowns. Cendoya also rushed for 113 yards in the road win. Tight end Connor Purcell had 65 yards receiving and a touchdown catch. A trick play call allowed Purcell to rush the ball into the end zone for his second score of the night. Receivers Kai Williams and David Woodward combined for a total of 173 yards and two touchdowns. Linebacker Johnathan Giglia had 10 total tackles.
Mt. Vernon Presbyterian 35, Holy Innocents' 31
Host Mt. Vernon Presbyterian trailed 28-14 entering the fourth quarter before completing an improbable and thrilling comeback. Quarterback Reggie Burnett found Justin Douglas for a 55-yard touchdown with 10:30 left in the game, and the lead shrunk to 28-21, but Holy Innocents' added a field goal to push it back to 31-21 shortly after. The Mustangs responded and returned to the end zone on a 15-yard touchdown pass from Burnett to Austin Douglas, but Holy Innocents' still held a 31-28 lead with just 33 seconds left on the game clock. Mt. Vernon successfully recovered the onside kick, and then Burnett found Justin Douglas for a game-winning 65-yard touchdown pass with just 10 seconds left.
Prince Avenue Christian 21, Commerce 6
Host Commerce was outscored 21-0 after taking a 6-0 lead on its opening drive. The Wolverines claimed a 7-6 lead in the second quarter on an 81-yard touchdown pass from Grant Roland to Christian Parrish. Roland found Mack Simmons with 7:05 left in the third quarter and then connected with Sam Wessinger for a 10-yard touchdown with 15 seconds left in the quarter to give Prince Avenue Christian its 21-6 lead.
Walker 28, Fellowship Christian 27
Walker scored touchdowns on the first play of the game and the last to win a thriller against visiting Fellowship Christian. Lake Boyer returned the opening kickoff 85 yards for a touchdown and caught a 26-yard touchdown pass from Joseph Vose as time expired before Kyle Goldstein's extra point clinched the Wolverines' win. Fellowship Christian had taken a 27-21 lead with 51 seconds remaining on a 10-yard scoring run by Lawson Haigler, but the extra point was blocked. Vose also had a 34-yard touchdown run and an 8-yard touchdown pass to Beau Slay. For the Paladins, Casey Barham caught a 29-yard touchdown pass from Brooks Bryant and also blocked a punt before returning it for a touchdown.
Whitefield Academy 24, St. Francis 7
St. Francis scored on the second play of the game but host Whitefield Academy quickly turned things around in a convincing win. K.J. Cainion rushed for 154 yards and a touchdown to lead the WolfPack to victory. Luke Persons threw for 54 yards and had a touchdown pass to Austin Sumter before leaving with an arm injury. Sumter finished with 84 receiving yards. Matthew Sumlin tacked on the final points for Whitefield with a 23-yard field goal. St. Francis' opening touchdown came on a 62-yard pass from Sam Hines to T.J. Tampa.