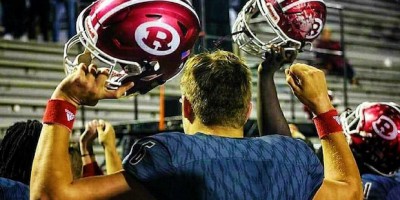 Warner Robins routed Carrollton in the 5A quarters. Credit: Hall Shots Photography
CLASS AAAAAA
Glynn Academy 31, Harrison 7
Caine Crews scored on three short touchdown runs to give Glynn Academy a 21-0 lead in the third quarter, and Randon Jernigan rushed for a 7-yard score in the fourth for a 28-7 Red Terrors lead. Crews scored on a 1-yard run to cap a 15-play, 80-yard drive on Glynn Academy's first possession. After Glynn forced a Harrison punt on the next possession, Crews had a long punt return to the Harrison 8-yard line. Two plays later, Crews rushed for a 3-yard touchdown. Glynn led 14-0 after a scoreless second quarter. On the opening possession of the second half, Crews rushed for a 1-yard score to end a seven-play, 65-yard drive. After a Harrison touchdown, Jernigan's 7-yard score capped an 11-play, 75-yard drive. Jack Podlesny's fourth-quarter field goal brought the score to its final tally.
Lee County 34, Mays 14
Lee County avenged a 2016 playoff loss to Mays with a dominant 34-14 home win. The Trojans' first points came on a 31-yard field goal by Austin Beaver in the second quarter after a scoreless opening frame. Nikko Cruz had a 1-yard touchdown run to make it 10-0 Trojans and Jase Orndorff connected with Josh Asbury for a 14-yard touchdown on the last play of the half to give Lee County a 17-0 lead. Asbury's touchdown catch was made possible by a Tavian Mayo interception that he caught near the Mays 20, setting up the TD on the next play with six seconds remaining in the half. Beaver hit a 42-yard field goal in the third quarter before Mays connected on a long touchdown pass to make it 20-7 Lee County heading to the fourth. Ty Terrell caught a 12-yard touchdown from Orndorff and Cruz had a 12-yard TD run to make it 34-7 in the final quarter before another Mays touchdown pass. Lee County forced five Mays turnovers, getting interceptions from Mayo, T.J. Harris and Kermit Solomon and recovering two fumbles.
CLASS AAAAA
Carver-Atlanta 26, Jones County 21
A delay-of-game call as the Carver-Atlanta Panthers were lining up in the victory formation ultimately put the ball back in visiting Jones County quarterback Hunter Costlow's hands for a Greyhounds touchdown with 12 seconds to play, but the ensuing onside kick was recovered by DeAnthony Ball to secure a 26-21 Panthers victory. Carver quarterback Octavious Battle threw two first-half touchdown passes to Auburn commit Quindarious Monday, the second of which came on fourth-and-15, despite being sacked five times by the Greyhounds defense. Tony Jones scored on a 37-yard run in the third and Jo'Quavious Marks on a 4-yard run in the fourth, and the 26-14 Panthers lead stood through the following four Greyhounds possessions (one Costlow interception, three turnovers on downs) until the last-minute comeback attempt by Jones County.
Rome 59, Starr's Mill 10
Jamious Griffin had three rushing touchdowns (17, 9 and 5 yards), and quarterback Knox Kadum was 7-of-11 passing for 226 yards and long touchdowns to Jevard Williams (77 yards) and Xavier Roberts-Donaldson (63 yards), who also returned a punt for a touchdown. Kadum had a 24-yard rushing touchdown right before halftime to give Rome a 31-10 lead and finished with 72 yards rushing for the game. The Wolves' six rushing touchdowns also included a 5-yard score by Nick Burge in the fourth quarter, and kicker Emanuel Gonzalez was 8-of-8 on extra points and had a 24-yard field goal in the second quarter.
Warner Robins 63, Carrollton 24
Host Warner Robins quickly answered an opening Carrollton touchdown with a 19-yard touchdown pass by Jarius Burnett. He scored three touchdowns, all in the first half. Quarterback Dylan Fromm accounted for three of his own for the Demons as his first touchdown, an 11-yard run, gave Warner Robins a lead of 14-10. The Demons closed out the half with back-to-back Burnett touchdowns, one on fourth down with five minutes remaining and a 24-yard run as the clock expired, giving Warner Robins a 28-17 lead. Fromm hit Jaeven West for a 56-yard touchdown to push the lead 56-17 late in the third quarter.
CLASS AAAA
Blessed Trinity 43, Thomson 13
Blessed Trinity scored touchdowns on all four of its first-half possessions and held Thomson scoreless after the host Bulldogs capped off their opening drive with a 3-yard Tyrek Braswell touchdown run. Titans running back Steele Chambers found the end zone on the first two Blessed Trinity possessions and then fooled the Thomson defense on their third series by rushing right and pitching back to quarterback Jake Smith for a 9-yard touchdown. Elijah Green capped the final scoring drive of the first half with a 13-yard touchdown run, and Blessed Trinity led 26-7 after a missed extra point and failed 2-point conversion. Smith connected with a diving Chambers for a 16-yard touchdown pass with two minutes left in the third quarter to increase the lead to 33-7, and Green added a 50-yard rushing touchdown in the third quarter to make it 40-7. Thomson quarterback Mills Ridings scored on a 2-yard run with 6:16 left in the game, and Blessed Trinity kicker Ethan Chauvin capped the scoring with 2:22 left on the clock with a 36-yard field goal.
Marist 28, Burke County 6
After a scoreless first quarter, Burke County's Jaylen Odom put the Bears up 6-0 with an 11-yard run 29 seconds into the second frame. From this point, Marist's rushing game and its sturdy defense outmatched Burke County and dominated the battle of unbeaten teams with 28 straight points. Charlie Addicks rushed for a 5-yard touchdown midway through the second quarter and teammate Ellis Pearson scored a 1-yard run with just a minute left before the half to put Marist up 14-6 at the break. Marist fumbled on back-to-back possessions in the third quarter, but Burke County could not find any holes in the Marist defense. Kyle Hamilton broke the game open on the next series with a 39-yard reverse touchdown run to make it 21-6. Chris Zowine added the War Eagles' fourth and final rushing touchdown with 9:20 left.
Mary Persons 51, Jefferson 32
Quen Wilson of Mary Persons had a big night as he scored four touchdowns and totaled 159 yards on the Bulldogs' home field. Quarterback J.T. Hartage threw two touchdowns to Deadrek Alford, on 1-yard and 55-yard passes. After a back-and-forth first half, after which Mary Persons led 30-20, the Bulldogs pulled away with two 54-yard touchdown runs by Wilson and a safety of Jefferson running back Colby Wood. Wilson's final touchdown run was for 15 yards with 6:23 left in the third quarter. Jefferson fought to close the gap with a third-quarter touchdown to make the score 37-26, but the Bulldogs defense was too tough to overcome. Tre' Slater added a 1-yard touchdown to seal the win.
CLASS AAA
Calhoun 31, Liberty County 7
Calhoun quarterback Gavin Gray found Zeke Nance for a 15-yard score and host Burke County used an explosive 74-yard screen pass from Dionte Bowens to Jaleel Gilbert to even the game 7-7 at the end of the first quarter. Calhoun running back Zack Fuller was sidelined after a hard collision in the opening frame and the Yellow Jackets relied heavily on Gray and the passing game from that point. Late in the second quarter, Gray found Bralin Barton on a 56-yard pass that set up a 20-yard Elmer Gutierrez field goal, and the Jackets took a 10-7 lead into the half. Calhoun finished the half with 181 yards of offense, and 172 yards came through the air.
Liberty County received the ball to open the third quarter, but the Calhoun defense forced a quick stop and the ball went back to Gray and the passing game. Gray connected with Drew Rutledge for a 20-yard touchdown to put Calhoun up 17-7 with 7:04 left in the third quarter. Junior Jonkell Tolbert ran in a 2-yard score midway into the final quarter that built the lead to 24-7, and then Gray sealed the win and capped a three-touchdown performance on a 40-yard pass to Luke Mosley. Calhoun visits defending state champion Cedar Grove next week in the semifinals, where it makes its eighth appearance in the past 10 seasons.
Cedar Grove 28, Pike County
The Cedar Grove Saints rolled to a 28-0 victory over visiting Pike County to advance to the next round. The Pirates converted on fourth-and-1 in the first quarter, but the first of Jadon Haselwood's two interceptions gave the Saints the ball on their own 33 to later set up a 15-yard run by Darrell Neal II that put them ahead 7-0. Pike County turned it over on downs the following possession on its own 37, and Cedar Grove capitalized with a 4-yard pass by Xavier Dennis to Haselwood to put the Saints up 14-0. Haselwood's second interception came on a fake field-goal attempt in the third quarter, and Dennis ran for a touchdown for a 20-0 lead heading into the fourth. Chevon Wright scored the final Saints touchdown on a 35-yard run, and a successful 2-point conversion gave Cedar Grove the 28-0 win.
Greater Atlanta Christian 51, Jenkins 14
Greater Atlanta Christian's Alex Boglin had a 5-yard rushing score for the first touchdown of the game to cap a 10-play, 98-yard drive. The GAC defense held Jenkins scoreless in the first half. GAC's Hunter Cole intercepted a Jenkins pass, returning it for a 45-yard touchdown to lead 13-0 in the first quarter. The Spartans completed two touchdown passes to end the half up 27-0 (Josh Rose to Trey Morrison for 28 yards and Jackson Hardy to Max Burke for 5 yards). In the third quarter, Jenkins got on the board with a touchdown to make it a 27-7 game, but GAC answered with a Sean Henderson field goal. After the second Jenkins touchdown, GAC dominated the ending of the game with two 1-yard quarterback keepers for touchdowns by Rose and Hardy, Jake Floyd's 42-yard punt return for a touchdown and Hardy's 5-yard touchdown run.
CLASS AA
Brooks County 31, Callaway 0
Brooks County running back Jonathan White rushed for a 77-yard touchdown in the first quarter to open scoring and a 15-yard TD in the fourth for the game's final points. White rushed 13 times for 125 yards. Brooks County, which led 17-0 at halftime, gained 406 total yards on 320 rushing and 86 passing while holding Callaway to minus-16 rushing and 67 passing. Brooks County quarterback Mac Perry rushed for 127 yards on 13 attempts, including a 22-yard touchdown in the third quarter. Jacolby Brown had a 4-yard touchdown run and Tony Velasquez hit a 26-yard field goal in the second quarter. Perry was 11-of-23 passing for 86 yards, with five completions and 27 yards going to Khalid Humphreys. Brooks County recovered three Callaway fumbles.
Hapeville Charter 31, Benedictine 17
Hapeville Charter quarterback Hajj-Malik Williams was nearly perfect in the first half and accounted for all four of the Hornets' touchdowns as they built a 28-7 lead. The 6-foot-2 senior finished the half 16-of-17 passing for 211 yards and three touchdowns while adding 71 yards and a rushing touchdown. Two of his touchdown passes went to Rory Starkey (13 yards, 11 yards) and he connected with Kivante' Johnson for a 28-yard score. Benedictine trailed 21-0 before a Nick Iannone 15-yard touchdown pass to Travis Blackshear made it a 21-7 game with 1:12 in the half, but Williams was able to march down the field and set up the 11-yard score to Starkey with 4.6 left before the break. Benedictine was held to just 88 total yards in the first half, and the pace of the game slowed down significantly as the Hornets ran the clock in a scoreless third quarter. Benedictine's Jake Karesh and Hapeville's Alex Barnett kicked fourth-quarter field goals, and Terrick Smalls ran in a 1-yard Cadets touchdown with 22 seconds left in the game to make it 31-17. The loss snaps defending state champion Benedictine's 27-game winning streak and puts Hapeville Charter in the semifinals for a second straight season.
Heard County 28, Thomasville 14
After a tight first half, Heard County shut out Thomasville in the third and fourth quarters to pull out a 28-14 victory on the road. Braves quarterback Emory Jones was responsible for three of Heard County's four touchdowns, starting with a 50-yard pass to Jaden Moreland on the opening drive for a 7-0 lead. Thomasville answered later in the quarter, but Jones found the end zone on a 3-yard run early in the second. Bulldogs quarterback J.T. Rice threw a 5-yard touchdown pass late in the first half to tie it again at 14-14. Thomasville appeared to tie the game a third time midway through the third, this time after a 12-yard Aaron Beasley run for Heard County, but the long touchdown run was called back when the Bulldogs were flagged for an illegal man downfield. Jones added to the Braves lead on a 1-yard run early in the fourth quarter for the 28-14 final.
Rabun County 56, Screven County 14
Both undefeated entering the game, Rabun County and Screven County were tied at 14-14 in the second quarter before visiting Rabun scored 42 straight points. Rabun quarterback Bailey Fisher accounted for seven touchdowns, rushing for three and throwing for four. After a scoreless first quarter, a Fisher touchdown pass to Austin Jones and a short Fisher rushing score were each answered by Screven with touchdown passes of 67 and 79 yards from Armani Bunbury to Tyquan Johnson. Another Fisher touchdown run made it 21-14 at the half, and Rabun took over from there. Fisher threw two touchdowns to Cole Keener and one to Braxton Hicks in the second half while rushing for his third. Brison Beck rushed for the game's final touchdown.
CLASS A-PRIVATE
Athens Academy 38, Savannah Country Day 14
Host Athens Academy (12-0) kept its perfect season alive with a four-touchdown performance from running back Len'Neth Whitehead. The 6-foot-2, 228-pound sophomore powered in a 2-yard touchdown with 7:11 left in the first quarter and Drew Byus kicked a 31-yard field goal to make it a 10-0 Spartans lead at the end of the frame. Savannah Country Day completed a 73-yard touchdown pass to open the second quarter, but Athens Academy's Payton Bowles returned the ensuing kickoff 85 yards to set up Whitehead for an 8-yard touchdown to quickly push the lead back to 10 points (17-10). Freshman Deion Colzie intercepted Savannah Country Day with enough time left before the half for Henry Trapnell to add a 2-yard rushing score to increase the lead to 24-7. Two second-half touchdown runs by Whitehead put him over the 200-yard rushing mark and made it a 38-7 game before Savannah Country Day was able to add a final score with just 2:54 left.
Eagle's Landing Christian 55, Calvary Day 0
With a stifling defensive effort and a balanced run game, Eagle's Landing Christian coasted to another big victory over the visiting Calvary Day Cavaliers. Quarterback Brayden Rush was 5-of-11 for 102 yards and one touchdown (a 51-yard pass to Sean Queen) and ran for another 50 yards on nine carries, including a 3-yard score. Josh Mays found the end zone three times (on runs of 10, 5 and 3 yards), and Justin Menard (5 carries, 67 yards), Nate McCollum (6 for 65) and Keaton Mitchell (6 for 45) each scored rushing touchdowns as well. Of the Chargers' 426 total yards, 324 were on the ground.
Mt. Paran Christian 14, Stratford Academy 7
A quick score in the first quarter put Stratford Academy up 7-0. Stratford managed to maintain its lead throughout the majority of the game until the Mt. Paran offense finally came to life. The Eagles scored a touchdown early in the fourth quarter to tie the game, a rushing touchdown from Chandler Webber. Stratford was unable to stop the Mt. Paran offense and allowed Webber to find the end zone a second time on a rush for the winning TD. The Mt. Paran offense totaled 165 yards on 37 carries, with quarterback Niko Vangarelli rushing 19 times for 76. MPC held Stratford to 51 total yards in the second half.
Prince Avenue Christian 31, Darlington 18
Christian Parrish rushed for touchdowns of 9 and 10 yards out of the wildcat formation to put host Prince Avenue Christian up 14-0 with 10 minutes left in the second quarter. Darlington responded with a 4-yard touchdown run, but Parrish blocked the point after to keep the lead at 14-6. James DeLaurier added a Wolverines field goal before the half and then Grant Roland broke the game open with a 50-yard touchdown pass to Parrish with 3:55 left in the third quarter to push the lead to 24-6. Sam Wessinger added a Wolverines touchdown less than a minute into the final frame to put PACS up 31-6. The deficit remained 25 points until Darlington was able to shrink it to 13 with two touchdowns and a successful onside kick within the final 53 seconds of regulation.
CLASS A-PUBLIC
Clinch County 21, Mitchell County 0
Clinch County led 14-0 at halftime but gained 202 yards and 11 first downs while holding host Mitchell County to just 11 yards in the first half. Running back Trezmen Marshall had a rushing touchdown in the first quarter and quarterback Charles McClelland rushed for a TD in the second quarter after tucking the ball and running on a designed pass play. After a scoreless third quarter, slotback Dantonio Robinson rushed for a touchdown in the fourth quarter to put the game away. Mitchell County advanced the ball near the Clinch County 20-yard line on its first two possessions of the third quarter but turned the ball over on downs both times, failing to threaten for the rest of the second half.
Emanuel County Institute 49, Charlton County 25
Emanuel County Institute got a home quarterfinals win on the strength of three Eric Dixon rushing touchdowns. Dixon scored on a 16-yard run in the second quarter, a 6-yard run in the third and a 1-yard run in the fourth. His final score made it 49-19 ECI with 11:16 remaining. ECI's Bobby McNear scored a touchdown on a 4-yard rush in the first quarter to tie the game 7-7 and scored his second TD in the third on a 6-yard rush. Tysean Carswell and Dazhun Steele each scored rushing touchdowns as well, and Steele had an interception on defense, on a Charlton County heave on the last play of the first half. Freshman quarterback Chase Whitehead was 6-of-7 passing for 82 yards, with three completions for 53 yards going to Steele. Kicker John Joiner was 7-of-7 on PATs.
Irwin County 21, Macon County 15
After a scoreless first quarter, a 15-yard touchdown run by D.J. Lundy in the second made it a 7-0 Irwin County lead. Macon County got a 49-yard return on the ensuing kickoff and Jadarrius Hicks threw a 27-yard pass to receiver Keldric Thomas to help set up a 1-yard rushing touchdown from Aukeeveous McLendon to tie the game. In the second half, Irwin's Jay Stanley had a 3-yard rushing touchdown. Stanley carried the ball again for a successful 2-point conversion to give the Indians an 8-point lead, 15-7. A fourth-quarter 21-yard touchdown run by Hicks and a successful 2-point conversion attempt tied the score at 15-15, but with less than five minutes left to play, Lundy found the end zone from 1 yard out to solidify an Irwin County win.