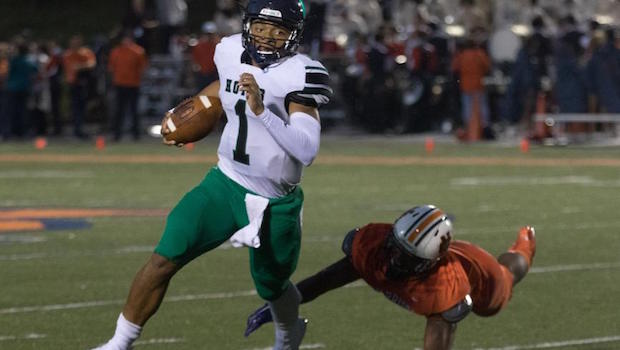 Harrison's Justin Fields slips by a North Cobb defender. Credit: Branden Camp/AJC
CLASS AAAAAAA
Brookwood 35, South Gwinnett 7
A Caleb Riley interception on South Gwinnett's opening drive set up a 19-yard Dante Black touchdown run two plays later to give host Brookwood a 7-0 lead. Broncos quarterback Angelo DiSpigna tossed a 19-yard touchdown pass to Ennio Zambina on the next Brookwood possession and rushed for a 19-yard touchdown with 4:25 still left in the opening quarter to put the Broncos up 21-0. Black added a 28-yard touchdown run with 7:29 in the half to build the lead to 28-0. Brookwood's Matthew Hill added a 58-yard punt return touchdown in the final minute of the third quarter. South Gwinnett spoiled the shutout with 3:24 seconds left in the game after Armond Williams blocked a Brookwood punt and set up a 2-yard Jalen Samuel touchdown run.
Camden County 24, Fitzgerald 21
Host Camden County capped off a 70-yard drive with a 1-yard Brooks Bryan touchdown run to take a 7-0 first-quarter lead. Fitzgerald came back with a James Graham 48-yard touchdown run five minutes into the second quarter. Bryan sprinted in for a 63-yard touchdown, but Fitzgerald made it 14-14 at the half with a Graham touchdown pass. After a scoreless third quarter, Bryan found Logan Berryhill for a 37-yard touchdown pass with 6:45 left to give Camden County a 21-14 lead. Taylor Gebhardt extended the lead to 24-14 with a 30-yard field goal with just 1:47 left. Fitzgerald needed just 59 seconds to score, but an unsuccessful onside kick concluded the comeback attempt.
Collins Hill 24, Lambert 6
Visiting Lambert took the lead in the first quarter with a Bryce Christenson field goal, but the momentum swung toward Collins Hill favor in the second after a Peyton Woulard interception, a touchdown run by senior Evan Anderson and a field goal to go into halftime 10-3. In the second half, the Eagles converted a crucial fourth-and-4 situation, which set up a second touchdown run by Anderson, increasing the lead to 17-3 with 5:50 left in the third. Woulard capped off an impressive night with a pick six late in the game to wrap it up for Collins Hill 24-6.
Colquitt County 35, Tucker 21
Tucker trailed 7-0 midway through the first quarter when its defense came up with a huge play to even the score. On their own 5-yard line, Colquitt County fumbled a toss sweep and Tucker recovered in the end zone. The Tigers followed that up with a 5-yard touchdown run, which was countered by a 50-yard touchdown reception by Colquitt receiver Cam Singletary. Trailing 14-13, Colquitt then came out in the second half and put up 22 straight points to lead 35-14 after a Ty Leggett touchdown run. Tucker receiver Josh Vann caught a 20-yard touchdown pass, but it wasn't enough as Tucker fell on the road.
Kennesaw Mountain 31, Sprayberry 14
Host Kennesaw Mountain's defense held Sprayberry to a touchdown in each half to secure the win. The Mustangs scored the game's first touchdown with 3:27 remaining in the first quarter and scored again at the start of the second quarter. Sprayberry answered with a second-quarter touchdown, but on the following kickoff, junior Keyon Brooks had a return for a touchdown to put the Mustangs up 20-7. The Mustangs scored again to head into halftime 28-7. Kennesaw Mountain hit a field goal in the third quarter.
Marietta 14, Blessed Trinity 6
Marietta grinded out an eight-point victory over Blessed Trinity in a battle fraught with penalties and turnovers. Christian Ford's 95-yard return on the opening kickoff was called back on an illegal block, but Marietta quarterback Harrison Bailey found Ramel Keyton to give the Blue Devils a 7-0 lead less than three minutes into the game. Blessed Trinity got on the board early in the second quarter with a 30-yard field goal (the Titans also got a 48-yard field goal in the fourth quarter) and came close to scoring again in the final moments of the half before Azeez Ojulari brought down the Titans' tailback 9 yards from the end zone to keep the halftime score at 7-3. Bailey led the Blue Devils on an impressive nine-play, 69-yard drive capped off with a 7-yard pass to Arik Gilbert for Marietta's final score.
Meadowcreek 51, Duluth 36
Chauncey Williams' 568 all-purpose yards helped give Meadowcreek its first 2-0 start since 1993. The two Gwinnett schools showed plenty of offense in the game, but the Meadowcreek attack proved to be too much for the Duluth defense. Duluth led after both the first quarter (8-7) and at halftime (29-21). The play that changed the momentum happened when Williams returned a kickoff 95 yards for a touchdown right before halftime to keep the Mustangs close at the half.
North Forsyth 24, Loganville 17
North Forsyth's Arthur Boyzo set a school record with his 13th career field goal to help his team's 2-1 start to the season. Loganville scored the game's first points on a field goal by Trevor Weeks. Tristan Howard answered with the first Raiders touchdown on a 16-yard pass at the 5:47 mark in the first quarter. After Loganville held a 17-7 lead in the second quarter, the Raiders scored three touchdowns to seal the win. Howard caught a 53-yard pass, finishing with three catches for 82 yards. Cedric Touchstone also had three catches for 81 yards and scored one touchdown for the Raiders. North Forsyth's senior QB Ben Bales went 16-of-23 for 234 yards.
North Gwinnett 33, Hillgrove 9
North Gwinnett quarterback Jimmy Urza connected with Josh Downs five times in the first half for 74 yards and a pair of touchdowns. A Tyler Goodson touchdown run before the half built a 21-3 North Gwinnett advantage. North Gwinnett continued to add to its lead in the third quarter on a punt return touchdown by Javonni Cunningham. Hillgrove blocked two extra points and got a 45-yard field goal by kicker Luis Garcia-Cano.
North Paulding 21, East Paulding 13
North Paulding traveled to East Paulding to hand the Raiders their second loss of the season. The Wolfpack defense started the game with a safety. The Wolfpack scored three consecutive field goals to take an 11-0 lead in the second quarter before quarterback Ross Malmgren hit Brian Mitchell for North's first touchdown of the game to close out the first half. The Wolfpack opened up the second half with another field goal. East Paulding capitalized on a North Paulding fumble to score a touchdown. With 2:20 left in the game, East Paulding fought back with a touchdown to close the gap to 21-13, but its comeback attempt fell short.
Roswell 27, Central Gwinnett 21 (OT)
Roswell came away with the comeback victory in an overtime thriller against Central Gwinnett, which is now 2-1 this season in three close games. Kamonty Jett was outstanding for the Hornets, amassing over 200 rushing yards and scoring three of Roswell's four touchdowns. The Black Knights took an early 14-0 lead, but Jett put Roswell on the board with a 19-yard touchdown run at the end of the first quarter. That 14-7 score stood at halftime after a second quarter fraught with turnovers, and Jett found the end zone again to tie it up four minutes into the second half. Roswell quickly scored again on a long run and took a 21-14 lead into the fourth before Central Gwinnett quarterback Jarren Williams completed a 34-yard pass in the final minute of regulation to tie it at 21-21. Williams threw an interception for the Black Knights in overtime, however, and Jett ran it in one last time to give the Hornets their 27-21 win.
South Forsyth 45, Centennial 14
Host South Forsyth scored all of its 45 points in the first half. Kicker Alex Hardy scored the first points with a 29-yard field goal, which was followed by two rushing scores of 12 and 5 yards from quarterback Cal Morris and senior running back Jared Honey, respectively. Honey scored another rushing touchdown from the 26-yard line, and the War Eagles coasted from there. Morris completed two more touchdown passes, one a 76-yard score to senior Carsen Hepworth and the other a 38-yarder to his younger brother Drew Morris to give the War Eagles a 35-0 advantage. Shortly before halftime, senior corner Jaylen Pearson returned an interception for a touchdown. Centennial scored a pair of late touchdowns in the second half with runs from Emeka Nwanze and Blaine Mason.
Walton 41, Pope 7
Stephan Jean-Francois and D.J. Soyoye each rushed for a pair of first-half touchdowns and quarterback Austin Kirksey threw a touchdown pass to Chandler Smith to give visiting Walton a 35-0 lead. Kirksey scored on a quarterback keeper in the third quarter and a missed 2-point conversion held the lead at 41-0 entering a fourth quarter that would have a running clock. Pope's Matthew McAlpine rushed for a Greyhounds touchdown with 3:49 left in the game. This is Walton's first 3-0 start since 2011.
Woodstock 27, Sequoyah 16
Sequoyah fought back from a 21-0 first-half deficit to make it a one-possession game in the fourth quarter, but ultimately Woodstock came away with a 27-16 victory. The Wolverines took a two-score lead in the first on a total of three plays, all of which were passes by quarterback Garrett Bass to receiver Noah Frith for a total of 120 yards. The Chiefs defense tightened up after Woodstock's hot start and held Bass to 8-of-20 for 176 yards and three interceptions. A 98-yard kickoff return by Sequoyah's Cole Jacobs in the final seconds of the half cut into the 21-0 lead that Ryan Martin's 6-yard run had given the Wolverines moments earlier. Chiefs quarterback Collier Pecht found Luke Jensen for an 18-yard touchdown pass late in the third, and Potter's 32-yard field goal made it a 21-16 game early in the fourth. Victor Glover found the end zone on an 18-yard run with 2:34 left to play to bring the score to 27-16, giving the Wolverines their first win of the season.
CLASS AAAAAA
Creekview 30, Cherokee 0
Senior quarterback Chandler Gantt threw a 21-yard touchdown pass to Connor Rice to give visiting Creekview a 7-0 lead. Cherokee took its next possession all the way to the Creekview 1-yard line but fumbled the ball, and the Grizzlies recovered it in the end zone for a touchback. Later in the half Gantt hit Ethan Dirrim for his second first-half touchdown. Cade Radam gained 132 rushing yards on 17 carries out of the Creekview backfield in the first half and a rushing touchdown by Gantt eventually gave Creekview a 30-0 lead entering the final quarter.
Dalton 21, Northwest Whitfield 17
Northwest Whitfield took a 7-0 lead on a 59-yard rush from Dominique Sistrunk on the third play of the game. The Bruins padded their lead on a Vicente Vaca 51-yard field goal in the second quarter. Dalton responded with a 1-yard rushing touchdown by J.P. Tighe with four seconds left before the half. Northwest Whitfield expanded the lead to 17-7 late in the third quarter on a 10-yard touchdown run by Luke Shiflett. Tighe scored again on a 7-yard run with 6:48 remaining in the game to pull Dalton within three at 17-14. The Catamounts capped a 43-yard drive with another Tighe rushing touchdown, taking a 21-17 lead to secure the comeback.
Jonesboro 24, Spalding 7
Matavion Brooks rushed for two short touchdowns in the second half to give visiting Jonesboro a 24-0 lead before Spalding scored late in the fourth quarter. The Cardinals led 10-0 at halftime. They got a 20-yard interception return for a touchdown by Meco Lucas off a screen pass, and Asael Castaneda hit a 47-yard field goal in the second quarter. Castaneda missed a 45-yard attempt right before halftime. The Cardinals defense forced four turnovers; Jaaliq Brown also had an interception, and the team recovered two fumbles.
Northside-Warner Robins 17, Westside-Macon 3
Northside took a 7-0 lead on a Jadin Daniels quarterback sneak with 9:23 remaining in the first quarter. Seven of the next nine possessions were three-and-outs before Cory Munson hit a 24-yard field goal to push the lead to 10-0 in favor of Northside. The Seminoles reached Northside territory after a long punt return and hit a field goal with 4:12 left in the third quarter to make it a 10-3 game. A nine-play drive that was capped by a Daniel Neal touchdown run put Northside comfortably ahead 17-3.
CLASS AAAAA
Arabia Mountain 46, Redan 6
Arabia Mountain running back Joshua Campbell rushed for over 200 yards and scored five touchdowns in the game at Hallford Stadium. Rams quarterback Bryson Williams threw touchdown passes to Tyler Suber and Jordan Barrow, and defensive linemen Demetric Barnes and Amir Graham each had a sack. Arabia Mountain led 28-0 at halftime. The Rams are 3-0 for the second-straight season.
Clarke Central 42 – Gainesville 14
Clarke Central senior quarterback Jack Mangel started the scoring with a 23-yard touchdown pass to Trey Johnson. In the second quarter, the Gladiators successfully converted on fourth-and-inches with a short run by sophomore running back O'Brien Barnett. This conversion set up a second touchdown pass from Mangel, this time to receiver Marquise Smith, that was caught in the back of the end zone. The Gladiators held a 14-0 halftime lead after an Edwin Summerour interception. Gainesville came out in the second half with a 20-yard TD catch by senior Jarred Rosser at 9:38 in the third. But the Gladiators responded with three touchdowns to increase their lead to 35-7. Cornerback Kapres Forbes began the fourth quarter with his second touchdown return in two weeks and safety Brandon Allen returned a fumbled snap by Gainesville for a touchdown.
Flowery Branch 43, Chestatee 7
Flowery Branch rushed for 297 yards in its home win. The Falcons got on the board early with a 12-yard touchdown pass from quarterback Elijah Gainey to receiver Nick Lance. Running back Malik Damons extended the lead in the second quarter with a 3-yard touchdown run, which was followed by a second touchdown pass from Gainey. Damons' backfield partner, Malik Drayton, then went on a tear, scoring three times in the second half on runs of 18, 19 and 12 yards.
Hiram 38, South Paulding 9
Hiram won handily on the road at South Paulding as running back Marcel Murray had eight carries for 135 yards and two touchdowns. Quarterback Nathan Presnell had a solid game, throwing a 65-yard touchdown pass to Jermaine Banks and a 12-yard TD pass to Jordan Jones and running for a 4-yard touchdown. Hiram sat its starters after halftime.
McIntosh 21, Henry County 6
McIntosh started the scoring with a touchdown with 6:21 left in the first quarter, the Chiefs' lone touchdown of the half. Bradley Ector had a 38-yard touchdown run in the third that put the Chiefs up 14-0. Ector, a senior running back, would also add an interception on defense to help hold Henry County to six points. The last touchdown came in the third quarter when junior wide receiver Dane Kinamon had an 18-yard scoring run.
Rome 56, Drew 0
Two touchdowns from Jalynn Sykes, of 10 and 68 yards, plus a 4-yard run from Knox Kadum put host Rome up 21-0 at the end of the first quarter. The lead extended to 42-0 at halftime with a 6-yard rushing touchdown by Jamious Griffin and touchdown passes from Kadum to Xavier Roberts-Donaldson and Rodney Sullivan. The Wolves had 430 yards of offense at halftime. The clock ran the entire second half of the game and Rome added a touchdown on the last play of the third quarter with a 3-yard run from Traceton Lawrence, pushing its lead to 49-0. A 12-yard touchdown run from Sevie Andrews in the fourth pushed the lead to 56-0. Jose Leon kicked all eight extra point attempts for Rome.
Starr's Mill 16, Northgate 13
Michael Lantz was 3-of-4 on field goals, including a 42-yarder for host Rome. Mitchell Prowant, a starting wingback who moved over to fullback to fill in for the injured Cole Gilley, rushed for 130 yards and a short touchdown on the Panthers' first possession of the third quarter to give visiting Starr's Mill a 13-7 lead. The Panthers, who trailed 7-6 at halftime, blocked a Northgate extra point in the third quarter to keep the score tied at 13-13, then Lantz hit a field goal in the fourth quarter to put them up 16-13. Starr's Mill got an interception from cornerback Hunter Lawson and forced a turnover on downs in the fourth quarter to help preserve the win. Lantz's field-goal miss came from 52 yards.
CLASS AAAA
Eastside 16, Alcovy 6
A Quincy Collins rushing touchdown gave host Eastside a 7-0 halftime lead. After a scoreless third quarter, Eastside's Cade Mote booted a 50-yard field goal that grew the lead to 10-0. Alcovy failed on an extra-point try after a Cameron Anderson touchdown pass to Dee Fanning. Brayden Harper added a 12-yard touchdown run with 3:50 left in the fourth quarter to make it 16-6, and Jamari Brown hauled in an interception with just 2:55 left to secure the Eagles' fourth-straight win over the Tigers.
Mary Persons 34, Washington 8
Mary Persons took a 14-0 lead into the second quarter after touchdown runs by Condarius Alford and J.T. Hartage. In the second quarter, Alex Rivera converted a 46-yard field and Hartage found Antoine Davis on a 22-yard touchdown pass. Just before halftime, Rivera added a 27-yard field goal to push the lead to 27-0. With 1:04 left in the third quarter, Braylen Harvey scored on a 67-yard run to make the score 34-0 before Washington scored late.
Thomson 20, Jefferson 14
Thomson took a 13-0 lead in the first quarter on rushing touchdowns by Tyrek Braswell (19 carries, 101 yards) and Tyler Curry (11 carries, 50 yards) but didn't score again until inside of a minute to play in a narrow home win over Jefferson. The Bulldogs had two touchdowns called back, a 60-yard pass to Marcus Cade and a 33-yard run by Bubba Murray, but their defense put on an impressive performance against Jefferson star running back Colby Wood, holding him to 70 yards rushing on 18 carries. Wood scored two touchdowns, one in the second quarter and one in the third, to tie the game at 14-14, but a key defensive stand by Thomson midway through the fourth quarter put the Bulldogs' offense back on the field. Murray, whose touchdown run was negated with three minutes to play, again found the end zone on a 1-yard run to give the Bulldogs a 20-14 lead and the victory. Jefferson wide receiver Sammy Elegreet had four receptions for 90 yards.
West Hall 20, Washington-Wilkes 0
Michael Thompson ran in a 9-yard touchdown with 2:45 left in the first half to give visiting West Hall a 7-0 lead. Washington-Wilkes committed three offsides in a row to set up a Cooper Adams 1-yard touchdown run in the third quarter and West Hall junior quarterback Quentin Smith connected with Cameron Shirley on a 23-yard touchdown pass with 7:12 left in the game.
CLASS AAA
Bremen 14, Mt. Paran Christian 10
Junior Tyran Dobbs had more than 100 yards receiving in addition to a 35-yard touchdown run. Bremen started the game with a drive and a failed field-goal attempt at the 26-yard line. The Blue Devils would bounce back with a 5-yard touchdown run by Jalen Dallas to finish the first quarter. Mt. Paran equalized with a touchdown in the second quarter, but Bremen quickly answered with the touchdown by Dobbs to make it 14-7. Mt. Paran got on the board again with a field goal but could not stage a comeback.
Lovett 31, B.E.S.T. Academy 8
Blaine McAllister scored on a 5-yard touchdown run with 2:35 remaining in the first quarter to give host Lovett a 7-0 lead. Trent Beavor added a 4-yard touchdown run with 3:12 remaining in the second quarter to push the lead to 14-0. In the third quarter, Lovett's Charles Gibson returned an interception for a touchdown and Robert Poindexter caught a 30-yard touchdown pass from McAllister. Blaine Gibson got B.E.S.T. on the board three seconds into the fourth quarter with a 2-yard touchdown run, cutting it to 28-8. The Lions would add a 31-yard field goal by Henry Beery to move the score to its final tally. McAllister finished the game 8-for-10 passing for 130 yards and a touchdown. Beavor had six rushes for 60 yards and a touchdown.
CLASS A
Commerce 29, Hebron Christian 26
After a hard-fought first half, the home team Hebron Christian took a 12-10 lead into halftime thanks to a Ja'Leak Perry touchdown run. Commerce responded quickly in the third quarter as Dylan Denton scored on a 1-yard touchdown run to give Commerce a 16-12 lead. He then followed that with another 1-yard run to extend the lead to 22-12, and Commerce held on from there.
Mt. Vernon Presbyterian 24, Walker 13
Visiting Mt. Vernon Presbyterian never trailed and grew its 3-0 lead with a Justin Douglas touchdown catch in the second quarter. Walker quarterback Joseph Vose ran in a second-quarter touchdown to make it 10-7 at the half. Mt. Vernon led 17-7 entering the final quarter but Vose kept Walker alive with a 25-yard touchdown pass to Beau Slay with 11 minutes left as the lead shrunk to 17-13. The Mustangs clinched the victory with 4:14 left when Austin Douglas stripped Vose and recovered the loose ball on the way to a 25-yard fumble return touchdown.
St. Francis 7, North Cobb Christian 0
St. Francis sophomore quarterback Sam Hines threw a touchdown pass to sophomore receiver Isaiah Wadsworth with 1:22 left in the first half on what would end up being the game-winning score. Chris Ouellette intercepted North Cobb Christian with 9:14 left in the game, and after a St. Francis punt, the Eagles' final possession stalled after a turnover on downs.
Stratford Academy 49, Landmark Christian 13
Stratford Academy took a 7-0 lead on a 45-yard touchdown run by Tyler Jordan just two minutes into the game. The Eagles scored again on a 5-yard Carter Griffin run which capped off a 42-yard drive and pushed the lead to 14-0 after the first quarter. In the second quarter, Stratford Academy pulled away with touchdown runs by Jax Fisher, Jonathan Seigel, Deondre Duehart and Jordan to push the lead to 42-0. The Eagles held their largest lead of the game, 49-0, at the end of the third quarter before giving up two touchdowns late in the final quarter, for which there was a running clock.
Wesleyan 38, Frederica Academy (GISA) 14
Wesleyan quarterback Banks Ramsey tossed four touchdown passes to four different receivers to give Wesleyan a comfortable home victory. The Wolves scored early and often thanks to Ramsey, who gave Wesleyan an early lead on a 25-yard touchdown pass to Billy Stepp. After a 3-yard touchdown run by George Bielan and a 26-yard field goal by Mateo Rengifo, the Wolves saw their lead extended to 17-0. The Wolves pushed their lead to 38-0 after three short touchdown passes by Ramsey to put the game out of reach.