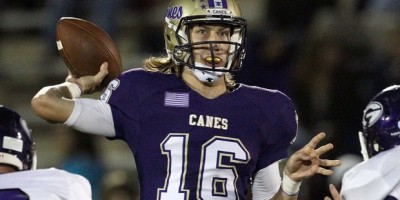 AJC FEATURED GAMES
Walton 34, Dacula 20; Harrison 27, Allatoona 10; Archer 37, Roswell 26; North Gwinnett 27, Mountain View 14; Douglas County 30, Langston Hughes 27; Tucker 44, M.L. King 0; Jones County 34, Eagle's Landing 26; Macon County 27, Taylor County 22
CLASS AAAAAAA
Brookwood 63, Berkmar 6
Brookwood scored four rushing touchdowns, threw for another four touchdowns and scored on a T.J. Ellis kickoff return before postgame fireworks celebrated what was the program's 300th all-time victory. Nick Prince gave Brookwood a 7-0 lead with 9:52 left in the opening quarter on a 7-yard run, and quarterback Angelo DiSpigna threw the first of his three touchdown passes less than three minutes later on a 49-yard pass to Matthew Hill. Ellis's return followed Berkmar's only score of the game, and then Dante Black rushed for a 24-yard touchdown to eventually give Brookwood its 28-6 halftime lead. The Broncos poured on 28 more points in the third quarter to push the lead to 56-6. DiSpigna hit Prince for a 25-yard touchdown and found Chris Cotter for a 28-yard score with 8:06 left in the quarter. Black ran in a 1-yard touchdown 10 seconds after Berkmar fumbled the ensuing kickoff return, and Chris Carter added a 41-yard touchdown with 5:52 still left in the frame. Justin Fomby threw a 14-yard touchdown to Khalil Hassan with 2:50 left.
Grayson 74, International School of Broward County (Fla.) 0
The Grayson defense forced four safeties and D.J. Irons threw four touchdown passes, all in the first quarter, in Grayson's home rout over International School of Broward County. Irons found Jaquavious Lane for scores of 39 and 2 yards, Kenyon Jackson for a 56-yard touchdown and Mahari Stribling for a 9-yard touchdown as Grayson amassed 43 points in the first quarter. J'Kori Jones threw a fifth touchdown pass in the first quarter to Josh Stinson for 2 yards, and hit C.J. Dixon (2 yards) and Ronald Thompkins (45 yards) for second-quarter TD passes. Jalen Alexander had a 20-yard interception return. Will Van Pamelen made a 22-yard field goal in the first quarter, and Tyler Lester scored the game's final points with a 21-yard run in the third quarter.
Colquitt County 27, Valdosta 0
After a scoreless first quarter, All-State kicker Ryan Fitzgerald made a pair of 35-yard field goals to put Colquitt County on the scoreboard. With under a minute left in the first half, Ty Leggett rushed the ball 4 yards for a Packers touchdown to put them up 13-0. In the second half, Fitzgerald kicked his third and fourth field goals. A defensive touchdown by linebacker Marcus Anderson after Samari Louis forced a fumble capped off the shutout victory over visiting Valdosta.
Hillgrove 37, South Gwinnett 32
Host Hillgrove never trailed but nearly saw its early 27-7 first-half lead slip away in the third and fourth quarters as South Gwinnett's game-tying PAT was blocked by Lance Wise and a 2-point conversion failed that left the Comets trailing 34-32. Hillgrove's Hunter Arters found Jalen Jackson with 8:32 left in the first quarter to give the Hawks a 7-0 lead, and Wise answered a Comets touchdown with a touchdown run of his own and an interception that set up Arters' second touchdown pass to Jackson. The Hillgrove lead increased to 27-7 after a Khory Reid fumble recovery and Arters' third touchdown pass to Jackson in just a dozen minutes of game time. South Gwinnett hit two field goals in the final five minutes of the half to cut the lead to 27-13. The Comets scored back-to-back touchdowns to open the second half before Wise's blocked PAT prevented them from tying the game, and Arters found Jackson for a fourth time to make it 34-26 with 9:19 left. Luis Garcia-Cano kicked a 40-yard field goal with 2:05 left that gave the Hawks a 37-32 lead, and Wise iced the game with his second interception.
Kennesaw Mountain 49, Forsyth Central 42 (OT)
Kennesaw Mountain came out hot in the first quarter with three quick touchdowns, one of which was a result of recovering a kickoff return fumble by visiting Forsyth Central that was forced by Tyler Fields. In the second quarter, Mustangs quarterback Jarrett Guest connected with senior receiver Nevarie Solomon to give the home team a 35-13 advantage at halftime. Kennesaw Mountain seemed to have pulled away, but a series of Bulldog touchdowns tied up the game at 42-42 with 1:39 left in regulation. The shootout continued into overtime, when Keyon Brooks scored his third touchdown of the night and Kennesaw Mountain's Jonathan Eller forced and recovered a fumble on defense to win the game. Guest finished 16-of-21 with 153 yards and two touchdowns for the Mustangs.
Lambert 36, Wheeler 27
Host Wheeler held a 27-24 halftime lead, Lambert would score two touchdowns to win the game. Three of Lambert's scores belonged to senior Marcus Chatelain, kicker Bryce Christensen made three field goals and running back Justin Bruno had a few big runs to help Lambert spoil Wheeler's Homecoming. Head coach Louis Daniel said he was impressed with his quarterback Bobby Gabriel and defensive end Alex Snyder's performances tonight as the Longhorns completed a comeback win.
Marietta 18, Campbell 14
Campbell took a 14-12 lead midway through the fourth quarter, but Marietta quarterback Rashun Bass answered with a 25-yard pass to Ramel Keyton for the 18-14 final. Marietta's defense forced a fumble to set up Bass's 33-yard pass to Gilbert to get on the board after Campbell scored on a blocked punt in the first quarter. Dawson Ellington's 11-yard run and a failed 2-point conversion attempt put the Blue Devils up 12-7 before the half. After Keyton's touchdown reception in the fourth, Campbell was first-and-goal at Marietta's 4-yard line, but Marietta's defense held and forced a turnover on downs in the final minute to secure a Blue Devils victory.
McEachern 38, Camden County 13
Host McEachern outscored Camden County 29-0 after trailing 13-9 at the half. Camden County jumped out to a 10-0 lead in the first quarter, and it took an Ali Scott rushing touchdown and Ruben Rodriguez field goal for the Indians to eventually cut the deficit to just four points at the half. Rodriguez gave McEachern another field goal that brought the Indians to within one point at 13-12 in the third quarter, and then Jaron Hall's 70-yard punt return touchdown gave the Indians their first lead of the game at 19-13. Hall followed his return touchdown with a 28-yard touchdown reception that extended the lead to 25-13, and Malik Evans added on a pair of fourth-quarter touchdown passes.
Meadowcreek 42, Lakeside-DeKalb 28
Meadowcreek's Chauncey Williams rushed 30 times for 335 yards, scoring five of the Mustangs' touchdowns. Two of his first-half touchdowns brought the Mustangs back from a 7-0 deficit. Williams scored again on fourth-and-11 with 8:50 in the third quarter. Lakeside closed the gap, but Williams answered with a 77-yard run to put Meadowcreek up 28-20 at the 8:20 minute mark of the fourth quarter. His fifth and final touchdown was on a 43-yard run with 3:51 left to play. Qu'Vella Calhoun scored the other touchdown for the Mustangs.
Mill Creek 45, Collins Hill 13
With 2:20 left in the first quarter, Mill Creek running back Uriah Leverette scored his second touchdown to give the Hawks a 14-0 lead. In the second quarter, Hawks quarterback Brady Longenecker connected with Parker Wroble, increasing the lead to 21-7. Later in the second quarter, Brock Skinner and Shaka Heyward scored defensive touchdowns, making the score 35-7 at halftime. In the third quarter, Hawks running back Rafael Morales scored on a 4-yard touchdown run. The fourth-quarter scoring consisted of a Hawks field goal by Matt Campbell.
Norcross 31, Central Gwinnett 7
After a scoreless first quarter, Norcross exploded for a 21-0 lead at the half on a touchdown run by Clay Harris and Louis Williams scoring passes to Isaiah McKoy and Shelton Zeon. Norcross head coach Keith Maloof was ejected after two sideline warnings against the Blue Devils, but Norcross still put Central Gwinnett away in the third. Williams, who finished 11-of-17 for 237 yards passing, found McKoy again on a 57-yard completion, and Jake Camarda's 44-yard field goal brought the score to 31-7.
North Paulding 32, Cherokee 0
North Paulding coasted on a big halftime lead over visiting Cherokee and sat starters in the second half. Tyler Bird scored twice, both on 2-yard runs, and quarterback Luke Dabbelt completed a 7-yard pass to Ross Malmgren for a score. Jaylen Parks' 19-yard touchdown return on a fumble recovery and a Jackson Gravely field goal put North Paulding up 30-0. A safety before the end of the half made the score 32-0.
Peachtree Ridge 17, Discovery 0
Peachtree Ridge and host Discovery played to a scoreless first half with only 7 first downs were achieved between both teams. Coming into the third quarter the game remained quiet, until running back Jamari Jackson found the endzone breaking the scoreless streak for Peachtree Ridge with 3:00 left in the quarter. Jackson would find the endzone again with 7:00 left in the fourth putting the Lions ahead 14-0. A 33-yard field goal by the Lions kicker Albert Jang topped off Peachtree Ridge's victory over Discovery.
South Forsyth 37, Lassiter 20
After a tight first half, South Forsyth exploded in the second half for a 37-20 victory over visiting Lassiter. South Forsyth quarterback Cal Morris found Ryan Pontrelli on a 13-yard pass, and Jake Wilson's interception set up a 30-yard field goal as the War Eagles trailed 10-9 at the half. Jared Honey scored three straight rushing touchdowns for South Forsyth, two in the fourth quarter, to finish with 193 yards on 31 carries, and Jordan Brunson ran it in for a 37-13 South Forsyth lead.
West Forsyth 20, Newnan 10
West Forsyth's defense held Newnan to less than 100 yards rushing, which allowed its offense to take control of the game. West Forsyth led 10-0 after one quarter. Bryce Jones scored two field goals, one from 22 yards and one from 51 yards. Cade Vela scored on a 4-yard run, and Zack Burns added a 1-yard run. The game was tied at 10-10 with 6:32 left in the third quarter before West Forsyth scored 10 straight points in the closing minutes.
Woodstock 49, North Forsyth 17
Midway through the second quarter, Woodstock quarterback Garrett Bass connected with wide receiver Noah Frith for a 45-yard touchdown pass, leveling the score 7-7. Under a minute left in the second quarter, Bass threw a 20-yard touchdown pass to Frith, giving the Wolverines a 14-7 lead at halftime. With 8:31 to go in the fourth quarter, the Wolverines' Louis Hall ran for a 75-yard touchdown, increasing Woodstock's lead to 35-17. After a North Forsyth turnover, Ryan Martin ran for a 67-yard touchdown for Woodstock. With three minutes left in the game, Bass completed a 35-yard touchdown pass to Hall.
CLASS AAAAAA
Alcovy 35, Forest Park 6
Alcovy struck first on a 65-yard punt return by Demetrius Tuggle, then Cam Anderson's touchdown pass to Dee Fanning followed by an 8-yard TD run by Andre Robinson, gave the Tigers a 21-0 lead over Forest Park at the half. Forest Park scored in the third after two Tiger turnovers (an interception and a fumble) before running back Quindrelin Hammonds took over as quarterback for Alcovy, scoring on a 60-yard run on his first snap for a 28-6 lead. Robinson scored again in the fourth for the 35-6 final.
Centennial 34, Cambridge 21
Julian Nixon helped Centennial take a road region game at Cambridge with two touchdowns. Centennial struck first to go up 10-0 in the first quarter. Cambridge responded in the second with two touchdowns off turnovers. The Knights scored on a pass from Max Brosmer to Cal Dickie before Cambridge scored to take a 21-17 lead into halftime. Centennial never relinquished the lead following Nixon's first touchdown in the third. After a field goal by Nicky Solomon making the score 27-21, the Knights sealed the game with a touchdown from Brosmer to Nixon.
Creekside 6 at Tri-Cities 41
The Tri-Cities Bulldogs got their first win in 13 games in a home win over Creekside as senior quarterback Tarez Huddleston threw four touchdowns, with senior receiver Donald Howard catching three of them. The Bulldogs defense gave up less than 100 yards of offense. The Seminoles' sole touchdown was a kick return for a score.
Johns Creek 38, Northview 21
Junior running back Nate Hope scored three touchdowns for the Gladiators including a 75-yard touchdown on a screen pass in the first quarter. Ryan Clapper put Johns Creek on the board late in the first quarter with a touchdown to make it 8-0 at the end of the quarter. After a 33-yard field goal by Luke Venco, Hope's 75-yard touchdown made it 18-0 at the half. Zach Gibson connected with Min Lee for a 39-yard touchdown in the third. Northview scored for the first time with 6:43 left and once more to end the third quarter. Hope scored on 39-yard and 5-yard touchdown runs in the fourth.
Lovejoy 41, Drew 33
Lovejoy never trailed but barely survived a thriller against visiting Drew. Zion Custis rushed for more than 250 yards and three touchdowns, including a 22-yarder with six minutes left in the fourth quarter that gave the Wildcats enough cushion. Drew, which trailed 13-0 after one quarter before briefly tying the game at 21-21 in the third, got two touchdown passes from Thomas Williams and two touchdown receptions by Tyrek Presley. Lovejoy's Corintheus Edmonds had a touchdown catch and an interception, while Anthony Henderson returned an interception 90 yards for a score. Drew moved into Wildcats territory with a minute left but could not produce a potential tying touchdown.
Northgate 28, South Paulding 14
Despite Northgate's six fumbles, three of which occurred in the first quarter, the Vikings offense rushed for 205 yards and passed for 183. Quarterback Kyle McLaren was 6-of-7 passing for 182 yards and a touchdown. With 6:44 remaining in the third quarter, he completed a 65-yard pass to Devontae Johnson for a score to put the Vikings up 21-14. Senior running back Nick Carter had 20 carries for 77 yards, scoring a 4-yard touchdown with 5:35 left to play. Tanner Hughes had 10 carries for 58 yards, and Jay McKenzie had 10 carries for 45 yards.
Pope 12, North Atlanta 7
After a scoreless first half, North Atlanta scored a touchdown to take the lead 7-0 in the third. Pope's Zach Owens answered with a 99-yard kickoff return but North Atlanta's lead stood at 7-6. Pope quarterback Campbell Rickers scored a touchdown to give the Greyhounds their first lead while Pope failed to get the 2-point conversion. The game ended with a scoreless fourth quarter.
Winder-Barrow 17, North Oconee 14
Winder-Barrow's Brock Landis was 16-of-29 passing for 165 yards, rushing 16 times for 68 yards and one touchdown. Jamar Mack scored a touchdown for the Bulldoggs as well. Logan Cash had 12 total tackles, including three sacks and three tackles for loss and a forced fumble. Aaron Bagley had eight total tackles, an interception and a pass breakup. North Oconee took the lead in the first quarter 7-0. The Bulldoggs responded with a TD in the second and a 19-yard field goal in the third. Landis's touchdown made Winder-Barrow's lead 17-7. North Oconee scored late to cut the deficit to seven points. The Titans attempted an onside kick, but Winder-Barrow gained possession.
CLASS AAAAA
Carrollton 41, Woodland-Cartersville 6
Carrollton scored 35 straight points through the first three quarters to put the game out of reach. Kodee Brewer scored on a 5-yard run with 8:03 left in the first quarter and the ensuing 2-point conversion put the Trojans up 8-0. Andy Smith returned a blocked punt 12 yards for a touchdown early in the second quarter to pad the lead. At the 7:47 mark, Kaleb Thomaston scored on an 11-yard run, making it a 22-0 game. With 8:32 remaining in the third, Dalton Benefield caught a 48-yard touchdown pass from Mark Wright and then Brewer added a 2-yard run just five minutes later to put Carrollton up 35-0. Josh Lee moved the score to its final tally on a short pass from Tristen Allen. The Trojans amassed 360 yards of offense, 160 rushing and 200 passing.
Decatur 48, Grady 21
Brayton Reed's quarterback sneak and touchdown pass to Christian Haddock, along with two field goals by Kriston Esnard, gave Decatur a 20-6 halftime lead over visiting Grady. Reed found Jake Broom for a third-quarter touchdown and Marquis Smith ran it in for the Bulldogs' next two scores. Spencer Patterson scored Decatur's final touchdown.
Jackson-Atlanta 27, Banneker 10
Banneker was aiming for its first 5-0 start in school history but a road test against Jackson-Atlanta proved to be too difficult. The Trojans led 7-6 after one quarter thanks to a 10-yard touchdown run by Gary Benton Jr., and they were within 13-10 midway through the third quarter following a 27-yard field goal by James Efrimea. At that point, however, Jackson-Atlanta pulled way. The Jaguars were led by Roderick Hammond, who threw two touchdown passes to Marquis Colzie and also ran for a score. Charles Daniel added a touchdown run for Jackson-Atlanta.
Kell 28, Cass 10
Early in the first quarter, Kell running back Josiah Futral scored a 16-yard rushing touchdown that was followed by a Kaleb Speights 30-yard field goal for the visiting Colonels to make the score 7-3 Longhorns. On the final play of the first quarter, Kell starting quarterback Evan Conley was injured and would not return to the game. Backup quarterback Blake Simpson filled in with two rushing touchdowns in the second quarter to give the Longhorns a 21-3 lead at half. With 4:02 in the third quarter, Kell's Futral ran for his second touchdown. Cass got a fourth-quarter touchdown when quarterback Rett Moore found Cameron Gonyea.
Locust Grove 46, Hampton 17
After an offsides penalty committed by Hampton on its kickoff to start the game, Locust Grove made the Hornets pay for the mistake on the second kickoff attempt by returning it for a touchdown. Junior R.J. McDaniel Jr. was the return man and also scored the 2-point conversion that followed his touchdown. At 2:39 in the first, McDaniel threw a 20-yard touchdown to receiver C.J. Senter to put the Wildcats up 15-0. The Hornets responded at 6:27 left in the second quarter with a field goal from junior Matthew Slagel to make the score 15-3 at half. The rest of the night belonged to the Wildcats, as McDaniel threw touchdown passes of 30 and 46 yards and running back Matt Brown scored two more rushing.
Loganville 21, Walnut Grove 17
Tristan Rudisail kicked a 23-yard field goal in the opening quarter to give visiting Loganville a 3-0 lead, but Walnut Grove's Connor Hix rushed for two scores and Will Busbee hit a 33-yard field goal in a second quarter that put the Warriors up 17-3 at the half. Loganville's comeback started with a 5-yard touchdown run by Govinda Goberdhan with 1:51 left in the third quarter that brought the deficit to eight points, 17-9. With 8:16 left in the fourth quarter, Loganville freshman quarterback Colten Gauthier found senior Donte Burton for a 31-yard touchdown pass, but a failed 2-point conversion kept Walnut Grove ahead 17-15. The game-winning points came after Loganville threw an interception. Walnut Grove downed the change of possession at its own 1-yard line, only to fumble the snap on the next play and see Loganville recover it for the game-winning touchdown with just 1:27 to play.
McIntosh 27, Riverdale 8
With 2:30 left in the first quarter, McIntosh quarterback Dane Kinamon threw a 66-yard touchdown pass to DeAndre Wade. The Chiefs continued their dominance in the second quarter, handing the ball off to running back Bradley Ector for two touchdowns. Riverdale was able to get a safety with 1:05 left in the second quarter, making the score 21-2 at halftime. After a Raiders touchdown in the third quarter, the Chiefs responded with another Ector touchdown run for 74 yards.
North Clayton 12, Druid Hills 0
Brian Brown led host North Clayton to its win, rushing for a touchdown and scoring on a punt return. The Eagles defense put up its second shutout of the season. North Clayton's win snapped a three-game losing streak.
Whitewater 40, Griffin 16
Whitewater took an early 13-0 lead, with a 2-yard touchdown run by running back Miles Montgomery with 6:33 to go in the first quarter. At the start of the second quarter, quarterback Maddox Mueller had a 1-yard touchdown run, giving the Wildcats a 20-0 lead. After a Bears touchdown, Mueller threw to Nolan Wallace for a 35-yard touchdown, making the score 27-6 at the half. In the fourth quarter, Montgomery and Mueller combined for two touchdowns apiece.
CLASS AAAA
Blessed Trinity 45, McCallie 19
Blessed Trinity rushed for five touchdowns to sprint past visiting McCallie. Elijah Green scored four times to lead the Titans, including one from 20 yards out that put his team ahead 14-0 in the first quarter. Blessed Trinity opened the scoring with a 12-yard touchdown pass from Jake Smith to Ryan Davis. Steele Chambers also scampered 45 yards to the end zone on the Titans' way to a 28-6 halftime lead. They led 31-12 going into the fourth quarter and put the game away with two more touchdown runs by Green. Alex Poma recovered a fumble as part of Blessed Trinity's stout defensive effort.
Cartersville 41, Cedartown 7
Host Cartersville stormed to a 31-0 halftime lead and led 41-0 before Cedartown got on the board in a running-clock second half. The reigning Atlanta Journal-Constitution Offensive Player of the Year, Trevor Lawrence, did his damage in the first half with 14-of-17 passing for 247 yards and three touchdowns, while running back Rico Frye rushed for 42 yards and a score with another 50 yards receiving. Senior Johnathan Cruz kicked a field goal to give Cartersville its only points after halftime and also made a 40-yard field goal in the first quarter.
Heritage-Catoosa 49, Gilmer 0
Blake Bryan accounted for five of undefeated (5-0) Heritage-Catoosa's seven first-half touchdowns, throwing three and rushing for two. The Generals built a 14-0 lead in the first quarter and had a 35-point second quarter that saw three of its five touchdowns come in the final 2:42 of the half. Bryan rushed for a 4-yard touchdown and threw a 36-yard touchdown pass to Luke Grant in the first quarter. Jeffrey Curtis rushed for an 11-yard touchdown with 10:24 left in the second quarter, and then back-to-back General drives were capped off with Bryan rushing touchdowns as the lead increased to 35-0 with 2:42 left in the half. Bryan found Grant for a 33-yard touchdown pass with 1:05 left, and then Zach Goins recovered a Gilmer fumble and returned it for a touchdown with just nine seconds left to make it a 49-0.
Jefferson 33, Gainesville 3
Jefferson quarterback Bryce Moore threw two touchdowns and rushed for a touchdown to lead the visiting Dragons. Moore connected with tight end Garmon Randolph for a 16-yard touchdown pass in the first quarter and found Colby Wood in the second quarter for a 31-yard touchdown. Wood increased the lead to 20-0 with three minutes before the half on a 4-yard touchdown run that was set up by a 65-yard pass from Moore to Zac Corbin. Gainesville made a 35-yard field goal in the third quarter, and Jefferson returned to the end zone twice in the final quarter with touchdown runs by Moore and sophomore Donsha Gaither.
Woodward Academy 21, Salem 13
Woodward Academy's Tahj Gary rushed for touchdowns of 55, 50 and 10 yards, carrying 15 times for 141 yards rushing. Gary ran for his 50-yarder with 3:31 left in the first quarter. He then extended the lead to 14-0 at the beginning of the second quarter with his 10-yard scoring run before Salem answered with two touchdowns. After a scoreless third quarter, Gary's final 55-yard touchdown came in the fourth. Kicker Marshall Golick was 3-of-3 on PATs.
CLASS AAA
Calhoun 40, North Murray 13
Host Calhoun led 17-6 at the half, despite a scoreless second quarter, and took a 37-6 lead into the fourth quarter. The Yellow Jackets outgained North Murray 559-148 in total yards, allowing just 6 rushing yards. Quarterback Gavin Gray led the way with 20-of-33 passing for 340 yards and two touchdowns. Zack Fuller had 18 carries for a game-high 191 yards rushing and three rushing touchdowns.
Lovett 42, Towers 8
K.J. Wallace caught two touchdown passes and rushed for a score as Lovett cruised past visiting Towers. Wallace finished with 74 yards on six receptions as part of a big night for quarterback Blaine McAllister, who completed 11 of 12 passes for 153 yards and three touchdowns. Peyton Ringer had a touchdown reception and a 61-yard punt return for a score. The Lions led 7-0 after one quarter before breaking the game wide open en route to a 35-0 halftime lead. Trailing 42-0 late in the third quarter, Towers got on the scoreboard with a 37-yard scoring strike from Terry Dennis to David Manigo.
Pace Academy 35, Redan 12
Pace Academy's Jared Rayman passed to three different receivers for touchdowns as the visiting Knights defeated Redan at Avondale Stadium. Rayman completed touchdown passes to Keyshawn Perryman (27 yards), Realus George (30 yards) and Justin Johnson (21 yards). Perryman also had a 6-yard touchdown run. Emon Hill returned a kickoff 90 yards for a touchdown, and Jack Ferguson was 5-of-5 on extra points for Pace.
CLASS AA
Benedictine 27, Vidalia 7
A 51-yard touchdown pass from Nick Iannone to Travis Blackshear with 6:52 remaining in the first quarter gave visiting Benedictine a 7-0 lead at the half. Vidalia's Kris Gay caught a 9-yard touchdown pass with 2:22 left in the third quarter that tied the game, but on a fourth-and-17 from the 25-yard line with 1:08 left in the quarter, Iannone found Blackshear for the duo's second touchdown connection and the Cadets reclaimed a 14-7 lead. Blackshear broke the game open with a 60-yard touchdown run in the opening minute of the fourth quarter, and Jakeen Harris capped the Cadets' 20 straight points with a touchdown run with 5:18 left.
CLASS A
Mt. Pisgah 55, Pinecrest Academy 24
Quarterback Jacob Cendoya scored first for host Mt. Pisgah with a short touchdown run, and Connor Pursell ran in a 22-yard touchdown to make it 14-0 entering the second quarter. The Patriots extended their lead to 27-10 at the half with Cendoya's second goal-line touchdown run and a pair of Peyton Broaddus field goals. Mt. Pisgah's Kai Williams sparked two special-teams plays that would stop any chance of a Pinecrest comeback. Pinecrest capped off a 70-yard scoring drive that cut the deficit to 27-17 with six minutes left in the third quarter, but Williams took the ensuing kickoff 95 yards for a touchdown. Pinecrest returned to the end zone with 2:24 left in the quarter and the lead shrunk back to 10 points at 34-24. Pinecrest, however, would muff a punt return after a defensive stop, and Williams was there to recover it at the 15-yard line to set up a touchdown run by Trey Murphy on the next play. With the lead already back to 17 (41-24) Cendoya added a 46-yard touchdown with 8:41 left and then tossed a 28-yard touchdown pass to Williams with four minutes left.
Walker 29, St. Francis 14
Walker quarterback Joseph Vose ran for a total of 90 yards, scoring three touchdowns for the Wolverines. Hunter Nourzad accounted for a safety for Walker after blocking a second-half punt after the Wolverines fell behind 7-0 in the first half. In the fourth quarter, Beau Slay had an interception and returned the ball 64 yards to the St. Francis 15-yard line, and Robert Wood ran the ball in for the touchdown with 3:31 remaining.
Wesleyan 42, Holy Innocents' 14
Wesleyan started fast against visiting Holy Innocents' when J.D. Kavel returned the game's opening kickoff 95 yards for a touchdown. George Bielan had two touchdown runs as the Wolves rolled to a 35-0 lead, including 7-0 after one quarter and 21-0 at halftime. Quarterback Banks Ramsey rushed for a 10-yard score and threw a 15-yard touchdown pass to Zach Peterson. For the Wesleyan defense, Josh Payne recovered a fumble that led to Bielan's second touchdown on the next play. Holy Innocents' got on the scoreboard late in the third quarter on a 1-yard keeper by Matt Davis.