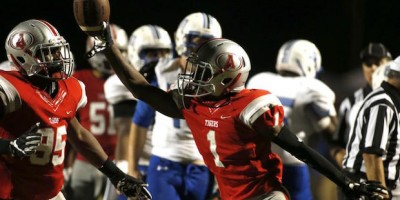 AJC
CLASS AAAAAAA
Archer 49, Shiloh 0
The Archer Tigers defeated host Shiloh 49-0 to finish the regular season 10-0. Quarterback Carter Peevy found Jelani Baker in the first on a 10-yard pass and Taiyon Palmer early in the second (20 yards), and Keegan Strickland's 3-yard run gave the Tigers a 21-0 lead at the half. Peevy threw two touchdown passes to Braylon Weems in the third (83 yards, 4 yards) and Trey Messer rushed for TDs in the final minutes of both the third and fourth quarters for a 49-0 final.
Brookwood 35, Lakeside-DeKalb 6
Region 7 champion Brookwood defeated Lakeside-DeKalb on the road 35-6 behind a balanced performance. The Broncos took a 14-0 lead with a 19-yard touchdown pass from Anthony DiSpigna to Chris Cotter and a 5-yard TD run by Dante Black, and the defense forced a turnover on downs with Lakeside at first-and-5 to take that lead to the second half. Lakeside's opening kickoff return at the start of the third was called back, and the Broncos padded their lead with touchdown runs by Chris Carter and Eli Kohl and an 80-yard DiSpigna TD pass to Nick Prince.
Collins Hill 34, Peachtree Ridge 12
Collins Hill rallied back from a 6-5 deficit at the half to overcome the host Peachtree Ridge Lions. Evan Anderson ran for 324 yards and scored three touchdowns. Rodolfo Gonzales kicked a 27-yard field goal to put the Eagles on the board with two seconds left in the first quarter. In the third quarter, Anderson returned a kickoff 99 yards for a touchdown and Jon Michael Findlay converted the 2-point try. Findlay scored on a 1-yard sneak to close out the third quarter. Anderson rushed for back-to-back touchdowns, 84 yards and 26 yards, to extend the lead to 34-12.
Mill Creek 56, Duluth 0
A blowout by home team Mill Creek was kicked off by a Uriah Leverette 62-yard run, a Parker Wroble 61-yard punt return and a 50-yard catch by Austin Williams, all for touchdowns to give Mill Creek a 21-0 lead after the first quarter. Quarterback Brady Longenecker was 5-for-7 passing for 98 yards and a touchdown. Williams had two catches for 62 yards and a score. Running back Cameron Johnson had 10 rushes for 135 yards and three touchdowns. The Hawks were up 49-0 at halftime and placekicker Matt Campbell broke a state record for most touchbacks in a game with nine that was previously held by current Georgia Tech and former Mill Creek kicker Brenton King.
Milton 49, North Forsyth 17
Host Milton led just 14-10 in the second quarter but scored five straight touchdowns to put the game away. Jordan Yates threw three touchdowns on 9-of-11 passing for 208 yards, hitting Syaire Waters (64 yards), Kevin Murphy (17 yards) and Solomon Vanhorse (57 yards) for scores. Yates also rushed three times for 109 yards and touchdowns of 61 and 54 yards. George Coyle had a 45-yard interception return for a touchdown and Jack Rhodes had a 3-yard run for a score in the second half for the Eagles.
Newnan 30, East Coweta 28
East Coweta struck first with a 52-yard rushing touchdown from David Sanchez early in the first quarter. Newnan answered back with a 12-yard rushing touchdown from Kyler James to tie the game. After a 32-yard field goal from Newnan's Kellen Lynch, the Indians responded with a second rushing touchdown to regain the lead. Newnan began to pull away in the second quarter and scored 20 straight points until the Indians came back with a 4-yard rushing score from Gerald Green to make it a 30-20 game late in the third. East Coweta scored again to cut the deficit to two points, but Newnan held on for the victory.
North Gwinnett 41, Discovery 7
The visiting Bulldogs cruised past Discovery beginning with short rushing scores from Devon Crosby and Tyler Goodson in the first quarter. In the second quarter, Goodson recorded a 26-yard rushing score and Crosby had a 27-yard rushing score. Senior linebacker Jaden McDonald had a fumble return for a TD in the second quarter, and placekicker Cam Clark hit two field goals to give North Gwinnett a big lead in the first half. Senior Payne Walker had an interception later in the game as the Bulldogs ran away with their ninth win of the season.
North Paulding 49, Marietta 14
A Marietta rushing touchdown put the Blue Devils up early, but they would not hold the lead for long. With under a minute left in the first, North Paulding quarterback Ross Malmgren connected with receiver Jordan Veneziale for a 35-yard touchdown. The Wolfpack went on to score 28 straight points to secure the win. Malmgren went 13-of-17 for 179 yards and a touchdown. Running back Isiah Grant rushed for 119 yards on 21 carries, finding the end zone after a 12-yard run in the fourth. Running back Tyler Bird had success on the ground as well, scoring three touchdowns. Defensive end Jaylen Parks recovered a fumble and returned it 65 yards for a score.
Pebblebrook 51, Wheeler 37
Tyler Thomas had 262 rushing yards and two rushing touchdowns of 60-plus yards along with 45 receiving yards and one receiving touchdown. Marquise Cooper had 243 passing yards and threw two touchdown passes while also running for one. The Falcons' first touchdown was a long pass from Cooper to Thomas late in the first quarter. After Wheeler took a 10-9 lead, Cooper responded with a 25-yard touchdown run. Cooper connected with a 45-yard touchdown pass to Marveon Boyd to give the host Falcons a 22-16 lead right before halftime. Pebblebrook opened the second half with a 65-yard rushing touchdown from Thomas and then got an interception return for a touchdown midway through the third. Thomas ended the quarter with another long rushing touchdown to give Pebblebrook a 44-30 lead heading into the fourth. Rakeem Smith threw the Falcons' final touchdown pass.
South Forsyth 28, West Forsyth 14
South Forsyth finished the season 9-1 with a 28-14 road victory against the West Forsyth Wolverines. War Eagles quarterback Cal Morris struck first with a rushing touchdown midway through the first quarter and found Ze'Vian Capers in the second and third quarters for 23 yards and 20 yards, respectively. Jared Honey added a 46-yard rushing score, and West Forsyth was held scoreless until the 8:27 mark in the fourth. Zach Burns threw touchdown passes to Ben Bresnahan and Garrett Woodall to cut the War Eagles lead to 28-14 with 4:41 to play, but Capers recovered the ensuing onside kick to end the comeback attempt.
Westlake 24, Campbell 14
Westlake scored first to go up 7-0, then Lions quarterback Jalyn Williams connected with receiver Gabe Reeves to increase the lead to 14-0 just before halftime. Late in the third, quarterback Caleb Dixon completed a 67-yard touchdown pass to make it 21-0. Capping off the Lions' scoring was a 22-yard field goal by James Miller Jr. Campbell made a strong fourth-quarter push, completing two scoring drives, but Westlake held on.
CLASS AAAAAA
Allatoona 38, Dalton 3
Allatoona took a 3-0 lead on a Skyler Davis field goal in the second quarter after a scoreless first quarter. Lilton Moore put Allatoona up 10-0 on a 6-yard run that was set up by a pass from Dante Marshall to Dawson Coltran on third-and-long. The Buccaneers took a 10-0 lead into the half. Peyton Eeles scored on a 40-yard interception return to put Allatoona up 17-0. Marshall continued the offensive pressure with a 33-yard pass to Asante Das for a score. In the fourth quarter, A.J. Thomas returned an interception 79 yards to the 1-yard line, setting up a 6-yard touchdown run by Brandon Nash. Allatoona's defense put the game out of reach on a Roland Wooden II touchdown on a fumble recovery and return.
Cambridge 44, North Atlanta 8
Hogan Dykes connected with Ridge Polk for three touchdowns. Kicker Victor Valentine scored both a field goal and a touchdown. Polk caught a 16-yard touchdown pass to start the game to make it 6-0. Matt McCree scored on a 61-yard touchdown run in the second quarter to make the halftime score 20-0. Dykes and Polk had two of their touchdown connections in the third. Valentine scored his long touchdown after avoiding a rush on a punt attempt, taking it himself for a score.
Dacula 47, Winder-Barrow 14
Dacula quarterback Shayne Buckingham rushed for two touchdowns and completed seven of 11 passes for 309 yards and four scores. Jalen Perry caught three first-half touchdowns, including a 78-yard score in the game's opening minute. Dacula led 38-14 at the half after Brock Landis threw host Winder-Barrow's only touchdowns.
Lanier 27, Gainesville 14
Host Gainesville fumbled the opening kickoff and Lanier converted to take a 7-0 lead less than a minute into the game. Lanier quarterback Zach Calzada increased the lead to 14-0 with a touchdown pass to Mekal Fuller, but Gainesville's Tre Luttrell answered with back-to-back touchdown runs to tie it 14-14. Lanier closed the victory out with a 79-yard touchdown from Clazada to Zach Charles and an L.A. Harper touchdown run on the final play of the game.
Mays 41, Northgate 7
JaMarcus McCoy and quarterback Nick Hunter connected on a touchdown reception pass for Mays' first points. Tyree Nelson followed that with a touchdown run, and Hunter found Kendall Wimberly for a touchdown pass before halftime as Mays held a 20-7 lead. Hunter and Wimberly connected for another touchdown in the third. Mays got a rushing score from Jaylon Dunson, and Dunson pass to Thomas Dow completed the scoring.
M.L. King 48, Mt. Zion-Jonesboro 6
Jacobi Haynes had five passing touchdowns for the Lions, who led 28-0 at halftime. Antonio Kennon Jr. caught three of them, and Montavious Cook and De'marque Johnson each caught one. Haynes also had a quarterback sneak for a touchdown, and Marcellious Lockett ran for a 97-yard touchdown. Antonio Fletcher had three interceptions, and Donovan Corbett had one.
Pope 47, Northview 22
The Greyhounds scored touchdowns by four different players. Xavier O'Neal scored three touchdowns, while Paris Cameron scored his two in the first quarter, one for 25 yards and the other for 4 yards. Northview tied the game by the end of the quarter. O'Neal had a 41-yard touchdown run in the second quarter followed by a 60-yard touchdown catch by Zach Owens, and Pope went into halftime with a 28-22 lead. Two second-half touchdowns by O'Neal and one by quarterback Jackson Thain on a 1-yard run sealed the win.
Sequoyah 38, Sprayberry 28
Cole Jacobs' 1-yard touchdown run tied the game at 7-7 at the end of the first quarter. Sequoyah quarterback Collier Pecht kept the ball for himself on a 13-yard touchdown run to put the Chiefs ahead 14-7 early in the second. Sequoyah struck again through the air with a 6-yard touchdown pass from Pecht to wide receiver Luke Jensen for a 21-14 Chiefs lead at halftime. Sprayberry tied the game at 21-21, but a 23-yard touchdown run from Jackson Smith and an equalizer from Sprayberry meant the game was tied at 28 going into the fourth. A Sequoyah field goal and another touchdown run from Jacobs, this time from 8 yards out, was enough for the Chiefs to earn a road win.
CLASS AAAAA
Banneker 21, Grady 18
Banneker was first on the board after a 5-yard rushing touchdown from Gary Benton Jr. late in the first quarter. Benton added to his success with a second rushing touchdown from 10 yards out early in the second. Benton struck again in the middle of the third with a 15-yard rush for his third score. Grady made a strong push for a comeback victory, as two touchdowns in the third brought the Knights to within nine points. Another touchdown in the fourth made it a one-possession game, but Banneker held on for the win.
Hiram 52, Kell 37
Marcel Murray rushed 28 times for 279 yards and four touchdowns for the visiting Hornets. Nathan Presnell was 15-of-29 passing for 248 yards and a touchdown to Jordan Jones, who caught four passes for 53 yards. Presnell also rushed for two touchdowns. Wide receiver Keyshawn Williams caught three passes for 95 yards. Hiram led 31-21 at halftime.
Paulding County 19, East Paulding 14
Paulding County reached the playoffs for the first time since 2003 with the win. Paulding County answered an early East Paulding touchdown with a 1-yard rushing score by Smael Mondon. Mondon scored again with another 1-yard rushing touchdown to lead 13-7 at the half. The visiting Raiders took the lead with a 25-yard touchdown pass from John Michael Estes to Benjamin Barnett. In the final two minutes of the game, Brantley Mauldin completed a 14-yard pass to Jason Ledford for a touchdown.
Rome 62, Woodland-Cartersville 0
Rome's Jamious Griffin scored on a 10-yard run to give the Wolves a 7-0 lead a little more than a minute into the game. With 7:09 remaining in the first, Knox Kadum completed a 13-yard touchdown pass, giving Rome a 14-0 lead. Kadum then passed to Xavier Roberts with 3:30 left in the first quarter to make it 21-0. The Wolves held Woodland to minus-20 yards through the first quarter. Jalynn Sikes scored on a 17-yard run on the first play of the second quarter to make it a 28-0 score. Roberts then returned a punt 64 yards for a score and Kadum connected with Jerard Williams to push the lead to 41-0. Trai Hodges returned an interception 26 yards for a TD and Trey Lawrence scored on a short run to make it 55-0. Stepheno Alston scored on a 10-yard run in the fourth quarter to bring the game to its final tally. Rome amassed 353 yards of offense and held Woodland to just 24.
Stockbridge 42, Union Grove 9
Stockbridge scored all 42 of its points in the first half. Quarterback Deveone Quinn had two rushing touchdowns in the first quarter, one for 64 yards and the second from 2 yards out. Running back Willie Thornton added a 34-yard run in the first quarter to push the lead to 21-0. Stockbridge's first possession of the second quarter ended in a 70-yard touchdown pass from Quinn to wide receiver Marquez Ezzard. Next, B.J. Riley added a 48-yard touchdown to push the Tigers' lead to 34-6 with two minutes to go in the first half. Tigers QB Gabriel McKenzie completed a 35-yard touchdown pass to Isaiah Taylor just before halftime to give Stockbridge a 42-6 lead at halftime.
CLASS AAAA
Blessed Trinity 44, West Hall 21
Blessed Trinity extended a 6-0 lead after one quarter to 37-0 at halftime before it coasted to a road win over West Hall. The Titans returned two second-quarter fumbles for touchdowns, one by Steele Chambers and the other by Ryan Dupont. Chambers also had a 26-yard touchdown run. Blessed Trinity quarterback Jake Smith threw a pair of touchdowns to Ryan Davis, both from more than 70 yards away. The Spartans got two touchdown runs by quarterback Michael Thompson and a 66-yard touchdown pass from Quentin Smith to Braylon Powell.
Cartersville 52, Troup 13
Visiting Cartersville clinched the Region 5-AAAA championship and 40th-consecutive victory. Cartersville running back Rico Frye gave the Purple Hurricanes a 10-0 lead with the first of his four touchdown runs. Trevor Lawrence connected with Jackson Lowe on a reverse flea-flicker minutes later to give Cartersville a 17-0 lead. The touchdown pass was the 155th of Lawrence's career and tied Deshaun Watson's state record. Frye scored three more touchdowns before Lawrence broke the record with a 20-yard touchdown pass to J'Kobe Orr that put Cartersville up 45-13. Bradley Kirk returned Cartersville's fourth interception for a touchdown to make it 52-13.
Marist 35, White County 7
Chase Abshier threw for 162 yards and two touchdowns and also rushed for a score as visiting Marist routed White County. Both of Abshier's scoring strikes went to Kyle Hamilton in the second quarter, one from 10 yards out and another from 80 yards. Charlie Addicks and Dean Johnson also had touchdown runs for the War Eagles. Kurtis Havlen contributed a 1-yard touchdown dive for White County's lone score.
St. Pius 25, Madison County 13
St. Pius jumped out to a 13-0 lead over Madison County in the first quarter and maintained a lead the entire game. Connor Egan rushed 3 yards for the first touchdown for St. Pius. At the half, the Golden Lions held a 19-6 lead. The Red Raiders scored in the third quarter to close the gap to 19-13, but it wasn't enough as the Golden Lions scored once more in the fourth quarter to seal the win.
CLASS AAA
Calhoun 65, Murray County 23
The Yellow Jackets won their 17th region title in a row in the victory against Murray County. Quarterback Gavin Gray passed to Brannon Spector (44 yards), Luke Moseley (71 and 35 yards), Bralin Barton (71 yards) and Porter Law (6 yards) for touchdowns. Payton Morrow passed to Aaron Hayes for a 13-yard touchdown, and Jake Morrow passed to Max Nesbitt (3 yards) and Grant Gilmer (17 yards) for scores. Zack Fuller added a short rushing touchdown for the Yellow Jackets. Murray County found scores from Tucker Gregg on runs of 78 and 13 yards and Jon Dooley on a 10-yard run. Juan Andrade added a 35-yard field goal for Murray.
Cedar Grove 73, Redan 0
Cedar Grove built a 47-0 advantage by halftime and led 67-0 going into the fourth quarter as it took care of host Redan. Xavier Dennis threw five touchdown passes and Israel Spivey scored three times for the Saints, two on receptions and one on the ground. Jadon Haselwood had two touchdown catches, both early in the contest to make the score 14-0 after one quarter. On the defensive side of the ball, Rashad Preston returned an interception for a touchdown in the second quarter. Trevon Richardson, Devon Barnes, Quindarius Sterling and Deante Maxwell also scored for Cedar Grove.
East Hall 47, Fannin County 27
The Fannin County Rebels surprised the visitors with an onside kick to start the game and capitalized on it with a QB keeper for a touchdown from Chandler Smith to take an early lead. However, the Vikings responded with three straight touchdowns and claimed the halftime lead 20-6. Despite a fourth-quarter comeback attempt by the home team, East Hall hung on thanks to quarterback Austin Parker's six touchdown passes in the game, two of them to receiver Sedrion Morse, who passed the 1,000-yard receiving mark. Two-way starter Amir Ellison caught a touchdown at tight end and recorded multiple sacks on defense.
Greater Atlanta Christian 49, Dawson County 10
Greater Atlanta Christian dominated in all three phases of the game to overwhelm visiting Dawson County. The Spartans had five rushing touchdowns, Tyler Bride returned an interception 60 yards for a touchdown and Jonathan Moore blocked a punt that Sam Collins recovered in the end zone. Bride also had a touchdown run for Greater Atlanta Christian, while Kyler McMichael ran two in from 52 yards and 75 yards away. Josh Rose and Montae Bailey also found the endzone, while Sevaughn Clark scored the Tigers' lone touchdown.
Lovett 59, McNair 19
Lovett routed visiting McNair and then won a coin toss with Westminster and Pace Academy to earn the No. 2 seed out of Region 5-AAA. Blaine McAllister threw three touchdown passes and rushed for another score in the Lions' regular-season finale. Crawford Schwieger, Peyton Ringer and Nick Jackson had touchdown catches, while David Shepherd scored twice one the ground. Lovett scored the first 21 points of the game and had 45 of its 59 points by halftime. Azan Alim accounted for two of McNair's touchdowns.
Westminster 38, Stone Mountain 0
Westminster accounted for all of the game's scoring in the first half as it cruised past visiting Stone Mountain. The Wildcats led 17-0 after one quarter and extended the margin to 38-0 at the intermission before a running clock brought a swift end to the second half. Ward Croft threw touchdowns of 15 and 25 yards to Malcolm Strickland, while Miles Davis, Joe Egan and Michael Mahan all had touchdown runs for Westminster. Charlie Ham added a 30-yard field goal in the first quarter.
CLASS AA
Thomasville 38, Fitzgerald 28
Fitzgerald returned the opening kickoff for a touchdown and led 28-17 with 4:49 left in the third quarter before Thomasville used 21 straight points to save its perfect season and steal the victory. Malek Miller sparked the comeback with a 53-yard touchdown run, but a failed 2-point conversion kept the deficit at 28-23. It wasn't until J.T. Rice found Trey Tillman from 9 yards out to give Thomasville its first lead of the game at 31-28. Tillman sealed the win with a 5-yard touchdown run with 1:38 left.
CLASS A
Athens Academy 32, Prince Avenue 14
Early in the first quarter, host Athens Academy intercepted Prince Avenue quarterback Grant Roland and took the lead with a 30-yard Drew Byus field goal. The visiting Wolverines responded with a 76-yard touchdown reception by Christian Parrish. Then, sophomore safety Kurt Knisely got the Spartans' second interception to set up a 4-yard Len'neth Whitehead touchdown run for the home team with 0:54 left in the first. After a 66-yard run by Whitehead in the second quarter, Payton Bowles finished the drive with a 19-yard TD run. The Spartans led 23-7 at half time after a failed extra point. With 8:02 left in the third quarter, Prince Avenue got back in the game with a 45-yard touchdown pass from Roland to Brock Vandagriff. In the fourth quarter, the Spartans put the game out of reach with a 10-yard TD run from Whitehead and a 30-yard Drew Byus field goal.
Eagle's Landing Christian 69, Landmark Christian 7
Eagle's Landing Christian won big again at home, defeating visiting Landmark Christian 69-7. Quarterback Brayden Rush was 6-of-7 for 117 yards and one touchdown pass to Sean Queen, but ELCA was strong on the ground. Josh Mays (6 carrie, 117 yards) and Keaton Mitchell (10 carries, 103 yards) had three rushing touchdowns apiece, and Justin Menard added two more on his two total carries for 78 and 56 yards. Tre Douglas and Josh Holt each had an interception.
Fellowship Christian 47, Bowdon 12
Brooks Bryant threw three touchdown passes and scored on two 1-yard keepers for host Fellowship Christian. The Paladins led just 14-12 in the second quarter after a Merrick Haigler 4-yard TD run and a 45-yard scoring pass from Bryant to Cameron Gill. Bryant hit Gill again for a 60-yard touchdown to make it 20-12 at halftime, and the Paladins cruised from there. Bryant scored on both of his keepers in the third quarter and hit Casey Barham for a 35-yard pass on fourth-and-10 in the fourth quarter. Trexton Lewis closed the scoring on a 5-yard touchdown run.