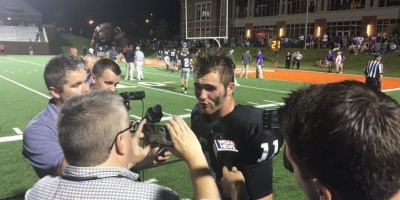 From the Macon Telegraph
Photo courtesy of Mason Prince | WGXA

The Bears rode the arm of quarterback Jake Fromm and took advantage of some Mary Persons woes near the end zone to claim a 26-14 win Thursday over Mary Persons in the Corky Kell Classic at Five Star Stadium.

Houston County scored on every first-half possession to take a 26-7 lead at the break, while Mary Persons had two deep drives that ended with no points.
The Bulldogs felt that pain even more later, when they held the Bears scoreless in the third quarter while turning the ball over twice inside Houston County's 25 with interceptions.

Mary Persons made it a 26-14 game with 5:53 left in the fourth quarter, and the game ended with Houston County's Jaeven West being tackled at the 9 after a 46-yard gain.
The Bulldogs' final drive ended with the Bears' third interception of the night, at the Houston County 27. Mary Persons had three second-half possessions end inside the Houston County 30, all on interceptions, and ended the first half 3, after having a first-and-goal on the 7.

The teams exchanged touchdowns on their first drives, and the Bears then scored on their next three trips. They broke the tie after Zach Harvey fumbled on the Bears' 26.Houston County was sharp on a monster drive of 17 plays that covered 71 yards and ate up more than seven minutes. Colbert's 8-yard touchdown catch with 3:43 left in the first half, however, was Houston County's final score.

The Bulldogs seemed primed to take momentum into the locker room, but Caleb Spier's rollout pass into the end zone was batted away by Andrew Brown.

The Bears couldn't pull away in the second half, and the Bulldogs watched chances to gain ground fall away. They only punted twice all night and managed only four fewer first downs than the Bears. West finished with 78 yards for the Bears, who had 577 yards in total offense to 446 for the Bulldogs.