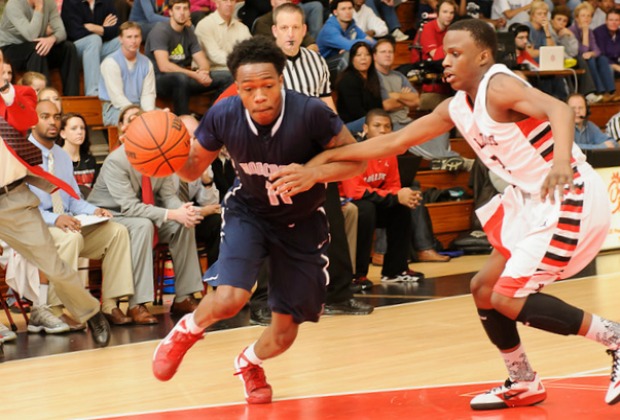 Ty Freeman
Norcross will host the 2013 Hilton Invitational this Saturday and several in-state powers will take part in the basketball showcase. North Cobb, ranked No. 2 in the latest Score boys AAAAAA poll, will face Alabama power Carver. Four-time defending state champion Miller Grove faces Memphis East while Greater Atlanta Christian, Wheeler and Eagle's Landing will face North Carolina powerhouses. Host Norcross is set to face Dematha (Md.).
Greater Atlanta Christian will be taking part in the Hilton Invitational without Georgia Southern-signee Delano Spencer. The shooting guard is no longer with the GAC program after enrolling at Oldsmar Christian (Tampa, Fla.). The No. 1 Spartans still have Score 44 standout Collin Swinton and sophomore Cam Boyd in the backcourt to team with junior forward Isaiah Wilkins. Spencer is the second college signee to leave the program over the past few seasons as current Buford standout A.J. Davis left the Spartans' program before the 2012 season after helping GAC win a pair of titles in 2010 and 2011.
How tough is Region 8-AAAAAA? Berkmar needed 16 points from C.J. Foster and 13 points, seven rebounds and two blocks from Tim Rowe to pull out a 59-55 victory over South Gwinnett in order to hold onto a tie for fourth place in the region. Archer currently sits in first place with a 10-2 mark as of Wednesday with Shiloh just one-half game back and Brookwood in third at 8-4. Brookwood recently topped Shiloh thanks to R.J. Smith's six 3-pointers and Deion Dedeaux's 17 points. The Broncos are playing more up-tempo this season, averaging 63 points per game after averaging just 52 points per contest last season.
One of the state's top junior girls players Nasheema Oliver was removed from the Crisp County team earlier this week. Oliver earned all-region honors last season as a sophomore, but Crisp County coach Barrett Wilkes removed her from the team following an in-game incident over the weekend.
"It's a team matter and she's no longer with us," Wilkes told the Albany Herald. "We're a team and we've got to play together and stick together.
Crisp County fell to Dougherty 49-38 in the team's first game without Oliver, who was averaging 18 points and 12 rebounds per game. Her father told the Albany Herald that Oliver would sit out the remainder of the season and transfer before next year.