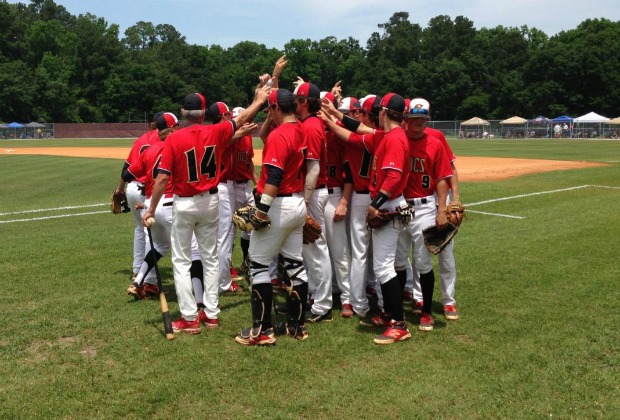 Greater Atlanta Christian beat host Benedictine in Game 1, but fell short in Game 2 in the Class AA finals. The teams will play Game 3 Monday at 1:30 p.m.
GAC used a complete-game performance from senior pitcher Justin Lewis and homers by Connor Joseph and Wade Cox to win Game 1 3-1. The host Cadets rallied to win Game 2 7-1 after gaining an early 6-0 lead after three innings.
Cox's dinger broke a 1-1 tie in the seventh inning to give GAC a 3-1 lead in the top of the inning. Lewis, who gave up just four hits, closed the game out and the Spartans guaranteed that at the end of the day, they would either be state champs or headed for a decisive Game 3.
"He had really good control," said outgoing GAC coach Cliff Shelton of Lewis' performance. "He kept them off balance. I mean, he just shut 'em down. Completely shut 'em down. If I had two guys like him, I'd be driving home tonight a happy man."
Benedictine, however, roared to a 4-0 lead in the first inning of Game 2 and a 6-0 edge after three in evening the series. The Cadets profited from two homers by sophomore Chipper Wiley and erratic pitching by GAC early in the game.
"We just couldn't find the strike zone," said Shelton of his team's early deficit in Game 2. "We just didn't get it done pitching."
GAC overcame a fourth-place finish in region play to make the finals series. Coming out of such a competitive region was beneficial to the Spartans in the long run.
"Our approach was, once we saw we were going to struggle in the region, we need these teams to make us better," said Shelton of his team's fourth-place finish in ultra-tough Region 6. "When you have to play the Lovett's, Wesleyan's and Westminster's and play them 12 (total) times, it's going to make you better."
Despite struggling throughout much of the regular season, the Spartans have won 13 of their last 16 games. The streak began almost exactly when Shelton was fired before the final week of the regular season. Since then, GAC has been on a mission.
"They fired me, but they fired the team as well," said Shelton of his termination as baseball coach (he will continue to teach at GAC). "They're incredibly motivated and they're playing great as a unit. There's no selfish attitudes on this team."
Shelton has been GAC's head baseball coach for 32 years and this is his fifth finals appearance. Ironically, the coach he replaced won the 1982 state championship the year before Shelton took over.
Game 3 will be played at Benedictine Monday at 1:30 p.m. Shelton will start semifinals-hero Ben Childers, who pitched a complete game in Game 3 of the Westminster series.