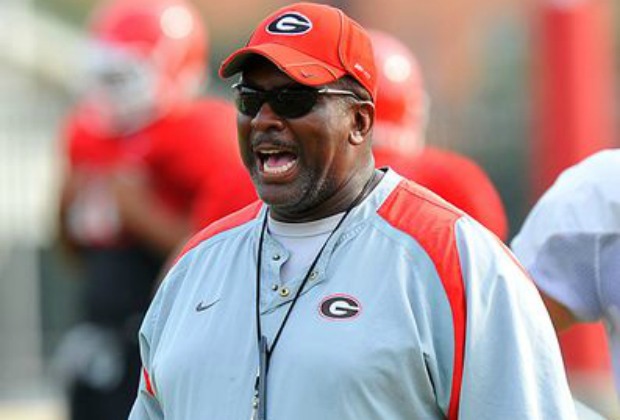 Brant Sanderlin/AJC
Rodney Garner, Georgia's longtime defensive line coach and recruiting coordinator, has left the school in order to return to his alma mater, Auburn. Garner will be the Tigers' defensive line coach, assistant head coach and recruiting coordinator. Jay Jacobs, Auburn's Athletic Director, confirmed the news in a tweet late Thursday night.
Rumors began circulating early this week that Garner had been contacted about an opening on Auburn's defensive staff but UGA did not address the rumors. In his presser Thursday afternoon, Mark Richt declined to answer questions about his recruiting coordinator, stating that he would not address those issues at that time.
Garner played four seasons at Auburn as an offensive lineman, receiving All-SEC honors in his senior season. He coached at the school from 1990-1995 and then spent two years at Tennessee before being hired by former Georgia head coach Jim Donnan in 1998. Garner spent 15 years at Georgia.
"Auburn has always been a very special place for me and my wife, Kimberly, who is also an Auburn graduate," Garner said in a statement from Auburn. "I owe a lot to Auburn and the men who helped mold me to who I am today both professionally and personally. I'm very appreciative to Coach Malzahn for this opportunity and I feel very strongly that I can be an asset to the program. I have a lot of love for Auburn and I felt this was a great chance to help give back to a place that has given me so much. I look forward to helping get Auburn back to where it belongs."
Garner released a lengthy statement through Georgia as well Friday morning, issuing thanks to Bulldog Nation for 15 years of support.
"I want to thank the Bulldog Nation, University of Georgia, and the Athletic Association for 15 of the greatest years of my life," said Garner. "UGA will always hold a special place in my heart.  I also want to thank Jim Donnan for hiring me at Georgia in 1998 and Mark Rick for retaining me on the staff when he came in December of 2000. During my career I¹ve been blessed to work for some great head coaches in Coach Donnan, Phil Fulmer (Tennessee), Pat Dye (Auburn) and Coach Richt. I've learned so much from them."
Along with the statement from Garner, the school released a statement from Mark Richt.
"I want to thank Rodney for 15 years of loyal service to UGA.  He was the first assistant I hired when I came to Georgia and it turned out to be a great decision," said Richt.  "He's a tremendous ball coach, recruiter, and mentor and great example of what a good father and husband should be.  He's been a blessing to my life as well as to UGA.  We wish him and Kim all the best."
In terms of recruiting, the effect of Garner's defecting is unknown. Georgia's 30 verbal commitments for 2013 are not expected to be effected too strongly but the recruitment of two of Georgia's top remaining targets, defensive linemen Montravius Adams and Toby Johnson, may take a hit. Both have developed a strong bond with Garner and his not being at Georgia may factor strongly in their recruitment.