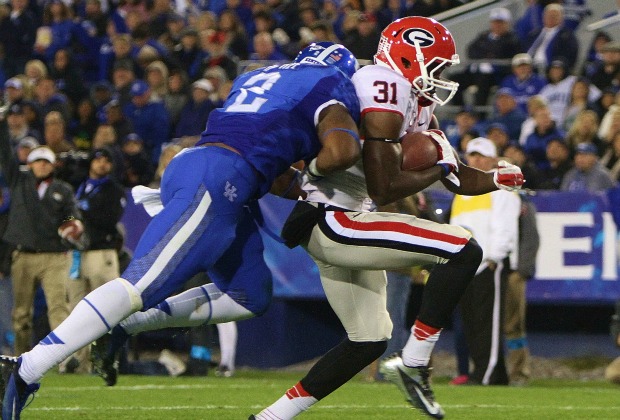 Rob Saye
After leaving Lexington with a victory, the 12th-ranked Georgia Bulldogs will head to Jacksonville this weekend to face the third-ranked Florida Gators. Possibly the biggest game of head coach Mark Richt's career, a Georgia win would put the team in the driver's seat for the SEC East crown. However, a loss would eliminate the Dawgs from further contending for the division title.
"It's a game that is going to be a tremendous challenge for us, we know that," said Richt at his Tuesday press conference. "They are an outstanding football team and very talented. They have a lot of momentum and confidence right now, and those are tough teams to beat. We have our work cut out for us."
CHARMIN SOFT
Florida has been propelled by a stout defense and a physical run game. In short, the Gators play smash-mouth football and the Bulldogs will need to hang tough to pull off the upset in Jacksonville.
A year after being one of the elite defenses in the nation, the Bulldogs' defense has been much-maligned and incapable of stopping the run. Despite being one of the SEC's worst units, Kentucky racked up 206 rushing against the Dawgs. The defensive line will need to play at an elite level to ensure that the Gators do not have success running the ball and dominate the line of scrimmage.
While the defense has been inconsistent all season, there have been no explanations for the team's play seven games into the season. That was until a captain of the defense made his thoughts public.
"We're playing too soft as a defense," said Shawn Williams Monday night. "That goes for the D-line, linebackers, corners, safeties, everybody. We're just not playing with the same attitude we were last year. I don't know what it is."
Williams' comments echoed through the locker room on Tuesday afternoon and generated different emotions among teammates. Richt addressed the situation in his press conference and believed that it could provide a "spark" this week. He called Williams a "passionate player" but wished the comments were not made in a public setting.
JONES RETURNS
Linebacker Jarvis Jones missed last week's game due to an ankle sprain but pronounced himself as "fine" to reporters. He also said that he has not been fully healthy since the Missouri game.