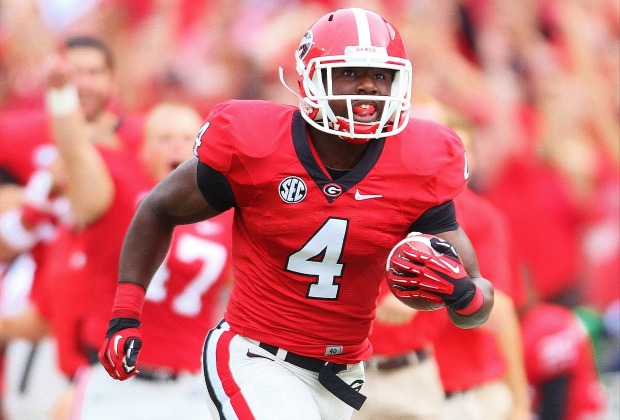 Rob Saye
The bye week has come at a great time for the Georgia Bulldogs. After being throttled 35-7 by the South Carolina Gamecocks, a week off may do some good for the Bulldogs.
"Like I told the guys, we took a whipping, but the good news was that we all took it together," said Georgia head coach Mark Richt after the loss. "I don't think anyone could look in the mirror and say 'I had a great day but the other boys didn't.' I don't think either side of the ball could say 'We did our job and the other boys didn't.' It was a team loss. We got beat by a very good team that was primed and ready to go."
South Carolina started the game with a scoring drive capped by a touchdown pass to a wide open Bruce Ellington. The Gamecocks then proceeded to kickoff to Georgia's Malcolm Mitchell, who returned the ball to the 50-yard line. After South Carolina opened the game with big plays and Georgia answered with an electric return, the game had the early makings of a traditional shootout.
That was until Georgia quarterback Aaron Murray had one of his passes tipped at the line and intercepted by the Gamecocks.
After the interception, the momentum shifted in South Carolina's favor as they marched down the field for another score. The sledding got even worse for the Dawgs when South Carolina receiver Ace Sanders returned Georgia's next punt for a touchdown. The return gave the Gamecocks a 21-0 lead in the first quarter and it was obvious that the life had been sucked out of the Bulldogs.
Georgia's defense would buckle down for the rest of the game, holding South Carolina to 14 points over the next three quarters. However, the offense could do nothing against a stout Gamecock defensive line.
Gamecock defensive end Jadeveon Clowney was constantly in Georgia's backfield, never allowing Georgia running backs Keith Marshall and Todd Gurley to run the ball effectively or Murray enough time to get the ball to his receivers.
The Bulldogs gave their fans a glimmer of hope when they got to the South Carolina end zone but could not pound the ball into the end zone in four chances before halftime.
Murray, under constant pressure, had trouble getting the ball out in time and when he did, his receivers did not have enough time to get in position due to South Carolina's press coverage. Neither Gurley nor Marshall rushed for more than 39 yards on the night.
Overall, it was not a good night for the Georgia Bulldogs. The offense seemed out of sync and the defense had trouble defending South Carolina's read option offense.
Georgia, No. 14 in the latest AP poll, returns to action Oct. 20 at Kentucky.