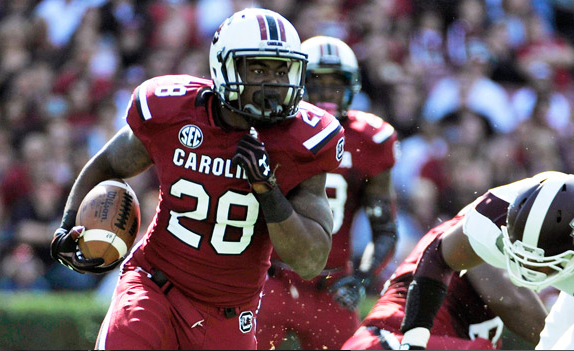 NFL.com
The 256 players taken in this year's NFL Draft came as far away as Germany and American Samoa, but the state that impressed most in terms of producing NFL talent was our own. Florida, double the population of Georgia, led with 39 players and Georgia finished second with 30. Georgia produced more than Texas (27) and California (26).
In the first round, DE Vic Beasley, OC Cameron Erving, DE Bud Dupree and WR Breshad Perrimen were taken. Beasley (Adairsville) went to the Falcons with the No. 8 overall pick and Erving (Colquitt County) went to Cleveland at No. 19. Three picks later, Dupree (Wilkinson County) was selected by Pittsburgh, and NFC North rival Baltimore picked up Perriman (Arabia Mountain) at No. 26.
The second round saw the fewest Georgia-products but Stephenson alum DE Preston Smith was selected by Washington with the sixth pick of Round 2. North Paulding WR Chris Conley (Kansas City), Maynard Jackson OLB Lorenzo Mauldin (New York Jets), Woodward Academy DE Henry Anderson (Indianapolis) and Northside-Warner Robins CB Steven Nelson (Kansas City) sent four more Georgia prep stars into the AFC in the third round.
Wayne County alum Tre Jackson was picked up by defending Super Bowl champion New England as an offensive guard with the 111th overall and four more Peach State natives were taken later in the fourth round. DL Gabe Wright (Carver-Columbus) went to Detroit and San Francisco took RB Mike Davis (Stephenson) and WR DeAndre Smelter (Tattnall Square). Norcross' Max Garcia went to Denver with the 34th pick of the fourth round to play center.
Rockdale County High School was represented with the first pick of the fifth round as DT Grady Jarrett was drafted by the Atlanta Falcons. Twenty picks later (157), tight end C.J. Uzomah (North Gwinnett) was drafted by Cincinnati. Outside linebacker Neiron Ball (Jackson) went to Oakland with the 161st pick and New Orleans took former Grady star and Georgia Bulldog cornerback Damian Swann at 167. Dooly County's Keith Mumphrey (WR) went to Houston at 175th overall.
The sixth round put five more Georgia stars on the board. WR Geremy Davis (Norcross) went to the Giants, WR Darren Waller (North Cobb) went to Baltimore, ILB Amarlo Herrera (North Clayton) went to Indianapolis, OLB Resard Cliett (Thomas County Central) went to Houston and TE Kennard Backman (Whitefield Academy) joined Green Bay.
The last six Georgia players drafted came in the final round. OT Austin Shepherd (North Gwinnett; Minnesota), WR Mario Alford (Greenville; Cincinnati), OG Trent Brown (Westover; San Francisco), WR Tre McBridge (Ola; Tennessee), DE Xzavier Dickson (Griffin; New England) and TE Rory Anderson (McEachern; San Francisco).