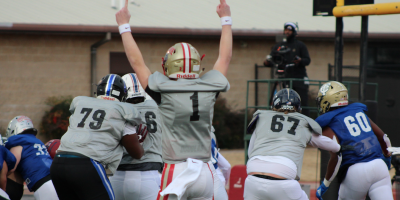 The 9th annual Georgia Elite Classic was held last week in Rome, Georgia. Over 275 players were in town from the class of 2022-2026 for 3 days.
This All-Star game setting is limited to only the state of Georgia players and the games were televised across the country on Peachtree TV.
Here are the standouts chosen by the staffs of each team and 247Sports from last week.
Alpha Dogs
Sammy Brown
The Nation's No.1 rated ILB in the 2024 class did not disappoint from the defensive side and also was a standout at RB, taking his first carry of the game, 65 yards for an TD for the 2024 team. He is a national recruit and will continue to be over the next two years.
Gabriel Harris
The 2023 Four-Star DE was playing in his 3rd Georgia Elite Classic and he was a problem coming off the edge all day for anyone in front of him. Harris at 6-foot-3, 240 pounds is already a Four-Star and his stock should continue to rise as the spring camp season approaches, he has every tool in his bag as a pass rusher.
Weekly Standouts
Cole Spence – 2022 Vanderbilt signee showed why he is an SEC player in a 6-foot-6 frame. He was a problem trying to defend and he can block attached to the end of from the hybrid position. Spence will have a big chance to play early in Nashville.
Jaden Harris – Harris did not get a ton of targets playing DB in the 2022 class, but the Miami signee showed in practice and even coming to play that he is cut from a different cloth. Harris had a huge senior season at Riverwood and blew up with multiple P5 offers.
Jake Parker – Senior QB from Cartersville continues to fly under the radar. He did not have the best protection at times in the game, but in practice sessions, the 2022 staff liked what they saw out of the QB and decision making.
Jarvis Germany – Interior offensive lineman from Mary Persons is a strong player in a 6-foot-3 frame, I would expect his recruitment to pick up. He was All-State in 2020 and 2021.
Brayden Mauldin – Another 2022 QB flying under the radar from Paulding County. He is a 4.0 GPA, three year starter.
Jarvis Hicks – 6-foot-7, offensive tackle that is still developing going into college, but he has a great frame, carrying 290 pounds with ease. He probably projects long term as a right tackle, but his best playing days are ahead of him.
Madden Sanker – Not much needs to be said from the 6-foot-4, 295 pound Top 100 OL in the 2023 class. He came to Rome and showed the ability to play every position on the line of scrimmage. He is in the middle of wrestling season, trying to defend his state championship in the 6A classification. He will be a four year starter at South Paulding and a highly recruited player over the next 12 months.
Ian Geffrard – 6-foot-6, 350 pound OL has early offers from Arkansas, Auburn and others. He definitely won the case for broadest shoulders in Rome, he is a large man, that can move. He is unranked so far, but expect his stock to rise quickly going into the spring.
D.J. Rogers – Not the biggest back in the game, but his vision and burst were second to none at this event. Rogers is also flying under the radar, but his staff raved about him.
Cam Vaughn – A new name on the scene that did not disappoint either at QB. He was different with the ball in his hands in practice sessions, he was very explosive in the open field too.
Branden Strozier – 6-foot-2 CB had a pick 6 in the game for his 2023 team and did not take long for teams to notice him after the game, he picked up Georgia State quickly when the game was over. Arkansas was first to offer, he will add many between now and May.
Troy Ford – Four-Star LB does not shy away from contact, he can cover, he can tackle and he will be a name that more people will know over the next six months at LB. Grew up a major UF fan, an offer from the Gators would be big down the line..
Ashton Woods – 2024 LB shined at LB along side Brown and he continued his play after a very good sophomore season at Walton. He does not have his first offer yet, but I would be surprised if enters May evaluation period without a few in the P5 group.
Daniel Calhoun – The 6-foot-6 OT is already a national recruit and he did not last week to change that opinion of him. He competes, he is large, he checks the boxes.
Web Davidson – The 2nd year that Davidson has played in the Elite Classic, but this time, he showed up at 6-foot-6, 280 pounds. Shortly after the game he picked up a UCF offer, he will be a name to know with Calhoun in the 2024 class as a OT. He was impressive in practice and the game.
Jacobi Murray – Maybe the biggest surprise of the week is the 2024 DL that came out of nowhere to dominate practices and played very well in the game as well. Murray at 6-foot-2, 250 pounds was a handful for any lineman in front of him.
Joseph Stone – Was different than either other WR in Rome, he is already an All-American for a reason coming out of Grayson.
Daniel James – another new name in the 2024 class and he picked up his first offer from NC State shortly after the game. The 5-foot-11 CB plays at McEachern.
Josiah Abdullah – 2025 WR from Woodward Academy holds an offers from Georgia Tech and Texas early on. He was the best play maker on offense for the freshman team. He has great hands and top end speed from the slot.
Peyton Joseph – 2025 OL from Peach County got the start at LT for the freshman team, he played well against some older players in the 2024 class.
Mason Short – 6-foot-6, 260 pound OT from Evans High School looks to be a certified P5 player down the line with a great frame. He reminded us of Web Davidson last year, we expect Short to play around 280 pound next year with offers.
Zayden Walker – 6-foot-3 OLB from Schley County was good in practice and even better in the game. He had several tackles for loss and a very athletic interception for a TD.
Antwann Hill – 2025 QB entered the game with offers and he showed why with a big arm, the ball jumps out of his hands. Georgia, Arkansas, Texas A&M and others have offered early on.
Caleb Ellis – New name on the DL in the 2025 class from GAC. Came in as a TE, but moved over to DL and did not disappoint.
A pair of 2026 prospects that stood out in the 8th grade game.
Other Standouts Worthy of Mention:
Eli Barrow 2023 LB Cedartown , Jayden Daniels 2025 Athlete Commerce, Duke Watson 2024 RB Mary Persons, Reece Fountain 2024 QB Rome, Aaron Philo 2024 QB Prince Avenue, Caleb LaVallee 2023 LB Whitefield Academy , Debron Gatling, 2024 WR Milton, Dylon Worthen DE Dodge County, Bryson Hill, 2022 Athlete Rome, Hunter White 2026 RB Calhoun, Teddy Jarrad 2026 QB, Nick Brooks 2025 OL St Francis, Caleb Bell 2025 LB St Francis, Sacovie White 2024 WR Cass, Will Snellings 2023 LB Whitewater, Stephen Johnson 2023 DL Whitewater , John Cineas 2024 WR Grayson
Follow the LINK to see the full article from 247Sports.