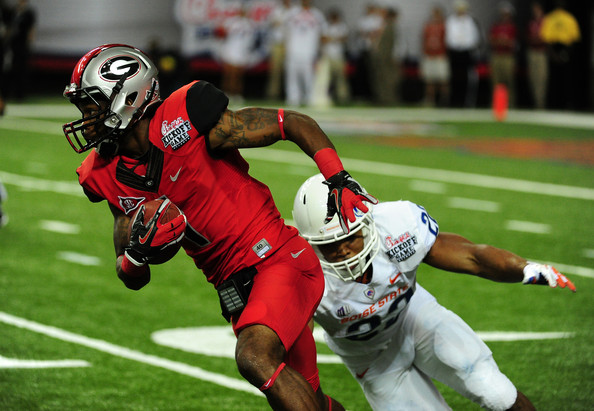 Scott Cunningham/ Getty Images North America
News became official earlier this Thursday afternoon that Georgia would open their 2016 football season inside the Georgia Dome against North Carolina. It has been over 40 years since these two have played against each other and 2016 will be their 31st meeting.
The Bulldogs have the edge in the all-time series with a 16-12-2 record. The last time these two teams met was back in 1971 down in Jacksonville, Florida. Georgia took that game 7-3 in the Gator Bowl.
The Tar Heels haven't beat Georgia in over 50 years, with their last win coming back in 1963.
This matchup will be part of the annual Chick-Fil-A Kickoff Game that is played inside the Georgia Dome on the opening weekend of college football. The Peach Bowl runs the game and their CEO Gary Stokan is excited to get these two teams back on the same field.
"This will undoubtedly be one of the best games of the 2016 opening weekend and a long-overdue renewal of an old ACC vs. SEC rivalry," Stokan said in comments released by UGA. "Both programs have a rich tradition, devoted fan base, top-notch players and elite coaches- all elements of a blockbuster-type game that we can't wait to host."
A game of this type was expected to be announced sometime, when Georgia J Reid Parker Director of Athletics Greg McGarity said as much earlier in the year. Now it has been made official and he's ready to get the state's university back to the capital city.
"It's great to have the opportunity to be back in Atlanta for the Chick-Fil-A Kickoff Game," McGarity said in comments released by UGA. "It will also be a special time to rekindle a long-ago rivalry with North Carolina, a team we have not played since the Gator Bowl game in December, 1971. Georgia and North Carolina have played 30 times especially throught the fifties and sixties and I'm sure it will be a very popular game among fans of both institutions."
Atlanta is indeed a city that houses a ton of alumni from both state universities. In fact, the two institutions are only about 330 miles apart from each other.
Georgia head coach Mark Richt and team says all the time that their first goal of the season is to win the SEC East and play in the SEC Championship. The Georgia Dome is always a destination for the program. He's ready to get them back there.
"I know our team, coaches, and fans will be looking forward to playing a quality opponent like North Carolina in Atlanta," Richt said in comments from UGA. "It will be a national stage for a season opener and generate a lot of excitement for fans not only of both schools but college football fans around the country."
The Bulldogs last visit to the Dome ended in heartbreak back in 2012, when they came up just short against Alabama in the SEC Championship.
They have played in the Chick-Fil-A Kickoff before, when they took on Boise State to start the 2011 season. The Tar Heels are also making their second appearance in this game, after losing to LSU back in 2010.
Larry Fedora will be entering his fifth season at North Carolina, when they open the year against the Bulldogs. Like Richt, he's also looking forward to coaching his team in this game.
"The Chick-Fil-A Kickoff Game is a tremendous opportunity for our team to kick off the college football season on national television against an outstanding Georgia Program," Fedora said in comments gathered by UGA. "This is also an exciting opportunity for our fans to travel to Atlanta and watch us play in an electric environment."
This game will also be special for the Chick-Fil-A Peach Bowl, because it will be the final Kickoff Game inside the Georgia Dome. In 2017, the event will move to the new Falcons Stadium.