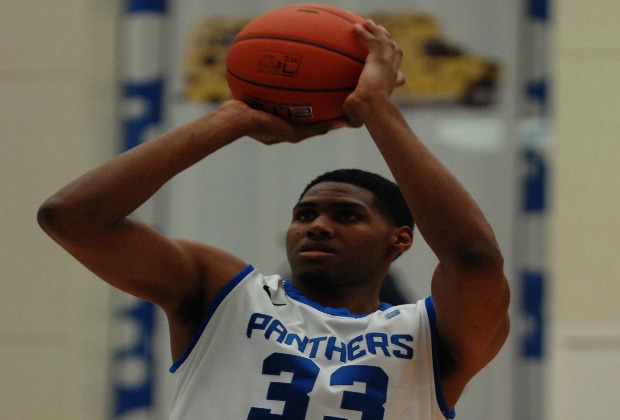 Sonny Kennedy
Since the heartbreaking loss to Delaware on Jan. 12, the Georgia State men's basketball team has made a key adjustment to produce four straight victories. Two of the victories have come on the road as the Panthers defeated Old Dominion last Saturday 69-54 before taking out Towson this past Monday, 71-69. The team was victorious last night at home against UNC-Wilmington.
Freshman R.J. Hunter led the Panthers Monday as he hit a three-pointer with one minute left in the second half and blocked a shot with two seconds remaining.
"I am so glad for these guys because we have struggled in close games lately," head coach Ron Hunter told georgiastatesports.com as his team is now 4-4 in games decided by one possession or less. "I told them at one point all the hard work was going to pay off. We kept grinding and tonight we came out on top."
Hunter finished with a career-high 27 points while Devonta White added 14 points, six assists and five rebounds. Rashad Richardson added 11 in the win. The Panthers will travel to Philadelphia to face Drexel Saturday at noon.
NOT SO LUCKY …
The women's basketball team is not producing the same results as the men's team, having lost five of its last six games.
On Sunday, the Lady Panthers suffered a 65-49 loss to James Madison at the GSU Sports Arena.
Both defenses played well as the Lady Panthers shot 20-for-57 while the Lady Dukes shot just 20-for-58. The Lady Dukes made 20 of 21 from the free throw line while the Lady Panthers made just seven of 13.
"We did some good things today and played a solid game, but they made plays down the stretch and we didn't. That was the difference in the game," GSU head coach Sharon Baldwin-Tener told georgiastatesports.com.
The Lady Panthers will be back in action today as they take on Old Dominion. They will will travel to face George Mason on Sunday.
NEW COACH …
Former UGA running back Thomas Brown has agreed to join Georgia State coaching staff. Brown will be the running backs coach for the Panthers, a role he held last season as a coach at UT-Chattanooga.
Brown later returned to UGA as an assistant strength and conditioning coach during the 2011 season.