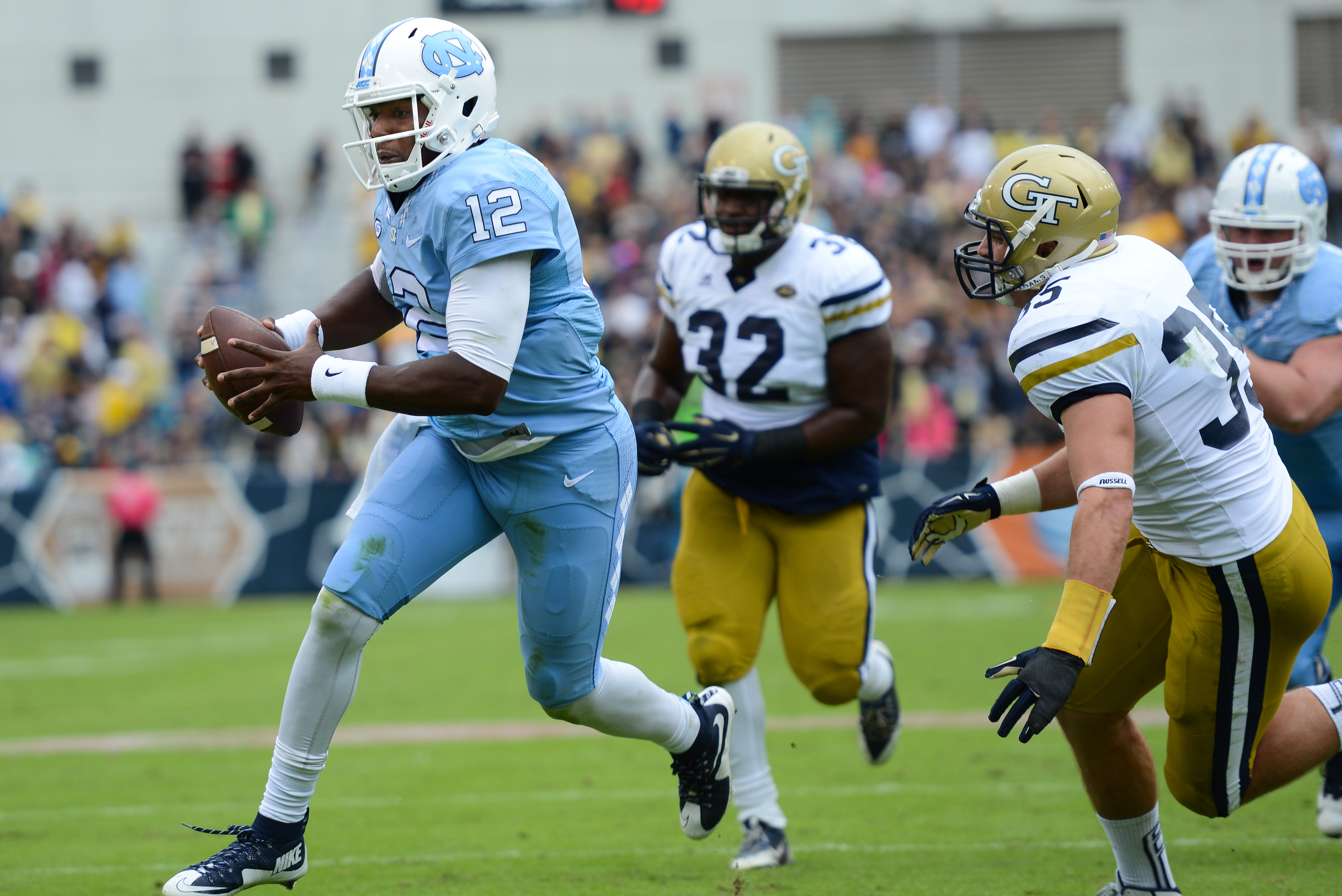 Photo By Jon Barash
ATLANTA — The Georgia Tech Yellow Jackets' season is taking a turn for the worse after the team suffered their third consecutive loss last Saturday vs the North Carolina Tar Heels. The Yellow Jackets blew a 21-point lead to lose 38-31 and have now lost the same amount of games in 2015 (3) that they did all of last year.
On what started as a season with a lot of promise, Georgia Tech (2-3, 0-2 Atlantic Coast Conference)  finds themselves a long-shot at winning the ACC in 2015. Ranked as high as No. 14 in the nation, the Yellow Jackets have fallen out of the AP top 25 and sit in a tie for last in ACC conference play.
The Yellow Jackets have had their fair share of injuries in 2015 and are starting more and more underclassman as the weeks go by. Nobody saw this coming, not even head coach Paul Johnson.
"I feel like I've been gut punched," Johnson said. "We need contributions out of everybody. It's got to be offense, defense and special teams. There's no one group that's good enough to carry the other side."
After not eclipsing the 200-yard mark in rushing against the Duke Blue Devils in Week 3, the Yellow Jackets rushed for 255 yards, 204 of which came in the first half. The Yellow Jackets converted just 5-of-13 on third down.
Georgia Tech scored touchdowns on each of their first three possessions, but did not score another touchdown until the third quarter. Up 28-17 with 10:45 remaining in the third quarter, the Tar Heels scored 21 unanswered points to take a 38-28 lead with 4:52 remaining in the fourth quarter.
The turning point of the game was a third-and-goal and fourth-and-goal from the 1-yardline for the Yellow Jackets' offense, but failed to score when Thomas was stopped at the line on both tries.
Georgia Tech added a 37-yard field goal with 2:06 remaining in the game, but a failed onside kick put the game away for the Yellow Jackets.
Georgia Tech held the ball more than 17:00 minutes more than the Tar Heels in time of possession but only managed four yards more of total offense. The Yellow Jackets compiled 417 yards of total offense to the Tar Heels' 413.
"I'm really disappointed," Johnson said. "I thought we had plenty of chances. We kind of let it slip away from us."