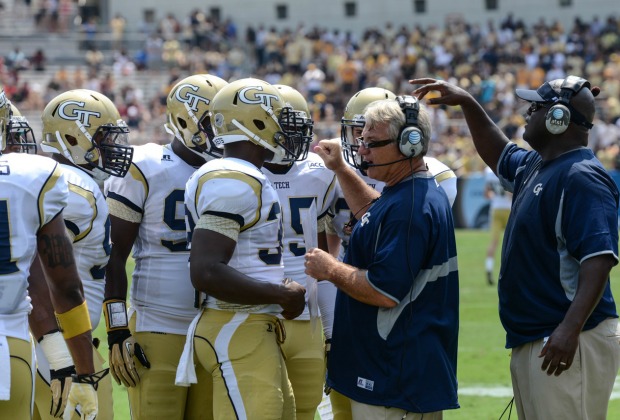 Photo by Jon Barash
Where there is a will, there is a way. The cliché rang true in particular today for the Georgia Tech Yellow Jackets (4-0 overall, 1-0 ACC) as they willed their way to a come-from-behind 27-24 victory against the Virginia Tech Hokies (2-2 overall, 0-1 ACC).
Georgia Tech trailed 16-10 with 11:32 remaining in the fourth quarter until a screen pass from Hokie quarterback Michael Brewer was intercepted by linebacker Paul Davis and returned 43 yards for the score that would give Georgia Tech a 17-16 lead.
The lead for Paul Johnson's squad was short-lived as Virginia Tech scored on the following drive, ending with a crazy play that saw running back Shai McKenzie fumble and Brewer recovering the loose ball and scampering in for the Hokies touchdown. A successful two-point conversion would put the Hokies up 24-17.
With 2:30 remaining, the game was on the line for Georgia Tech as the Jackets stood at the 50-yard line on 4th-and-15. The situation did not overwhelm quarterback Justin Thomas as he calmingly delivered a 19-yard strike to DeAndre Smelter for the conversion. Two plays later, Thomas connected for a 31-yard touchdown pass to Smelter that tied things up at 24 apiece.
The Georgia Tech defense came up big again when cornerback D.J White picked off Michael Brewer at the Virginia Tech 41-yard line. The Yellow Jackets drove down to the Hokies' 7-yard-line where Harrison Butker nailed the game-winner from 24 yards out to deliver the win as his teammates dogpiled on the sophomore kicker.
The Georgia Tech victory ended a four-game losing streak against Virginia Tech and gave the gold and white its second 4-0 start under Paul Johnson. Justin Thomas posted his second-straight 100-yard rushing game, becoming the first Tech quarterback to accomplish the feat since Tevin Washington in 2011. Wide receiver DeAndre Smelter recorded his third 100-yard receiving game of the season.
The Yellow Jackets have an upcoming bye week and their next game is at home against the Miami Hurricanes on Oct. 4.