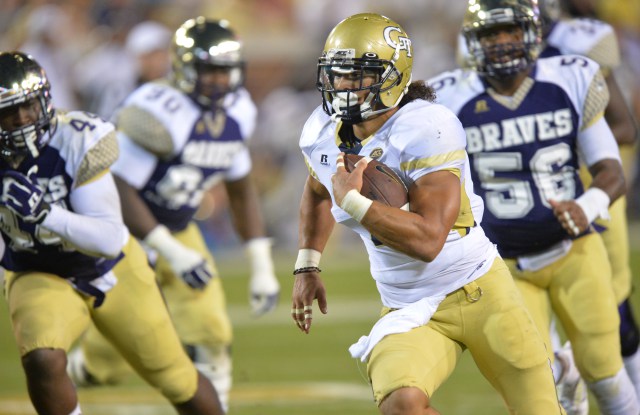 Photo By Hyosub Shin/AJC
Georgia Tech opened its season with the hopes of getting off to a fast start in a matchup with Alcorn State. The Yellow Jackets had never faced the Braves, but that didn't matter as Justin Thomas and Marcus Marshall led Tech to a 69-6 victory.
Georgia Tech scored on its first seven possessions of the game including a rushing touchdown from Thomas and a 19-yard passing touchdown to wide receiver Michael Summers. Thomas was pulled after the first quarter, a quarter in which the team set the school record for most points scored in a quarter with 34.
Marshall, the younger brother of Georgia Bulldogs' running back Keith Marshall, stole the show for the Yellow Jackets. Marshall rushed for 184 yards on just eight carries and found the end zone twice.
Marshall scored on plays of 49 and 64 yards in the game.
"He's got ability," Georgia Tech head coach Paul Johnson said. "He's got good feet. He's got good speed."
Stanford transfer Patrick Scov made his Yellow Jacket debut as well and had a career night. Scov rushed for 72 yards on 12 carries, more than he had in his entire career while at Stanford.
Scov found pay dirt three separate times including a 21-yard run.
"It's a new role," Skov said. "After four years as a traditional fullback, I'd say this is a unique opportunity. I love Justin Thomas. He commands the offense and really gets us going. I can't wait to keep getting the ball from him this year."
As a team, the Yellow Jackets rushed for 476 yards on the ground which is nothing new for the triple-option offense of Johnson. Georgia Tech was second in the nation in rushing yards per game in 2014, only trailing Georgia Southern.
Another big note for the Jackets' first game was the lack of penalties. Georgia Tech did not account for a single penalty in the game, just the second time that has been done while Johnson has been head coach.
"Anytime you can cut down on penalties you are going to have a good chance to win," Johnson said. "We did a good job of coming out here and getting off to a fast start. I knew by the third drive that we were going to win the game."
Georgia Tech doubled Alcorn State in total yards with 553 to the Braves' 272, but Johnson wasn't satisfied.
"We still have a lot of things that we need to work on and improve going into game two," Johnson said.  "We fumbled the ball tonight and had some bone-headed plays that we can't afford to have going forward, but we will work on those things and learn from them."