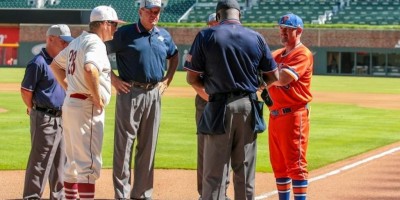 Storied programs will meet over the next week at the GHSA state baseball championships for opportunities to etch their names in the history books. Loganville, a Class 5A finalist, is playing for more than just a state championship.
The team is trying to keep its historic streak alive.
The Red Devils are hoping for the program's fourth straight championship and sixth overall title. If the Loganville wins the state title, it will be the first time a program has won four consecutive championships since Richmond Academy, which won six consecutive titles from 1951 to 1956.
Several programs have done what Loganville has in the past three seasons – most recently was Greenbrier which won the 3A title from 1997-1999. Columbus won three titles from 1994-1996 and Pace Academy from 1993 to 1995. In the 80s, Harlem won state championships in 1981-1983. Pepperell won three straight from 1952-54. Americus (now Americus-Sumter) has twice won three titles in a row from 1953-55 and 1964-66.
Many state title trophies are housed in the trophy cases of programs competing in the finals this season. In Class 7A, Parkview is trying for its ninth title. In 6A, Lassiter and Houston County each want their third championship. In 4A, Benedictine will play for its fourth title against 13-time champion Marist. North Hall will compete for its second title in 3A. Lovett is trying for the team's tenth title against a Jeff Davis program that wants to defend 2019's championship for the program's third. Gordon Lee is trying for its fifth championship in Class A Public and third consecutive title. Wesleyan is trying for the program's fifth title in Class A Private.
The state's highest classes will play at Truist Park, home to the Atlanta Braves where Parkview will face North Paulding in the 7A title series. In Class 6A, Lassiter will play Houston County and in Class 5A, Loganville will take on Starr's Mill, a program trying for its first title.
At Coolray Field, home of the Gwinnett Stripers, Marist will play Benedictine in the 4A title series. Mount Paran will take on Wesleyan in the A Private championships series and North Hall will face Franklin County for the 3A title. At Grayson Stadium in Savannah, Lovett will play Jeff Davis for the 2A championship and Gordon Lee will take on Metter for the A Public title.
See the full schedule below or follow the link to see the BRACKETS.
Coolray Field — Gwinnett
May 20:  4A – Marist vs Benedictine (H) (DH) 5:00 pm
May 21:  4A – Marist vs Benedictine (If Game) 12:00 pm
May 21:  1A Private – Mount Paran Christian vs Wesleyan (H) (DH) 5:00 pm
May 22:  1A Private – Mount Paran Christian vs Wesleyan (If Game) 2:00 pm
May 22:  3A  – North Hall vs Franklin County (H) (DH) 6:00 pm
May 24:  3A  – North Hall vs Franklin County (If Game) 12:00 pm
Truist Park – Atlanta
May 24:   7A – Parkview vs North Paulding (H) (DH) 5:00 pm
May 25:   7A – Parkview vs North Paulding (If Game) 12:00 pm
May 25:   5A – Loganville vs Starr's Mill (H) (DH) 5:00 pm
May 26:   5A – Loganville vs Starr's Mill (If Game) 12:00 pm
May 26:   6A – Lassiter vs Houston County (H) (DH) 5:00 pm
May 27:   6A – Lassiter vs Houston County (If Game) 12:00 pm
Grayson Stadium – Savannah
May 21:  1A Public – Gordon Lee vs Metter (H) (DH) 5:00 pm
May 22:  1A Public – Gordon Lee vs Metter (If Game) 12:00 pm
May 22:  2A – Jeff Davis vs Lovett (H) (DH) 5:00 pm
May 24:  2A – Jeff Davis vs Lovett (If Game) TBD