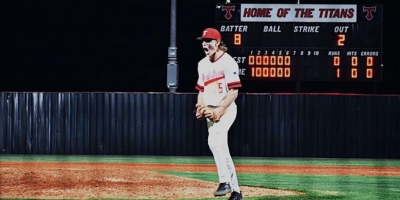 Cartersville is set to play in the finals for the 10th time in program history after sweeping Apalachee (3-2, 11-8) in the semifinals. The Purple Hurricanes were locked in a tight Game 1 with the Wildcats and took the 3-2 victory when courtesy runner Miles Owen scored in the bottom of the eighth inning with two outs left to seal the win. That momentum carried over into Game 2 and the Canes jumped out to a four-run lead after the first two innings and never trailed in their 11-8 triumph. Cartersville finished with 14 hits and reliever Phillip Schiltz got the final out as Apalachee threatened with bases loaded and the potential go-ahead run at the plate. The semifinal victory sends Cartersville to the state finals for the first time since 2018 and gives them an opportunity to win its seventh all-time state crown and first since 2013. In the quarterfinals, Cartersville had to rally back from a 3-0 Game 1 loss to Greenbrier where Wolfpack pitcher David Bell dealt a no-hitter. The Canes achieved this by taking Game 2 11-1 and closing out the series with a gritty 6-4 victory.
Loganville's path to the championship has been one of utter dominance and the Red Devils have racked up a massive 72-14 runs advantage over the course of their flawless first four rounds. In the semifinals, Loganville swept past Decatur (2-1, 13-7) to return to the finals for the sixth-straight season. Gage Fullerton scored the game-winning run on a throwing error in Game 1 of the semifinals and University of North Georgia signee Matthew Heard had a monster performance in Game 2 with a three-run homer, a solo home run and a two-run double. Loganville's outstanding pitching is headlined by starters Dawson Coe and Trenton Burnett. Coe is committed to pitch at Kennesaw State and Burnett is pledged to North West Florida State.
Collision Course
Class 4A North Oconee is one series away from capturing its first-ever state championship and the Titans are carrying a 34-game win-streak into their finals clash with LaGrange. The team's only loss came in February against Lassiter in a game that was cut short in the fifth inning after inclement weather. North Oconee has been unstoppable ever since and is coming off a statement victory in the semifinals. North Oconee was previously swept by Benedictine in the semifinals a year ago, but the Titans returned the favor this year with a 16-4, 10-0 sweep. In total, North Oconee has outscored its playoff opponents 83-12 and carries a 383-72 runs advantage on the year. North Oconee's semifinal sweep started with a 16-4 rout and then Game 2 saw Grayson Godbee, Braeden Smith and Caleb Stricklin drive in runs to build a 3-0 lead. Teammate Justin Byrd launched a two-run homer in the second inning, Godbee added three-run homer in the fourth and then Stricklin iced it with a walk-off homer in the fifth to run-rule Benedictine 10-0.
LaGrange will look to spoil North Oconee's first-ever finals appearance and earn its first state title since 2004. The Grangers swept Spalding 10-2, 3-1 in the first round and have advanced the past three rounds with clutch Game 3 victories. In the semifinals against Cedartown, LaGrange bounced back from a 4-2 loss Game 1 with an 11-0 win in Game 2 and a 2-0 shutout in Game 3 that saw Caden Wood and Trevor Booton combine for a no-hitter.
GHSA BASEBALL STATE CHAMPIONSHIP SCHEDULE
TRUIST PARK – ATLANTA BRAVES
Thursday, May 19
5:00 pm: Class 6A – Allatoona vs Pope (H) (DH)
Friday, May 20
12:00 pm: Class 6A – Allatoona vs Pope (H) (If Game)
5:00 pm: Class 7A – Etowah vs Woodstock (H) (DH)
Saturday, May 21
7:00 pm: Class 7A – Etowah vs Woodstock (H) (If Game)
ADVENTHEALTH STADIUM – ROME BRAVES
Friday, May 20
5:00 pm: Class 4A – LaGrange vs North Oconee (H) (DH)
Saturday, May 21
5:00 pm: Class 5A – Cartersville vs Loganville (H) (DH)
Monday, May 23
Time TBA: Class 4A – LaGrange vs North Oconee (If Game)
7:00 pm: Class 5A – Cartersville vs Loganville (If Game)
COOLRAY FIELD – GWINNETT STRIPERS
Monday, May 23
5:00 pm: Class 3A – Redan vs Pike County (H) (DH)
Tuesday, May 24
12:00 pm: Class 3A – Redan vs Pike County (H) (If Game)
5:00 pm: Class A Private – North Cobb Christian vs Wesleyan (H) (DH)
Wednesday, May 25
7:00 pm: Class A Private – North Cobb Christian vs Wesleyan (H) (If Game)
JI CLEMENTS FIELD – GEORGIA SOUTHERN UNIVERSITY – STATESBORO
Monday, May 23
5:00 pm: Class 2A – Vidalia vs Thomasville (H) (DH)
Tuesday, May 24
12:00 pm: Class 2A – Vidalia vs Thomasville (If Game)
5:00 pm: Class A Public – Charlton County vs Metter (H) (DH)
Wednesday, May 25
7:00 pm: Class A Public – Charlton County vs Metter (If Game)