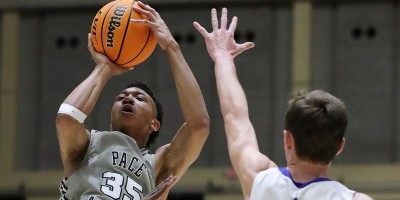 The 2021 GHSA/Dr. Ralph Swearngin Basketball State Championships will begin Wednesday at the Macon Centreplex for four days of competition.
The NFHS Network will broadcast all games and you can watch each finals matchup by following the LINK. Here is the LINK for the GHSA Program. Georgia Public Broadcasting will simulcast the NFHS Network feed for the 4A, 5A, 6A and 7A championship games and you can visit GPB to follow along.
Follow the links here for the BOYS BRACKETS and the GIRLS BRACKETS to see each team's path to Macon. The GHSA will provide LIVE STATS for each game and a PDF of the full game stats will be available following each contest.
Follow the link to the Prep Scoreboard for score updates from each championship game.
See game stories from each contest below.
AAASP Wheelchair Championship: Gwinnett Heat 42, Houston County Sharks 25
GHSA 3-Point contest: De'Maury Flournoy, Carrollton
GHSA Dunk Contest: North Oconee's Sibley wins slam dunk title
7A
Boys: Milton 52, Berkmar 47
Girls: Marietta 52, Woodstock 47
6A
Boys: Wheeler 71, Kell 61
Girls: Westlake 64, Carrollton 46
5A
Boys: Eagle's Landing 81, Tri-Cities 69
Girls: Woodward Academy 62, Forest Park 59
4A
Boys: Baldwin 54, Fayette County 53
Girls: Carver-Columbus 70, Cairo 54
3A
Boys: Cross Creek 57, Sandy Creek 49
Girls: Cross Creek 56, GAC 44
2A
Boys: Pace Academy 73, Columbia 42
Girls: Josey 47, Fannin County 42
A Public
Boys: Towns County 64, Hancock Central 60
Girls: Calhoun County 49, Clinch County 45
A Private
Boys: Mount Pisgah 43, Holy Innocents' 41
Girls: Hebron Christian 51, St. Francis 46 OT