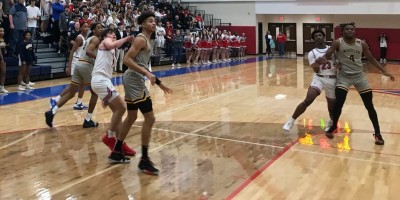 The second round of the GHSA state basketball tournament takes place Friday and Saturday for all classes, boys and girls. On Friday, the AJC will have a writer at the Central Gwinnett-Walton girls game and on Saturday, Madison County at Lovett boys will be covered.
Follow the link to the boys and girls brackets of see the Friday night recaps below.
Class 7A
Girls
Buford 72, Cherokee 52
No. 1 seed Buford trailed visiting Cherokee 15-14 after the first quarter before seizing control in the second en route to a 72-52 Sweet 16 victory. The Wolves outscored the Warriors by a margin of 16-7 during the frame and improved to 26-3 on the season with the win. Buford will take a five-game win streak into its Elite 8 matchup with the victor of Saturday's game between North Paulding and Pebblebrook.
Brookwood 65, Carrollton 60
The visiting Trojans got off to a hot start, but the No. 1 seeded Broncos pulled away with a big third quarter to improve to 28-1 overall and set up a third-round showdown with South Forsyth. Carrollton senior Eghosa Obasuyi had 16 points — including a trio of 3-pointers — in the first half, after which the Trojans held a 35-30 lead, and Brookwood won the third quarter by a margin of 22-13 for a 52-48 edge heading into the final frame. Diana Collins led all scorers with 26 points, along with seven rebounds and five assists, Jade Weathersby put up 22 points and eight rebounds, and Danielle Osho added eight points and eight boards as well.
South Forsyth 54, Peachtree Ridge 35
No. 1 seed South Forsyth got its 18th-straight win with a comfortable 54-35 victory over visiting Peachtree Ridge. The War Eagles led the Lions 11-7 after the opening frame, 22-14 at halftime and 43-26 heading into the fourth. The win marked the 300th of head coach Keith Gravitt's tenure at South Forsyth, which will face fellow 1-seed Brookwood in the next round.
Class 6A
Girls
Gainesville 63, Woodstock 61
After eliminating No. 1 seed Sprayberry in the opening round (70-66),
the No. 4 seed Red Elephants completed another upset with a 63-61
victory over host Woodstock. Gainesville rallied in the fourth quarter
to claim the lead, led by sophomores Julia Payne and Drea Maddox, who
finished the game with 16 and 10 points, respectively. For Woodstock,
Karson Martin scored a game-high 28 points, and the Wolverines also
got double-digit scoring from Casey Miller (12 points) and Lily
Conkell (11). Gainesville will face No. 3 seed Lovejoy in the next
round following the Wildcats' upset of No. 1 seed Veterans.
Sequoyah 59, North Forsyth 46
Sequoyah completed a 3-0 sweep this year of North Forsyth with a
13-point second-round victory. Elle Blatchford led the team in scoring
with 17 points and added seven assists. Milanni Salaam flirted with a
double-double, finishing with 14 points and nine rebounds. Sequoyah
will play Brunswick in the next round.
Brunswick 53, Woodward Academy 48
Brunswick outlasted Woodward Academy to punch its ticket to the Elite
8. The Pirates put together a stellar defensive performance, forcing
27 turnovers and limiting a potent offense to 28% from the field and
their lowest-scoring output of the season. Sarah Lewis finished her
basketball career at Woodward Academy with 23 points and four steals.
Brunswick will play Sequoyah in the Elite 8.
River Ridge 65, Blessed Trinity 47
River Ridge advanced to the Elite 8 after an 18-point victory vs
Blessed Trinity. Sophia Pearl was the leading scorer with 22 points,
and Mataya Gayle stuffed the stat sheet with 13 points, seven
rebounds, eight assists and seven steals. Makayla Roberson added 10
points as well for the Knights, who will face Marist in the
quarterfinals.
Marist 61, Tift County 37
Marist dominated Tift County by 24 points to advance to the
quarterfinals. The Lady War Eagles built a 21-point advantage (37-16)
by the break before coasting to a 61-37 win, led by freshman Kate
Harpring's 26 points. For Tift County, Jalaya Miller finished with 20
points. Marist will face River Ridge in the next round.
In other 6A girls games: No. 1 seed Rockdale County continued its
impressive season with a 22-point victory (65-43) against Lee County
to advance to the quarterfinals. … No. 3 seed (and defending state
champion) Lovejoy punched its ticket to the Elite 8 with a 72-53 win
over top-seeded Veterans.
Class 5A
Boys
Kell 79, Eastside 48
Peyton Marshall led No. 1 seed Kell over No. 3 seed Eastside with a
double-double, scoring 21 points and grabbing 11 rebounds to go with
three assists and two blocked shots. Jaylen Colon provided long-range
shooting for the host Longhorns, scoring 17 points on 5-of-7
three-point shooting with six rebounds and five assists. Cannon
Richards also had a double-double with 10 points, 11 rebounds and five
assists, and Parrish Johnson Jr. scored 10 points. Aaron Smith also
had eight points for the Longhorns, who will face Saturday's
Decatur-Dutchtown winner in the quarterfinals.
In other 5A boys games: No. 1 seed Eagle's Landing defeated No. 3 seed
Lithonia at home 64-36. In the quarterfinals, Eagle's Landing will
face the winner of Saturday's game between Winder-Barrow and Mays.
Girls
Arabia Mountain 52, Jones County 36
No. 2 seed Arabia Mountain defeated No. 4 seed Jones County at home
after a 20-6 run in the fourth quarter broke open a game that was tied
30-30 at the end of the third. Arabia Mountain was led by 18 points
and seven rebounds from Myori Pruitt. Also for the Lady Rams, Malaya
Jones scored 15 points and Lauren Chavis scored 11 points. Arabia
Mountain led at halftime 22-14. The Lady Rams will meet No. 1 seed
Calhoun in the quarterfinals.
Union Grove 67, Northside-Columbus 54
No. 1 seed Northside-Columbus trailed by as few as four points in the
fourth quarter, but No. 2 seed Union Grove held on for the road
victory. Union Grove's Jordan Brooks scored 26 points, Nadea Smith
added 14 points and both Julia Baker and Alexis Parson scored 11
points. Union Grove led by as many as 16 points in the first quarter
and led 37-26 at halftime. Union Grove will travel to No. 1 seed
Jackson-Atlanta in the quarterfinals.
Kell 50, Hiram 35
Crystal Henderson led No. 1 seed Kell to a home win over No. 2 seed
Hiram with 20 points, three assists and three steals. Also for the
Lady Longhorns, MaKayah Harris scored 10 points with three rebounds;
Jada Green had nine points, three steals and three blocks; Jamiah
Gregory had eight points, seven rebounds and three steals; and Sydney
Moss had 10 rebounds. In the quarterfinals, Kell will face the winner
of Saturday's matchup between Bradwell Institute and Decatur.
Midtown 44, Cartersville 31
No. 2 seed Midtown got the home win over No. 4 seed Cartersville, led
by 16 points from Cate Barton. Also for Midtown, Sinclair Richman
scored 10 points and Briaiah Lewis scored nine points. Midtown moved
to 22-8 with the win and will travel to No. 1 seed Warner Robins for
the quarterfinals.
In other 5A girls games: No. 1 seed Calhoun came from behind in the
second half to defeat No. 2 seed Cambridge at home 68-63. Calhoun will
meet Arabia Mountain in the quarterfinals. … No. 1 seed Warner
Robins was a home winner over No. 2 seed Harris County 55-43. In the
quarterfinals, Warner Robins will host No. 2 seed Midtown. … No. 1
seed Jackson-Atlanta handled No. 3 seed Dalton at home 66-41.
Class 4A
Girls
Northwest Whitfield 56, Westminster 54
Top-seeded Northwest Whitfield overcame a 35-32 halftime deficit with a 12-8 advantage in the third quarter to take a 44-43 lead before holding off the Wildcats. The victory sends the Bruins into the quarterfinals for the second-straight season and results in Westminster's only loss within Class 4A this season outside of its 1-2 record to its Region 6 foe Holy Innocents' this year. Northwest Whitfield is also undefeated in Class 4A outside of its region and avenged its previous losses in the region tournament to take the top seed.
Hardaway 60, Fayette County 30
Hardaway trailed 9-8 after the first quarter before outscoring the visiting Tigers 52-21. Mikayla Johnson finished with a game-high 29 points, Jordyn Askew added nine points and Akilah Shelton finished with eight points to fuel the Hawks.
Griffin 60, Starr's Mill 30
Top-seeded Griffin picked up its eighth-straight victory and jumped out to a commanding 25-12 halftime lead. The Bears grew the lead to 44-21 heading into the fourth quarter before closing out the 30-point victory.
Chestatee 66, Stockbridge 56
Top-seeded Chestatee outscored Stockbridge 16-6 in the second quarter to grow a 35-18 halftime lead. Stockbridge cut the deficit to 48-36 heading into the final quarter. Carolina Bull and Riley Black accounted for all 35 of Chestatee's first-half points. The War Eagles will take on Griffin in the Elite 8.
Class 3A
Boys
Dougherty 76, Harlem 59
Jacob Stallworth scored 21 points to lead Dougherty alongside Jawaun Jinks and Jai'on Burns, who scored 14 points each and Kaleke Singletary Jinks, who scored 12 points.
In other boys game: Long County, the Region 3 No. 3 2 seed, upended Region 2 No. 1-seeded Upson-Lee 71-68 and awaits the Cedar Grove/Monroe Area winner in the quarterfinals.
Girls
Lumpkin County 66, Lakeview-Fort Oglethorpe 32
Lumpkin County continued the trek to a title defense after beating Lakeview-Fort Oglethorpe. Averie Jones scored 24 points, Kate Jackson finished with 15 points, Mary Mullinax added 14 points and Lexi Pierce scored 11 points for the Indians.
Wesleyan 83, Coahulla Creek 33
Sophomore Johanna Potter scored 21 points with four rebounds and two assists to lead Wesleyan into the quarterfinals. Junior point guard Chazadi Wright scored 15 points with 10 assists, six rebounds and four steals, sophomore Londyn Walker scored 13 points with four rebounds and two steals and Audrey Ekoue-Bla finished with 11 points for the Wolves.
Hebron Christian 77, Carver-Atlanta 23
Hebron Christian remained undefeated at 28-0 and will advance to the quarterfinals after beating Carver-Atlanta 77-23. The Lions were led by Ja'kerra Butler, who scored 24 points with 10 rebounds. Amiya Porter added 20 points with five assists and Aubrey Beckham scored eight points with six assists and five steals. Camryn Register scored eight points with three steals and Nickyia Daniel finished with eight points.
Calvary Day 57, Peach County 49
Senior point guard Hannah Cail scored 23 points to lead the Cavaliers past Peach County and into the quarterfinals. Sophomore point guard Bre Jones finished with 12 points and sophomore shooting guard Destini Gooddine scored nine points. Peach County was led by Alexis Heyward, who scored 15 points.
In other 3A girls games: Dawson County will travel to Calvary Day after beating Adairsville 58-37. … Mary Persons defeated Liberty County 47-43 and will travel to top-ranked Hebron Christian in the quarterfinals. … Carver-Columbus defeated Morgan County 94-31 and will travel to Wesleyan for the quarterfinals.
Class 2A
Girls
Banks County 53, North Cobb Christian 35
No. 3 seed North Cobb Christian got an outstanding 22-point,
seven-rebound and five block effort from Brooke Moore, but was no
match for the top-seeded Leopards—who improved to 26-3 and stamped
their 19th-straight victory. Banks County will take on Central-Macon
in the Elite 8 after its 73-54 triumph over Laney.
Central-Macon 73, Laney 54
No. 1 seed Central-Macon junior Taliah Grier netted a game-high 24
points and her Class of 2024 teammate Taye Davis added 10 points and a
game-high 13 rebounds.
Murray County 61, KIPP Atlanta 56 OT
Murray County survived overtime to advance to the Elite 8 for the
first time since 1978 and improved to 22-4 overall with a 13-game
win-streak heading into their showdown with the winner.
Class A Division I
Girls
Oglethorpe County 51, Rabun County 50
No. 1 seed Oglethorpe County survived visiting Rabun County in a tightly contested game. Sophomore Kenzie Henderson led the Lady Patriots in scoring with 23 points and added 10 rebounds. Three players scored in double figures for the Patriots, including Amber Watkins (11 points) and Denim Goodward (10). Mili Watts led the Lady Wildcats in scoring with 16 points and finished with six rebounds and six steals. Rabun County had an opportunity to take the lead in the game's final moments, but the last possession ended in a traveling call. Oglethorpe County will face Woodville-Tompkins in the quarterfinals.
Swainsboro 63, Temple 52
Swainsboro advances to the Elite 8 after a nine-point victory against Temple. Serah Kelly led the team in scoring with 23 points, including 10 points in the second quarter alone, and McKenna Nix led all scorers with 25 points for Temple. Swainsboro will play Elbert County in the next round.
Woodville-Tompkins 67, Dublin 34
Woodville-Tompkins cruised to a 33-point victory to secure a spot in the Elite 8. Senior point guard Sanai Chisholm led the Wolverines in scoring with 24 points, Brianna Pelote had a career night with a 19-point, 13-rebound, 10-block triple-double and Janiyah Heyward added 13 points and 14 rebounds. Woodville-Thompkins will play Oglethorpe County in the quarterfinals.
In other Division I girls games: No. 1 seed St. Francis cruised to a 36-point victory (90-54) against visiting Athens Christian and will face Lamar County following the Trojans' 76-62 win over East Laurens. … With a 48-37 win over Screven County, No. 1 seed Pelham is advancing to the Elite 8, where the Hornets will play the winner of Saturday's game between Darlington and Galloway. … Host Elbert County survived No. 3 seed Mount Pisgah, defeating the Patriots 77-71 in overtime. The Blue Devils will see Swainsboro in the third round next week.
Class A Division II
Girls
Mt. Zion-Carroll 57, Macon County 46
No. 1 seed Mt. Zion-Carroll advanced to the state quarterfinals for
the first time in program history with a home win over No. 2 seed
Macon County. The Lady Eagles will host No. 2 seed Wilcox County in
next week's quarterfinals matchup.
In other Division II girls games: No. 2 seed Wilcox County edged No. 1 seed
Early County on the road 48-46. … Defending state champion and No. 1
seed Lake Oconee Academy cruised past No. 3 seed Schley County at home
63-34. LOA will meet No. 1 seed Turner County, a 69-42 home winner
over No. 4 Telfair County, in the quarterfinals. … No. 2 seed Clinch
County defeated No. 1 seed Montgomery County 57-41 on the road. In the
quarterfinals, Clinch County will face No. 2 seed Towns County, a
66-57 home winner over No. 4 seed Chattahoochee County. … No. 1 seed
Taylor County pulled away for a home win over No. 3 seed Greene County
after trailing 23-21 at halftime. In the quarterfinals, Taylor County
will host No. 2 seed Randolph-Clay, which won on the road at No. 1
seed Hawkinsville 37-30.