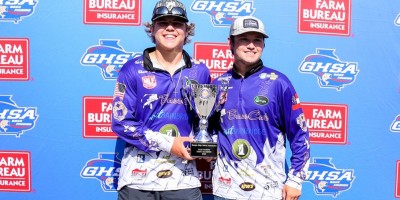 The top anglers from across the state competed in the second-ever GHSA Bass Fishing State Championship at Clarks Hill Lake on Saturday and Bainbridge's accomplished duo of senior Bowynn Brown and junior Shane Dill hauled in the title-winning catch. The Basscats partners qualified for state last year and took eighth place and after achieving success in a circuit of competitions this past year in and outside of the GHSA sanctioned tournaments were were able to achieve their ultimate goal this year after qualifying out of Lake Seminole with a third-place finish (14-08).
Each team got its five largest catches tallied and the highest cumulative weight was crowned the state champion. Brown and Dill were among the hundreds of championship-hopefuls that took to Georgia's largest lake on Saturday and were hit with an unexpected weather delay before the tournament began.
"We didn't lose vision and it was that three or four hour delay that we thought was going to mess us up," said the team. " We thought it had messed us up, but when we got out there and started fishing, it started kicking back in after a couple hours."
Brown and Dill have fished together for more than four years and were able to hook about 15 fish—including a few that escaped—before tallying the top weight in the state. This is their latest achievement and a tremendous one that will be added to an ever-growing resume that includes a 12th place finish in the World Championships at Lake Hartwell this past year, a top finish in the Georgia Bass National Qualifier this year at Lake Seminole and dozens of others.
FINAL RESULTS
1. Bowynn Brown-Shane Dill (Bainbridge), 16-12
2. Mason Boatright-Lane Kinlaw (Bacon County), 12-08
3. Trent Hammock-Carter Seabrook (Alexander), 12-07
4. Fisher Carver-Jack Reeves (Appling County), 12-03
5. James McMillian-Krystyn Garrett (Callaway), 11-15
6. Jacob Hodge-Henry Garrett (Greenbrier), 11-14
7. Jonathan Jarvis-Tanner Trawick (Seminole County), 11-10
8. Cole Griggs-Camden Gunter (Jefferson), 11-09
9. Roger Deuce Garland-Tripp Tamasi (Greenbrier), 10-11
10. Brett Boswell-Dylan Thayer (Winder-Barrow), 10-10