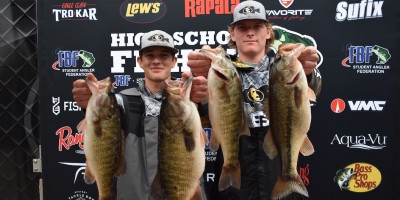 The GHSA successfully introduced Bass Fishing as a sanctioned sport for the first time in 2021 and now qualifiers from across the state will ascend on Georgia's largest body of water—Clarks Hill Lake in Augusta—to compete for the 2023 state title this Saturday. The third annual Bass Fishing State Championship follows a season that featured four qualifying tournaments. This statewide-circuit began at Lake Seminole in Bainbridge, Ga. on Jan. 21 and then continued to Lake Oconee (Feb. 18), West Point Lake (March 18) and Lake Hartwell (April 15). Hundreds of registered student anglers competed in the four qualifiers and the duo of Hayden Reynolds and Caleb Logue opened the season with a top-finish of 21-06 pounds at Lake Seminole. Reynolds and Caleb Lougue compete for the Bainbridge Bearcats—who saw Bowynn Brown and Shane Dill take last year's state championship with a 16-12 mark. There were 30 state qualifiers out of the 252 registered teams at Lake Seminole.
TOP QUALIFIERS
Lake Seminole saw 255 registered teams and Savannah Christian's Matthew Gunn and Luke Gunn were the top state qualifiers with a 15-13 catch. Alexander's Trent Hammock and Carter Seabrook qualified with a 13-9 catch and are returning to state after placing third last year. Matthew and Luke took first place again on March 18 at West Point with a 12-5 catch. Boats advance to state from the first event in which they qualified and since the Gunns already qualified, the next eligible boat qualified. As a result, 29 teams qualified out of 241 registered teams at West Point.
The fourth and final GHSA qualifier saw 28 teams eclipse 10 pounds—the most out of any of this year's qualifiers. South Forsyth had five teams finish in the top 12 and also tallied the top two qualifying tallies. Reese Mutter and Charles Roberts tallied a 19-14 catch for first place and their War Eagles' teammates Michael Avery and Fisher Edwards came in second with a 19-9. The next closest qualifier was Lanier's Bryson Dover and Angel Cornejo's 15-6.
ON THE LINE
This will be the second time that Clarks Hill Lake is hosting a GHSA bass fishing competition and the state's best anglers will be vying for the ultimate prize as the sport continues its growth and popularity in its third year. Since the sport was introduced, the highest recorded catch was 25.15 pounds by Bainbridge's Bowynn Brown and Shane Dill in 2021. That historic catch came in the Lake Seminole category. Jayden Faulkner and Davis Madden represented Evans High School in 2021 when they won the first-ever state title with a 20-03 catch. As previously stated, last year's championship-winning catch was 16-12 by Bainrbidge's Brown and Dill. This year has seen Bainbridge's Reynolds and Logue (21-06) have the top score and Richmond Hill's Branton Champion and Jackson Behringer tallying the second-best mark from the qualifiers. There were only two other schools to eclipse the 19-pound mark, two more teams that eclipsed the 17-pound mark and three more teams that hit the 15-pound mark.