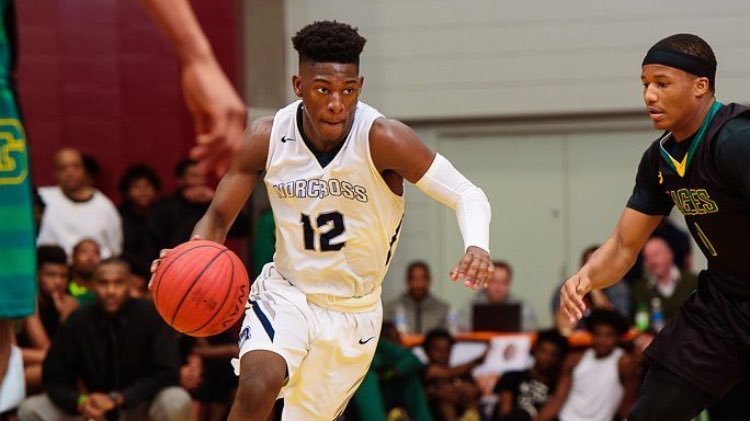 Gwinnett County's Grayson and Norcross square off in the first of two intriguing boys Class 7A semifinal matchups Saturday at the University of West Georgia. Grayson defeated Brookwood 73-51 to advance to its first-ever semifinals Wednesday night. The Rams ran away in the second half, outscoring Brookwood 45-26. Travis Anderson led Grayson with 21 points, Nick Edwards added 15 points and seven rebounds, Kenyon Jackson finished with 15 points and 17 rebounds and Gerald Buncum notched a double-double with 12 points, 13 rebounds and three blocks. Norcross saw Rayshaun Hammonds and Kyle Sturdivant combine for 43 points and four players finished with double-figure scoring to help the Blue Devils (25-5) score a 82-60 win over Pebblebrook in the quarterfinals. Across the bracket, Tift County's P.J. Horne was too much for Newton to overcome and he netted a team-high 25 points to go with his 10 rebounds in the Blue Devils' 75-66 road victory on Wednesday. Teammate Rashad Bateman finished with 19 points and six rebounds, while Micah Johnson chipped in 15 points and nine rebounds. As impressive as Grayson, Norcross and Tift County have been on their respective roads to the Final Four, McEachern continues to take the state by storm. The Indians outscored Wheeler 39-29 in the second half on Wednesday and celebrated a 75-60 victory. McEachern sophomore Isaac Okoro exploded for a game-high 29 points, while improving the Indians' record to a perfect 29-0.
Class 6A
South Cobb got the job done in the quarterfinals with a valiant defensive effort, holding South Paulding to a mere 37 points in a 40-37 victory. Now, the Eagles travel to Fort Valley State to face Region 2 champion Brunswick in Game 1 of the boys' semifinal double-header on Saturday. Brunswick stumbled at the start of 2017, dropping six of 10 games at one point, but the Pirates have matched a season-best five-game win streak to make its deepest playoff run since capturing the Class AAAAA title in 2015. Brunswick's championship run two seasons ago ended with a 49-32 win over Allatoona, which sits a win away from appearing in its third consecutive championship. Allatoona lost in a 50-48 heartbreaker to Miller Grove last year, its only loss of the season. Allatoona has been battle tested in the early rounds this year, scoring a 61-56 win over Jonesboro in the Sweet 16. The Bucs outscored Tri-Cities 63-54 on Wednesday, thanks to a 17-point effort by Trey Doomes. Allatoona's semifinal opponent Langston Hughes is familiar to the Bucs as the Panthers' defeated Allatoona 62-53 at the Lake City Classic earlier this year. Junior Landers Nolley torched the Bucs with a 27-point performance, while Khalil Cuffee chipped in 16 points. As a team, Langston Hughes connected on 9-of-17 three-point attempts (53 percent), but it was Nolley who stole the show with 6-of-9 shooting from beyond the arc.
Class 5A
Fayette County punched its ticket to the Final Four by holding off Carver-Atlanta 65-52 in the quarterfinals. Now, a matchup against a red-hot Buford squad at Columbus State awaits the Tigers. Noah Gurley led Fayette County through the quarterfinal game with 17 points, eight rebounds and three blocks, while teammate Philip Young added 14 points. Austin Nesmith, who is fresh off of a double-double, is also an option for the Tigers. On the other bench, Buford is riding a 16-game win-streak into Saturday, including its 94-72 win over Warner Robins in the quarterfinals. These two teams met in last year's first round, where Fayette County prevailed 69-62. Across the bracket, Miller Grove will face Cedar Shoals for another chance at a championship game appearance. Miller Grove has conquered the postseason the past decade and has won state titles in seven of the last eight seasons- three in 5A and four in a row, from 2009 to 2012 in 4A. Last season, the Wolverines held off Allatoona 50-48 in Macon to take the title. The only season since 2009 that the Wolverines have not played in the final game (2014-15) Miller Grove fell to Warner Robins (63-57) in the quarterfinals. 6-foot-3 senior guard Naquante Hardy leads the way with 20 points, five rebounds and two steals per game.
Class 4A
Upson-Lee enters its semifinal showdown with Henry County wearing a 30-0 record and sits two victories away from what would mark the Knights' first state title. In the quarterfinals, Upson-Lee displayed the depth that has validated its status as the top-ranked team in the classification this season. Michael Smith led all scorers with 20 points, while teammate Travon Walker recorded a double-double with 14 points and 15 rebounds. Tavias Fagan scored 14 points and grabbed seven boards to go with four assists, while Zyrice Scott chipped in 13 points. Henry County's 62-61 quarterfinal victory over LaGrange was a result of an incredible fourth quarter comeback that saw the Warhawks rally from a 54-41 deficit at the start of the final frame. With the game tied 61-61, Damion Rosser netted the game-winning point from the foul line on his second attempt with two seconds left. As a team, Henry County shot 18-20 from the charity stripe, which proved to be the difference. Sandy Creek and St. Pius faceoff in the opening game Saturday's boys double-header. Sandy Creek scored an 80-60 win over Perry to earn its second Final Four appearance in program history on Wednesday. Evan Jester posted 19 points and 15 rebounds, K.J. Wilkins notched 19 points and 10 rebounds, while Jarred Godfrey finished with 17 points in the victory. St. Pius outscored Carver-Columbus 30-23 in the second half of its 64-60 quarterfinals win.
Class 3A
Class 2A defending champion Pace Academy will face Class 4A defending champion Liberty County for a ticket to the Class 3A championship game at the University of Georgia. Pace Academy was taken to double-overtime in the quarterfinals against Westside-Macon but prevailed 53-50. The Knights boast 6-foot-10 power-forward Wendell Carter Jr., a Duke signee. Carter is the driving force behind the Knight offense and a premier rim protector. Carter is averaging 24 points, 16 rebounds and six blocks per game. Liberty County also has an offensive presence that cannot be denied. Will Richardson, a 6-foot-4 junior guard, is averaging 31 points, eight rebounds, five assists and three steals per game. Davion Mitchell, an Auburn commit, makes the most of his 6-foot-2 frame with 23.7 points, five assists, five rebounds and three steals per game. Tyreon Freeman, a 6-foot-2 senior shooting guard, is good for 12 points, five rebounds and two assists per game. Across the bracket, Calhoun will face defending champion Morgan County. Calhoun held off Jenkins in the quarterfinals, 65-60, and defeated a formerly ranked Central-Macon 67-61 in the second round. The Yellow Jackets are led by Chapin Rierson who averages 15 points, eight rebounds and two assists per game., Malik Lawrence adds 14 points, three assists and three rebounds per game. Morgan County has a head of steam with wins against Adairsville 71-40, Tattnall County 82-55, and Lovett 70-49 in the first three rounds.
Class 2A
South Atlanta will try to carry the momentum from the 75-69 quarterfinal win over Washington County into the semifinal game against Josey. The Hornets are looking to build from last season's loss to eventual champion Morgan County in the Class 3A semifinals and have completed the checklist thus far. Josey, however, has three players scoring in double figures, including Jonathan Butler, a 6-foot senior that has averaged 13 points, three rebounds and two steals per game. John Williams, a 6-foot-4 shooting guard, is good for 10 points and four rebounds per game. Javen Whitehead, a 6-foot-4 power forward, is also scoring 10 points per game. Across the bracket, Swainsboro will face Dublin for a trip to the Final Four at Georgia College. Other than the first round matchup which resulted in an 80-55 romp of Westside-Augusta, the Tigers have not had an easy trip through the bracket. In the second round, Swainsboro edged Monticello 68-62 and then squeaked by Chattooga 64-61 in the quarterfinals. Dublin had to fight to keep its season alive in the first round and survived a 66-65 win over Fitzgerald. In the second round, Heard County gave Dublin a game before falling short 50-45. Dublin, however, put together a complete game in the quarterfinals against Laney and took the contest comfortably 73-59, which could refocus momentum moving into the semifinals.
A-Public
On the left-hand side of the bracket, Macon County will face Wilkinson County in what should be an electric game against one of the state's most decorated programs. Since 1999, Wilkinson County has won eight state titles, 1999, 2000, 2002, 2007, 2011, 2013, 2014, and 2016. The Warriors have a rich history of postseason success and magic. Macon County, however, has several answers for Wilkinson County. Clayton Jenkins, a 5-foot-11 junior guard, is scoring 22.7 points per game, while stuffing the stat sheet with four assists, three rebounds and two steals per game. Trey Brown adds 15 points per game, eight rebounds and three assists. After a first-round bye, Wilkinson County demolished Crawford County 76-43 in the second round. Across the bracket, Calhoun County and Clinch County will also face off for a ticket to the finals. The Calhoun County Cougars (25-1) went 17-0 in their region and were barely challenged in the first two games after an opening round bye. The Cougars defeating Towns County 75-48 in the Sweet Sixteen and Turner County 73-65 in the quarterfinals. Clinch County (26-3) defeated Manchester 71-59 in the Sweet Sixteen and sent Montgomery County home with a 72-62 quarterfinals win. Calhoun County has won three state titles, 2015, 1997, and 1972 and Clinch County has a pair of titles (1987, 1989).
A- Private
St. Francis and Greenforest Christian square off for a ticket to the championship game, after meeting in the finals three of the last four seasons. Last season, Greenforest Christian clinched the state title with a 78-66 win, while St. Francis exploded for a 96-81 championship performance in 2015. The first finals showdown came in 2013 when Greenforest took it 56-41 over St. Francis. Greenforest is led in scoring by Justin Forrest who is averaging 13 points, four rebounds and four assists per game. Abayomia Iyiola is scoring 10 points and grabbing nine rebounds per game. Dwon Odom leads St. Francis with 17.3 points, six rebounds and six assists per game. Chase Ellis adds 13 points, seven rebounds and two assists per game. Wallace Tucker is good for 11 points, four assists, and three rebound per showing. C.J. Riley rounds out the St. Francis offense with 11 points per game. On the other side of the bracket, Lakeview Academy will have its hands full with Southwest Atlanta Christian's Deaundre Ballard, a 6-foot-6 forward who is averaging 27.2 points, six rebounds and three steals per game. Ballard has scored more that 30 points eleven times this season and could pose trouble for Lakeview. The Lions, who are riding an 11 game win-streak, will surely be ready and waiting.