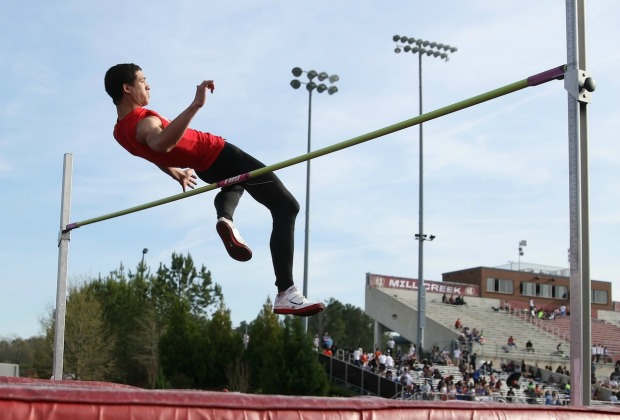 Jefferson, GA- With only brief weather delays, Day 1 of the GHSA Boys Track & Field Championships crowned individual state titles in pole vault, shot put, discus, long lump, triple jump, high jump and the 1600 meter run.
The top performance of the day came on the field in Class AAAAAA with Campbell's Isaiah Rogers. Rogers broke a 50-year-old shot put state record with a toss of 67-10.00, passing Chip Kell's mark of 66-07 in 1966.
UGA-football commit Charlie Woerner of Rabun County won the Class AA discus state title with a throw of 158-02, edging second-place Hunter Sanek's (Temple) 150-08. Monroe-Albany's Akelies Leroy won the AAAA title with a massive 165-01 throw to give the Tornadoes 10 points.
Class AAAA's Eastside tallied 10 points with Ratayvius Jackson's 6-08 first-place mark in the high jump. Jackson continued his dominant Day 1 and added another 10 points to the bank by winning the state title in the triple jump with a 46-03.75.
In Class AAA, Jackson-Atlanta gained 10 points after Qwazon Alkhaliq placed first in the triple jump with a 48-06.50. Starr's Mill's Michael Runyan took the Class AAAAA pole vault title with a 14-06.00, while Koby Cormier of West Forsyth ascended to a 14-00.00 vault to take the Class AAAAAA gold.
In the 1600 meter run, Everett Smulders gave Lovett 10 points with a first-place 4:22.49 in the AA finals. Frank Pittman of Marist clocked a 4:13.49, while teammate Leif Anderson finished third with a 4:19.90 to give the War Eagles valuable points for their team state title bid.