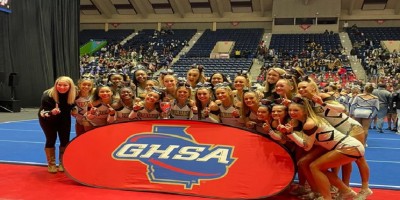 The last day of competition in the GHSA Cheerleading State Championships took place Tuesday at the Macon Centreplex, with titles being awarded in the 7A, 6A, 4A and 3A classifications.
In Class 7A, South Forsyth (105) narrowly reclaimed the title from two-time defending champion Lambert (104) who placed second. This title is South Forsyth's first since the 2017-18 season, and eighth in school history.
The Carrollton Trojans (103.5) finished at the top-spot in Class 6A, just edging second-place Houston County (102). This gives Carrollton its third title in four years, two of which came in Class 5A, and tenth in school history.
In Class 4A, West Laurens (96) narrowly defeated second-place Jefferson (95) to claim the state title, the first in Raiders' history. Central-Carroll (94) placed third in a tight race for the top-three finishes. The Mary Persons Bulldogs joined West Laurens as first-time title winners with a score of 99. In second place was Pierce County (98.5) followed by Dawson County (95.5) in third.
See the results from Tuesday's GHSA Cheerleading State Championships below.
Class 7A
1. South Forsyth, 105
2. Lambert, 104
3. Harrison, 97
4. Hillgrove, 94.5
5. North Paulding, 93
Class 6A
1. Carrollton, 103.5
2. Houston County, 102
3. Cambridge, 100.5
4. Creekview, 96.5/44
5. Kennesaw Mountain, 96.5/42
Class 4A
1. West Laurens, 96
2. Jefferson, 95
3. Central-Carroll, 94
4. North Oconee, 80
5. Heritage-Catoosa, 79
Class 3A
1. Mary Persons, 99
2. Pierce County, 98.5
3. Dawson County, 95.5
4. Rockmart, 84
5. Ringgold, 83