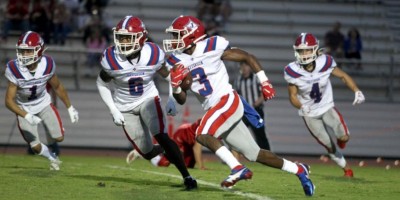 Jefferson Football
No. 2 ranked Jefferson overwhelmed visiting Mt. Zion-Jonesboro with a 56-point effort in the first half of its 1 p.m. kickoff and became Class 4A's first team to advance to the Sweet 16 with a 65-0 victory. Bowman Horn took the Dragons' first play for a 42-yard touchdown and Malaki Starks followed it with a 67-yard touchdown on Jefferson's next offensive snap. Carter Stephenson tacked on a 49-yard touchdown pass to Jordan Perry and rushed for a 17-yard touchdown before the end of the first quarter to push the lead to 28-0. Starks connected with Dawson Crawley for a 27-yard touchdown pass early in the second quarter and Jefferson also got rushing scores from Kam Robinson (49 yards) and Isaiah Copeland (3) before Perry's interception return for a touchdown made it 56-0 heading into the half. The Dragons registered a safety in the third quarter and then capped the scoring with Tre Reece's 5-yard touchdown run in the final frame.
Class 4A
Northwest Whitfield 28, Stephenson 24
Region 7 No. 2 Northwest Whitfield trailed visiting Stephenson 24-13 midway through the fourth following three straight third-quarter touchdowns by the Jaguars before the heroics of sophomore quarterback Owen Brooker propelled the Bruins to a 28-24 round-one comeback victory. The teams traded first-quarter field goals, and Adrian Reyes was first to the end zone with 1:50 left in the half on a 24-yard run. Jax Brooker then recovered a fumble at the Stephenson 32, and Yahir Zapata added his second made field goal as the clock expired — despite three consecutive timeouts burned by the Jaguars to ice his kick — for a 13-3 edge. Stephenson owned the third quarter, picking off Brooker to start the half before piling on 21 straight points that included back-to-back rushing scores by Terrance Guffie (4, 43 yards). Following two drives that ended in missed field goals by Zapata, Brooker broke through multiple tackles to convert on fourth down, then connected with Ray Morrison on a screen pass the latter took to the 1-yard line. Brooker scored on the keeper and again found Morrison for two to cut Stephenson's lead to 24-21 at the 5:06 mark of the final frame. The Bruins forced Stephenson to punt, and after extending the drive with a 15-yard scramble on 4th-and-8, Brooker threw the game-winner to Preston Nealey with 0:10 on the clock.
Marist 49, Central-Carroll 0
Region 6 No. 1 Marist shut out Region 7 No. 4 Central-Carroll at home. Five different War Eagles players rushed for touchdowns. Ian Otten rushed for a 20-yard score, and Champ Davis added a touchdown — set up by Chandler Heath's punt return to the Central 1-yard line — in the first quarter to help Marist to a 28-0 halftime lead. Andrew Mannelly, Lincoln Parker and Joseph Patin all rushed for short touchdowns in the second half. Quarterback Hayden Richardson had a long touchdown pass to Derek McDonald in the second quarter, and Justin Hartwell scored Marist's first points on a 41-yard interception return.
Carver-Columbus 26, Jenkins 3
Third-ranked Carver-Columbus took care of business at home, riding strong performances by quarterback DJ Riles and WR/RB Jaiden Credle to a 26-3 victory over visiting Jenkins that sets up a round-two home matchup with Region 4 No. 2 Baldwin. The duo accounted for all of the Tigers' scoring, starting with a screen pass from Riles to Credle for a touchdown on Carver's opening drive. Riles added a 15-yard touchdown run in the second, and Credle found the end zone in the third and fourth quarters from 27 and 11 yards out, respectively, before Riles capped the scoring following the latter on a successful 2-point run. John Seidensticker provided the lone points for Jenkins on a 24-yard field goal in the second to cut the Tigers lead to 6-3.
Flowery Branch 40, Luella 7
Region 8 No. 2 Flowery Branch ended Region 5 No. 3 Luella's season with an emphatic 40-7 round-one victory. All of the Falcons' scoring came in the first half, including 12 points in the first 4:10 of the game on a safety on the opening snap, a 27-yard field goal and a 6-yard rushing score by Jaizen Ellingham. Ellingham (15 yards) and quarterback David Renard (10 yards) each added touchdown runs in the second, and Renard also contributed a pair of scoring strikes to Sal Sengson and Camo Campbell for 16 and 37 yards, respectively. The win sets up a second-round showdown with an undefeated Marist team that has sat atop the 4A rankings all season long.
Cairo 37, West Laurens 0
Region 1 No. 2 Cairo came away with a decisive 37-0 victory over visiting West Laurens behind veteran performances by the Syrupmakers' upperclassmen. UGA-commit Noah Jones was 4-4 on PATs and made field goals of 47, 27 and 30 yards, senior running back Tay Soloman had a pair of first-half touchdown runs that included a 43-yarder on Cairo's opening drive, John Carter scored from 27 yards out, and junior quarterback Kevin Speed connected with senior Kilijah Thomas for a 75-yard touchdown. The lockdown defensive outing included junior Gary Davis' sack to force a turnover on downs in the third quarter.
North Oconee 41, Fayette County 35
Region 5 No. 2 Fayette County knotted the score of its back-and-forth affair with visiting North Oconee early in the final frame, but the Titans got the game-winner with 3:23 remaining when Ashton Trenton Hefner recovered his team's fumble at the goal line and walked it into the end zone for the 41-35 North Oconee victory. The Region 8 No. 3 Titans will travel to Cedartown for a second-round showdown next week.
Islands 22, Hardaway 18
Hardaway led 18-0 before host Islands rallied past the Hawks with 22 unanswered points. Josh Dickerson made it a two-point game (18-16) with 6:44 left after returning an interception for a touchdown and hauling in the successful two-point conversion. Islands went up 22-18 with 2:09 left to play on a Jadon Adams touchdown pass to Langston Lewis. Following the go-ahead touchdown, Dickerson iced the game with this third interception.
Hapeville Charter 6, Heritage-Catoosa 0
Senior running back Antavious Bradley scored on a 7-yard run at the 10:11 mark of the second quarter and Region 6 No. 2 Hapeville Charter held off Region 7 No. 3 Heritage-Catoosa at Banneker High School. Nicholas Price had two interceptions for the Hornets.
Baldwin 36, Thomas County Central 30
Quarterback Derrick Lewis for host Region 4 No. 2 Baldwin hit Kirtavious Hightower with 2:18 remaining for the game-winning touchdown over Region 1 No. 3 Thomas County Central. The Braves got four touchdown passes from Lewis, who hit Shatavious Hogan for a score shortly before the break and found Javon Bullard twice in the second half. Jeramiyah Scott and Micah Welch also rushed for touchdowns for Baldwin.
Class 2A
Heard County 31, Union County 28
Ashton Bonner rushed 22 times for 101 yards and two touchdowns to go with a receiving touchdown as Region 5 No. 2 Heard County held on for a home win over Region 8 No. 3 Union County. Heard County held a 28-7 lead in the second quarter after Bonner's first-quarter touchdown runs of 11 yards and 1 yard and two Maurice Fench touchdown passes in the second quarter, one to Michael Whitten for 24 yards and one to Bonner for 78 yards. The Braves held a 28-17 halftime lead and went up 31-20 halfway through the fourth quarter on a James Newell field goal. Union County drew to within three points after a late touchdown and two-point conversion, but Heard County gained a first down on its ensuing possession and ran out the clock. Fench was 14-of-16 passing for 330 yards, two touchdowns and an interception. Bonner had another reception for 21 yards to give him 99 yards receiving. Heard County gained 456 total yards to Union County's 288.
Fannin County 28, Pace Academy 21
Quarterback Luke Holloway threw one touchdown and rushed for two scores, including the game-winning 9-yard touchdown run in the fourth quarter. Holloway's late TD run and successful two-point conversion helped Region 7 No. 1 Fannin County to the home win over Region 6 No. 4 Pace Academy. Holloway found Hyde Cohutta for a touchdown pass with under a minute to play in the first half to make it a 7-7 game at halftime. Holloway rushed for a touchdown in the third quarter on a 4-yard keeper to make it 21-14 Pace Academy and helped set up a 1-yard Seth Reece touchdown run with a 73-yard run later in the third to make it 21-20 after a blocked extra point. M.J. Morris threw three touchdowns for Pace Academy.
Lovett 38, Pepperell 17
Region 7 No. 2 Pepperell cut into Region 6 No. 3 Lovett's 21-3 halftime lead with a touchdown at the 8:57 mark of the third quarter, but the visiting Lions scored 17 straight points to seal the win. Lovett quarterback Preston Lusink threw three touchdown passes in the first half and rushed for a short touchdown in the fourth quarter to give Lovett a 28-10 lead. Lusink threw two touchdowns to Collin Goldberg and one to Stevie Bracey. Henry Stimmel scored on a short rush and Lucas Hyman made a field goal for the Lions' final 10 points in the fourth quarter.
Bleckley 56, Vidalia 15
Jaden Mobley caught two touchdowns from Dominic Sasser, who also threw a touchdown pass to Jacob Johnson for Region 3 No. 4 Bleckley County in its road win over Region 2 No. 1 Vidalia. Jahvon Butler also had two rushing scores and more than 200 yards rushing for the Royals, who led 28-0 at halftime. Chuckie Stephens also scored two rushing touchdowns and T.J. Mays rushed for one score for Bleckley County. Willie Harris had an interception for the Royals in the third quarter.
Model 28, Washington 14
The Model Blue Devils used a strong ground game and a great defensive effort to stun the Washington Bulldogs on Saturday in the first round of the playoffs at Grady High School's Robinson Stadium in Atlanta. Senior running back Joseph Wallace and senior quarterback Sam Silver each rushed for two touchdowns on the night, and Model's defense held the Bulldogs scoreless in the second half. Washington ends its season at 7-3, while the Blue Devils (7-4) advance to face Rabun County next week.
Thomasville 42, Westside-Augusta 13
No. 3 ranked Thomasville stormed to a 28-0 halftime lead and took a 35-0 edge into a running-clock final frame. The Bulldogs got on the board with Ronney Baker's 52-yard touchdown pass to Joe Williams. Ricky Fulton added a trio of touchdown runs, including a 32-yard carry before the half that put Thomasville up 28-0. Teammate Malek Harper also found the end zone in the first half with a 2-yard rushing score and the Thomasville defense registered three interceptions in the first half. Westside-Augusta spoiled the shutout with a passing touchdown with 5:15 left in the game. The Bulldogs countered with an Oxzavier River 26-yard touchdown reception before the Patriots tacked on a touchdown with 49 seconds left to mark the final tally.
Bremen 28, Elbert County 21
Bremen won a back-and-forth battle with host Elbert County in the final seconds. The Blue Devils' game-winning touchdown came with just 11 seconds left when senior quarterback Tucker Hendrix rushed for the deciding score. The game was knotted 7-7 heading into the final quarter. Bremen went up 14-7 on a Dillon McCoy touchdown run before Elbert County responded and the teams found themselves tied 21-21 down the stretch.
Northeast 27, Toombs County 14
Northeast jumped out to a 20-0 lead with 9:39 left in the third quarter and held off visiting Toombs County to celebrate the program's first playoff victory since 2002. The teams went scoreless in the opening quarter before the Raiders built a 13-0 halftime lead. Wide receiver Zion Odoms' touchdown pushed the lead to 20-0 before the Bulldogs' cut the deficit to 20-14 heading into the final frame.
Early County 48, Putnam County 7
No. 6 ranked Early County built a commanding 34-7 halftime lead over host Putnam County before closing out its first playoff victory since 2015. Running back Ladarius Ceasar rushed for touchdowns of 67, 28 and 13 yards in the first half and Jay Ealey added a pair of 1-yard rushing scores to put the Bobcats up 34-7. Ceasar added a 48-yard rushing score on the first possession of the second half to push the lead to 41-7. A Putnam County fumble at the War Eagles' 36-yard line eventually set up Ceasar's fifth rushing touchdown from four yards out.