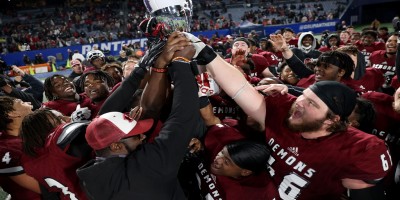 Jason Getz, AJC
The Grayson Rams closed out the 2020 GHSA High School Football season and their perfect 14-0 run with a 38-14 victory over Gwinnett County rival Collins Hill in the Class 7A state championship. Grayson's dominant first half put the game away as the Rams stormed to a 35-0 lead. In the first quarter, Grayson outgained Collins Hill 176-22 in total yards and prevented the Eagles from a single first down. Transfer quarterback Jake Garcia capped the Rams' opening drive with a 37-yard touchdown pass to Jamal Haynes and then running back Jayvian Allen rushed for three scores before Garcia found Myles Woods for a 7-yard touchdown before the half to make it 35-0. Allen also had an interception and teammates Tyler Pugh (interception) and Marsyas Fox (fumble recovery) contributed to Grayson's three turnovers in the first half.
Collins Hill outscored Grayson 14-3 in the third quarter to get back in the game and the Eagles relied on spectacular playmaking from their passing game that primarily involved quarterback Sam Horn and wide receivers Travis Hunter and Clint Gilbert. Hunter finished with a team-high 11 receptions for 100 yards and a touchdown and Gilbert had eight catches for 88 yards and a score to help the Eagles chip into the lead. Hunter played on both sides of the ball and also had an interception and three tackles to validate his five-star status.
This is Grayson's first state title since 2016 and the program's third all-time state title. Collins Hill finishes the season 12-3 after advancing to its first-ever state final.
CLASS 5A: Warner Robins 62, Cartersville 28
Warner Robins is no stranger to playing in the state championship game. The Demons' last three seasons all ended with trips to the finals, but they were unable to bring home the title. Now at the end of Coach Marquis Westbrook's second season leading the team, the Demons will bring home the title for the first time since 2004 following their sound 62-28 victory over Cartersville in the 5A state championship game.
"It's been a long time coming," said Westbrook. "I'm so grateful right now. A lot of sacrifice and a lot of hard work went into this."
While the final score shows a hefty lead in favor of Warner Robins, the game wasn't just given to the Demons. Cartersville's Sam Phillips returned the opening kickoff 94 yards into the endzone to put the Hurricanes up early. After Warner Robins put together a 16-play 92-yard drive to tie the game off a 1-yard touchdown rush by Ahmad Walker, Cartersville was quick to regain the lead with a 26-yard touchdown strike from Carlos Del Rio-Wilson to Devonte Ross.
The victory came from a complete scoring spree in the second and third quarters, with the Demons outscoring the Hurricanes 48-7. Senior Quarterback Jalen Addie was electric for Warner Robins, scoring twice on passes to Malcom Brown and Kaleb Howard before scoring twice off 5-yard touchdown runs, all in the second quarter to put the Demons up 35-14 at the half. The Warner Robins' defense was playing just as good as the offense through the first half, forcing two turnovers and holding the Cartersville offense to -29 rushing yards.
The third quarter was more of the same with Jahlen Rutherford extending the Demons' lead following a 10-yard scamper into the endzone. Rio-Wilson was able to score his second touchdown of the game for Cartersville with a 22-yard touchdown pass to Evan Slocum but would not be able to cut any deeper into Warner Robins' lead. Before the third could end, Brown scored his second touchdown of the game off a 12-yard rush while Addie scored his third touchdown through the air to Daveon Walker for a 56-yard score. Addie would score his sixth and final touchdown of the game off a 9-yard rush in the fourth.
Addie ended the game with 16 rushes for 109 yards and three touchdowns and was efficient going 16-of-18 passing for 259 yards and three scores. Rutherford led the team with 21 attempts for 143 rushing yards, and Malcom Browns' 102 yards off 13 rushes gave the Demons a trio of 100-yard rushers. Daveon Walker led the team in receiving with six receptions for 91 yards.
CLASS 3A: Pierce County 13, Oconee County 7 OT
DJ Bell's name will be heralded in Pierce County for decades to come and he is just a sophomore. The 5-foot-10, 160-pound running back scored on a 5-yard run in regulation and needed just one carry in overtime – a 15-yarder around the left side of the formidable Oconee County defensive line — to put the Bears up for good 13-7 in the 3A state championship game.
Bell's stiff arm on a diving Warrior defender on the game-winning play — which will live in the annals of Pierce County football history forever — provided all the clearance needed for a relaxed gallop to the endzone and into history all while delivering Pierce County its first-ever state championship.
Oconee County had its chance on the first possession of overtime but an underthrown pass from Jacob Wright was intercepted by junior defensive back Daytin Baker – his second of the game — to give Pierce the chance to win.
"We have had a remarkable season and our kids kept working out," said Pierce County coach Ryan Herring. "These kids paid the price to be here and they paid the price to be champions."
The game was a defensive battle and remained scoreless until the Oconee's 13-yard touchdown pass from Wright to junior wide receiver Jake Johnson with 10:09 left in the game.
"We knew we had to somehow get first downs," Herring said. "Because that is hard to do against Oconee County."
Bell tied the game with 7:23 left but neither team could score before the clock ran out.
Pierce County amassed 265 yards of offense (168 rushing, 98 passing) while holding the Warriors to 164 yards and just eight first downs. Bell had 29 carries for 162 yards and two touchdowns. Senior quarterback Jermaine Brewton was 9-of-11 passing for 97 yards.
Wright was 11-of-21 passing for one touchdown but with three interceptions which proved costly. Johnson had five receptions for 44 yards for Oconee.
TUESDAY RESULTS
CLASS 4A: Marist 30, Jefferson 14
Marist outscored Jefferson 16-0 in the second half to close out a perfect 13-0 season with a 30-14 victory and take home the program's third all-time state title and first since 2003 in the Class 4A championship. The War Eagles built a 14-0 lead in the first quarter with touchdown runs by George Parker (3 yards) and Champ Davis (12), but Jefferson evened it up 14-14 at the half with a pair of touchdowns in the second quarter. Both Dragons touchdowns came on carries by Jordan Perry and Perry's second touchdown was set up by a 67-yard run by Kam Robinson.
Jefferson ended up outgaining Marist 185-to-90 in total yardage in the first half, however, the War Eagles were able to limit the Dragons to just 24 yards in the second half while tacking on 109 yards of their own to close out the victory. Charlie Flemming tackled Robinson for a safety in the third quarter that put Marist up 16-14 heading into the fourth quarter. Jefferson fumbled on the first play of the fourth quarter and Marist quickly capitalized with an Ian Otten touchdown following Tyler Hare's fumble recovery. Jefferson went three-and-out on its next possession and Marist took advantage of the favorable field position with a touchdown drive that was capped with Andrew Mannelly's 18-yard run. This pushed the score to 30-14 and Marist was able to close out the victory with tactical perfection—closing out the final 3:43 of the game with a championship-clinching 6-play, 25-yard drive. The Marist defense finishes the 2020 season allowing just 3.69 ppg.
CLASS 6A: Buford 34, Lee County 31 OT
Buford clinched its 13th all-time state title and ninth since 2007 in dramatic fashion—with Jake Pope forcing a fumble on first and goal from the 4-yard-line in overtime and teammate River Wilson recovering it to close out a 34-31 victory over Lee County. The teams were scoreless in the first quarter, but began trading blows in an exhausting battle that turned out to be one of the most memorable championship showdowns in recent memory.
The game was tied 24-24 until the Trojans capped a 9-play, 54-yard drive with a late touchdown with 1:58 left. Buford marched down the field to force overtime and settled for a field goal before Lee County turned it over on what appeared to be the game-winning drive. Lee County was denied its third state title since 2017, while Buford joins Irwin County as the only teams to defend their 2019 state crowns.
CLASS 2A: Callaway 22, Fitzgerald 17
Callaway clinched its first state title in program history with a 22-17 victory over No. 1 ranked Fitzgerald in the Class 2A finals. Safety Jalin Shephard tackled Mario Clark for a safety that gave Callaway a 2-0 lead in the opening quarter. The Cavs added to the lead with a 40-yard touchdown pass from Demetrius Coleman to Carlos Billigslea and a failed 2-point conversion left the score at 8-0. Fitzgerald got on the board with a 28-yard David Vaughn field goal, but Coleman capped off a 4-play drive at the buzzer with a 3-yard rushing touchdown to push the lead back to 15-3 at the half.
Callaway's defense continued to throttle Fitzgerald through the third quarter, but the Canes found life with 6:11 left in the final frame when Chance Gamble ran in a 4-yard score with 6:11 left to cut the deficit to 15-10. Charlie Dixon gave the Cavs crucial breathing room later in the quarter and broke loose for a 69-yard touchdown run that gave Callaway a 21-10 lead with just 2:11 left.
Fitzgerald would take it down to the wire, however, and kept their chances alive with a 60-yard touchdown pass from Rashad Davis to a wide-open Gamble with 1:38 left. Fitzgerald forced a Callaway punt and had one last chance to come out victorious, but Davis' pass was intercepted at the buzzer at the 5-yard line by Shephard to seal the win.
Callaway did the bulk of its offense damage on the ground and racked up 311 yards. Dixon accounted for 234 yards off his 27 carries to go with his touchdown. Coleman tallied 100 rushing yards and also completed 5-of-10 attempts for 92 yards. Fitzgerald racked up 365 total yards of offense—including 242 yards through the air. Defensively, Callaway's LaQuize Gilbert posted a team-high 14 tackles, while teammate Cameron Smith had two of Callaway's three interceptions.
MONDAY RESULTS
A-PRIVATE: Prince Avenue 41, Trinity Christian 21
Brock Vandagriff lived up to expectations on Monday evening as he led Prince Avenue Christian to its first ever state championship with a 41-21 victory over Trinity Christian in the A Private title game.
The 5-star UGA-commit quarterback passed for 262 yards and two touchdowns on 18-of-25 passing to lead the Wolverines over Trinity. Vandagriff passed to Jake Pittman and Logan Johnson on touchdown passes. The Athens-bound signal caller added two rushing touchdowns for good measure.
Prince Avenue took a 13-0 lead on a 3-yard touchdown run by Johnson and Vandagriff's 45-yard pass to Pittman. Trinity Christian responded with a nine-yard touchdown pass from David Dallas to Joshua Dallas at the end of the first quarter.
Vandagriff's 19-yard pass to Johnson with :40 left in the first half gave PACS the 20-7 lead entering the locker room. David Dallas scored on a two-yard run with 9:31 left in the third quarter to trail 20-14 but Landon Owens put the Wolverines up 27-14 on a short run minutes later. David Dallas again pulled Trinity to within a score, 27-21, with 10:41 left in the game but two fourth quarter touchdown runs – one by Vandagriff and one by Owens – put the game out of reach.
Prince Ave amassed 466 yards of offense – 262 passing yards, 204 rushing yards. Owens led the backfield with 17 carries for 110 yards and two touchdowns. Vandagriff had 12 carries for 87 yards and a touchdown. Pittman had five catches for 90 yards and a touchdown. Johnson had three catches for 28 yards and a touchdown. David Ridings led Wolverines with 9.5 tackles on defense with one sack.
Trinity Christian quarterback Dallas was 19-of-28 passing for 277 yards and a touchdown while rushing 20 times for 61 yards and two touchdowns. Joshua Dallas had 11 receptions for 162 yards and a touchdown for Trinity.
A-Public: Irwin County 27, Brooks County 19
The Benyard twins have been standouts for Irwin County and playing in the last game of their high school football careers, Gabe and Garland went out in style, leading the Indians to a 27-13 win over Brooks County in the Class A Public title game.
In the first half, Gabe was dominant, scoring on runs of 35 and two yards and a 53-yard touchdown pass from quarterback Cody Soliday. Garland had one of the biggest defensive plays of the first half when he stopped Brooks' Omari Arnold an inch short of a first down which set up Gabe's touchdown pass.
Irwin led 20-13 at the half, Brooks scoring on a 35-yard touchdown pass from Nitavion Burrus to Willie Brown and a 15-yard run by Arnold. Derrick Taylor provided the Indians' first score of the second half with a 34-yard interception returned for a touchdown. Taylor then made another interception with 3:22 left in the game which stopped a late Brooks' drive. Brooks scored on a 13 -yard pass from Buruss to Brown with 34 seconds left in the game but the Indians then recovered the onsides kick to seal the win.
Soliday was 9-of-14 passing for 154 yards and a touchdown. Gabe had 14 carries for 92 yards and two touchdowns and had six catches for 89 yards.
Burrus was 12-of-22 passing for 125 yards and two touchdowns for Brooks. Arnold had 21 carries for 115 yards and a touchdown. Brown had seven receptions for 68 yards and two touchdowns.
Irwin finished the season at 12-3, Brooks ended the year at 13-2, both losses to Irwin County. The Irwin seniors went 50-6 overall with four state title game appearances.
GHSA GIRLS FLAG FOOTBALL ENTERS THE FRAY
Calvary Day's victory over Portal in the inaugural A-5A Girls Flag Football State Championships ushered in a new era of girls sports for the Georgia High School Association earlier on Monday.
"I think this is great," said Calvary Day head coach Chad Griffin. "I think that our mentality of our girls has been 'Hey, now we get to feel the same feeling the boys do on Friday nights'. Sure, the atmosphere is a little different. Our boys team was one game away from a state title before losing the Trinity Christian and so for the girls to get here and be in the locker room and walk out on a stage like that and to be on GPB, it's just huge."
Two crucial plays sent the state title to Savannah with the Cavs. With 1:38 left in the game, senior defensive back Naveah Hamilton made an acrobatic interception to seal the 6-0 victory as Portal tried for a game-tying touchdown. Hamilton followed the quarterback's eyes, positioned herself and left the ground as the ball neared, her jump timed perfectly.
"Most of our girls were also basketball players," he said. "And she's one of our best defensive players in basketball. She reads the game well from that standpoint. I think it's just a great intangible for her is how she plays on the basketball court is the same that she played on the football field today."
At the apex of her leap, as high as she could fly, Hamilton grabbed the ball with her fingertips and secured it while falling, all but sealing the victory for Calvary Day.
"She dropped into coverage, read the quarterbacks eyes and saw the play and made it happen," coach Griffin said. "She went up there, full length, everything was outstretched and made the play and it was super exciting to watch and to see how her teammates reacted to that play."
The game started slow, but after a scoreless first half Calvary's sophomore quarterback Hannah Cail passed to senior wide receiver Katie Ellenwood for a 10-yard touchdown pass to put the Cavs up with 9:47 left in the game. The touchdown was set up by a long kickoff return by junior back MahKayla Premo.
"I was also proud of Katie Ellenwood," said Griffin. "She came back and made that touchdown catch for us to go up 6-0. She had dropped one earlier and it takes some mental toughness to come back from a drop like that. She came right back and made a huge play for us."
6A-7A Flag Football Championship: West Forsyth 26, Hillgrove 25
The Wolverines outlasted Hillgrove in a double-overtime thriller after leading 13-0 at the half to capture the 6A-7A state championship and an extra-point from senior quarterback Haley Dornan proved the difference.
"I saw that gap and I wanted it and so I just went for it," Dornan said. "It means everything. I am so proud of these girls. We said last year our goal was to be here and I'm so proud we accomplished that."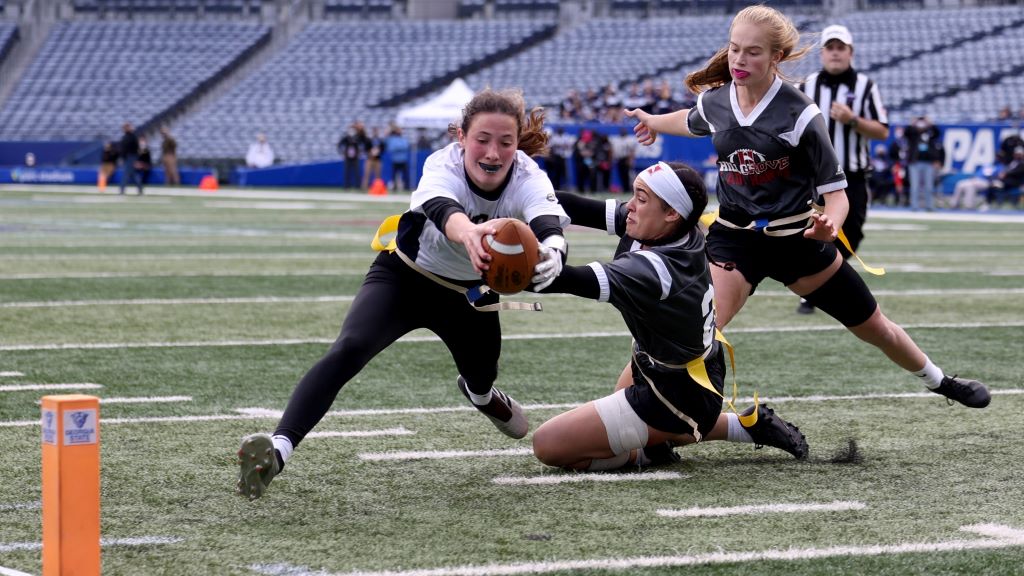 (PHOTO: West Forsyth quarterback Haylee Dornan scores the game-winning extra point. JASON GETZ FOR THE ATLANTA JOURNAL-CONSTITUTION)
The Wolverines got scoring started on a touchdown pass from Dornan to senior wide receiver Caroline Coggin with 16:30 left in the first half. Coggins scored again on a 20-yard pass from Dornan to give West a 13-0 lead. Hillgrove got on the board with a 40-yard touchdown pass to junior receiver Lauren Render with 14:53 left in the game. The Hawks tied the game at 13 on a touchdown pass from senior quarterback Lindsay Bell to senior receiver Reina Checo with 3:18 left in regulation.
"To win the first one of something means a lot," said West Forsyth head coach Mike Pruitt. "You saw how competitive these girls are. We just happened to have one more play than they did."
The GHSA saw 100 schools competing in flag football this year–in what marked the first sanctioned season for the sport–and after the success of the first two championship games, you can likely expect more classifications next season.
If you want to WATCH the state championships, follow the link.
See the brackets HERE.
For PHOTOS of the Flag Football Championships, follow the link.
For LIVE STATS go here.