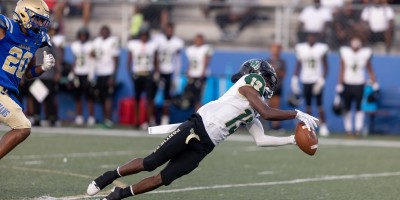 Reigning Class 3A champion Cedar Grove got an emphatic victory over visiting Calvary Day in a quarterfinals battle between the top-ranked Saints and second-ranked Cavaliers, advancing to the Final Four for the seventh time in the past eight years with the 30-0 win.
The Saints began the game with an opening drive that featured conversions on third and fourth down, ate up 7:16 of clock and ended in a touchdown from sophomore quarterback EJ Colson on a keeper. Cavaliers quarterback Jake Merklinger answered with a 33-yard run deep into Cedar Grove territory, but the drive ultimately stalled out, and Saints junior Chase Kerns came up with his 15th tackle for a loss of the season on Calvary Day's 4th-and-14 attempt to force a turnover on downs.
Cedar Grove took a 10-0 lead in the second frame on another long, punishing drive that was first extended by a roughing-the-punter penalty when the Cavaliers initially forced a Saints punt and later by a late hit call. The Saints ultimately settled for a field goal from Amari Forte before the Calvary Day offense took the field for just the second time all game with 4:40 left in the half. Possession was short-lived for the Cavaliers, however, and Merklinger's punt was blocked to set up a quick 21-yard scoring strike from Colson to Barry Jackson for a 17-0 edge at the break.
The Cavaliers offense appeared to find a groove late in the third quarter, marching to the Cedar Grove 33-yard line on a long reception from Troy Ford and a 16-yard scamper from Antonio Butts Jr. before converting on 4th-and-3. The final frame began with the Cavaliers at 1st-and-goal, but Kerns' sack of Merklinger led to Calvary Day's first field goal attempt of the season, and it was blocked by Jakyre Horton. Demarcus Smith took a 60-yard trip to the end zone shortly after to seal the win, and Jakarri Ponder added a rushing score on the game's final play for the exclamation point.
The AJC has writers at Westlake at Mill Creek, Grayson at Milton and Walton at Carrollton. Follow the link to see the full brackets or go here to see Todd Holcomb's Friday Night Wrap. 
See the full quarterfinal roundups below.
Class 7A
Colquitt County 52, North Gwinnett 17
North Gwinnett got the better of Colquitt County in the 2017 7A title game, but the Packers have now eliminated the Bulldogs in the quarterfinals for the second time in the five years since. No. 2-ranked Colquitt County led 21-3 after the opening frame before North Gwinnett cut its deficit to 28-17 late in the second. The Bulldogs never scored again, however, and the Packers closed with 24 unanswered points. Quarterback Neko Fann finished 15-of-22 passing for 342 yards and six touchdown passes, tying a school record.
Class 6A
Roswell 42, Thomas County Central 34
Third-ranked Roswell trailed second-ranked Thomas County Central 24-6 at halftime before seizing control — and the lead — with a 29-point third quarter to advance to the semifinals for the first time since 2016. The host Yellow Jackets led 17-0 before the Hornets got on the board in the second quarter, then added another score before the break. The eventful third quarter began with an interception by the Roswell defense, a turnover on downs for the Hornets' offense, and a TCC punt before quarterback KJ Smith broke free for a 63-yard touchdown to begin Roswell's scoring onslaught. The 36-7 run gave the Hornets a 42-31 advantage before TCC added a field goal for the game's final margin.
Langston Hughes 56, Woodward Academy 28
Langston Hughes is advancing to the semifinals for the second straight year after defeating Woodward Academy 56-28. Despite the large margin of victory, the game was knotted 21-21 at the half. Woodward Academy answered scores and mistakes by Langston Hughes early on with a pair of Jalen Woods touchdown passes and a pick-six on defense. Langston Hughes pulled away in the third quarter, however, with 21 unanswered points on two rushing touchdowns and one passing. Printess Air Noland finished with four total touchdowns.
Rome 17, Marist 7
Rome's defense put the clamps down on Marist as the home team battled to a hard-fought victory. Quarterback Reece Fountain and receiver Will Bray provided most of the offense, connecting on a 54-yard touchdown midway through the first quarter and for a 12-yard score late in the fourth. The Wolves, who led 7-0 at halftime and 10-0 after three quarters, also got a 26-yard field goal by Diego Cordon. Marist cut its deficit to 10-7 early in the fourth on a one-yard run by Jack Euart, but Rome responded with a scoring drive that culminated in Bray's second touchdown to put the game away.
Gainesville 49, Houston County 35
Gainesville defeated Houston County 49-35 to advance to the semifinals for the first time since 2013. Houston County held a 14-7 lead early in the game thanks to two Antwaan Hill passing touchdowns of 35 and 32 yards, but Gainesville went on to put up two 21-point quarters and pull away.  Running back Naim Cheeks had touchdown runs of 65 and 45 yards and a receiving touchdown of 65 yards. Tre Reece had a 95-yard kickoff return for a touchdown and a 65-yard touchdown reception.
Class 5A
Dutchtown 40, Mays 34 (OT)
Dutchtown hung on to defeat Mays 40-34 in overtime to advance to the semifinals. There were 11 lead changes in the back-and-forth affair, the second to last of which came on Saulamon Evans' passing touchdown that gave Mays a 34-31 advantage in the fourth quarter. Dutchtown then tied the game with a field goal with less than a minute remaining on the game clock. Mays was unable to score on their first overtime possession and Dutchtown ended the game with a rushing touchdown to stamp their ticket to the next round.
Warner Robins 31, Creekside 28
Warner Robins made it to the semifinals for the sixth-straight year with an overtime victory over Creekside. Both Daiquan White of Creekside and Myles Joyner of Warner Robins had pick-sixes in the first quarter, and the game was tied 21-21 at the half. Warner Robins turned a blocked punt into a touchdown on special teams to take the lead until Creekside connected for a 40-yard touchdown pass for another tie early in the fourth. The Grizzlies had the ball first in overtime, but were unable to put points on the board. Warner Robins then marched down the field and ended the game with a 31-yard field goal from Daniel Barber.
Cartersville 56, Coffee 28
Paul Gamble put Carversville up 7-0 on a 3-yard run capping a 70-yard drive in under three minutes to open scoring. The rest of the game was similar. Malachi Jeffries pushed the lead to 14-0 on an 8-yard reception from Gamble. With 3:09 left in the first quarter, Gamble scored on a 4-yard run to extend the lead for Cartersville. Maurice Hansley scored on a 1-yard run to get Coffee on the board 21-7. Collin Flectcher caught a 45-yard pass on a wheel route and scored with 7:13 left before the half to expand Cartersville's lead. Khristian Lando's 12-yard run put Cartersville up 35-7. Gamble's third touchdown run pushed the lead to 42-7 before Antwain McDuffie scored on a run for Coffee to cut into the lead 42-14 at the half. Collin Fletcher scored on a 40-yard fumble recovery to put the game out of reach and Lando's second touchdown run with :53 seconds left in the game  secured the win.
Ware County 35, Calhoun 0
Dae'Jeaun Dennis accounted for all five of Ware County's touchdowns in a dominant performance against visiting Calhoun. Dennis scored all five on the ground, including an 18-yard scamper to put the first points on the board and a 13-yarder late in the third quarter. Interceptions by KJ Baker and CJ Johnson led to two of Dennis' touchdowns. The Gators led 14-0 after one quarter, 21-0 at halftime and by the final 35-0 margin going into the fourth.
Class 4A
Troup County 38, Holy Innocents' 28
Troup County scored 31 unanswered points in the first half, then ultimately held off a furious rally by Holy Innocents' to preserve a hard-fought road win. Following an early 7-0 deficit, the Tigers got touchdowns both on the ground and through the air from quarterback Taeo Todd on the way to a 31-7 halftime advantage. Holy Innocents' stormed back to get within three points at 31-28 with six minutes still remaining, but a time-consuming final drive by Troup County culminated with a clinching touchdown by Todd from four yards out. The Tigers also got touchdowns from Qua Moss, Maliki Poythress and Logan Sinkfield.
North Oconee 31, Wayne County 12 
North Oconee took a 7-0 lead late in the first half with a Trey Lenhardt 70-yard interception return touchdown and tacked on a JJ Pole field goal at the buzzer to push the lead to 10-0. Khalil Barnes forced a Wayne County fumble and Dominic Elder ran in a touchdown to push the Titans' lead to 17-0. Jack Fabris produced another North Oconee turnover with an interception later in the third quarter and quarterback Max Wilson ran in an 8-yard touchdown that pushed the lead to 24-0. Wayne County scored on a fumble recovery with 5:41 left in the game, but Elder returned to the endzone for his second touchdown run before Wayne County's late 67-yard score marked the final tally.
Benedictine 34, Stockbridge 14
Benedictine is advancing to the semifinals for a third straight year after a 34-14 victory over Stockbridge. Stockbridge struck early with a-15 yard scoop-and-score, but Benedictine answered with back-to-back touchdowns. Stockbridge then knotted it up at 14-14 heading into the break. The Benedictine defense then clamped down in the second half and shut out Stockbridge. Bryce Baker scored a rushing touchdown in the second half and Zach Maxwell had a pick-six that effectively sealed the game for Benedictine. Asher Sigmon added two field goals from 30 and 34 yards out.
Cedartown 26, Bainbridge 21
No. 1 ranked Cedartown trailed host Bainbridge 21-13 at the half before rallying past the Bearcats and improving to 13-0 with the 26-21 victory. Xavier Hargrove cut the deficit to 21-19 with a 23-yard touchdown run with 5:38 left in the third quarter and then senior Eli Barrow produced a sack and fumble recovery to set up a 4-yard Harlem Diamond touchdown run that proved to be the game-winner ahead of a scoreless final frame.
Class 3A
Carver-Atlanta 28, Thomasville 23
After trailing 6-0 entering the second quarter, and 13-0 early in the second quarter, Carver took a 16-13 lead at the half and outlasted the Bulldogs in a second-half dogfight to secure the victory and advance to the semifinals. Jay Randall put the Bulldogs up 6-0 on a 2-yard run late in the first quarter. Thomasville went up 13-0 on an 89-yard touchdown run from Randall. Carver got on the board with a 13-yard fumble return from Jamontez Hines and a 2-point conversion run from Shoun Bilal made it a 13-8 game. Carver took the lead on a 35-yard pass from Bryce Bowens to Zyee'k Mender and the 2-point conversion run from Jaquavious Bryant made it a 16-13 game. Bilal scored on a 20-yard run to push the lead to 22-13 after the failed 2-point conversion. Thomasville's defense forced a safety with seven minutes left in the third quarter but Carver responded with a defensive stop and 55-yard touchdown run from Bownes early in the fourth quarter. The Bulldogs forced another safety to make it a 28-17 game and scored a touchdown on a 5-yard run from Anthony Anderson with four minutes left in the game but could not overcome the deficit. Carver will host Sandy Creek in the semifinals  for a chance at back-to-back championship appearances.
Oconee County 14, Carver-Columbus 6
Whit Weeks caught the game-securing touchdown and intercepted a pass to seal the victory for visiting Oconee County. CJ Jones scored on a 1-yard run to give the Warriors the 7-0 lead before Weeks' showing. Oconee will travel to Cedar Grove for the semifinals.
Sandy Creek 51, Savannah Christian 21
Sandy Creek led 21-0 after the first quarter and 37-7 at the half in a romp of Savannah Christian to advance to the semifinals. The Patriots led 44-21 entering the fourth quarter to secure the win. Sandy Creek will travel to Carver-Atlanta for a Region 5 rematch of the Oct. 14 game Sandy Creek won 22-12. In fact, three of the four semifinalists – Sandy Creek, Carver and Cedar Grove – are Region 5 programs.
Class 2A
Fitzgerald 21, Rockmart 14 (OT)
No. 1-ranked Fitzgerald never led in regulation of its quarterfinals matchup with the seventh-ranked Rockmart, but the Purple Hurricane got a fourth-quarter score to knot the game at 14-14 before winning in overtime. Rockmart had a shot at the win, forcing a turnover on downs by Fitzgerald to get the ball back with 0:34 left in regulation. The Yellow Jackets failed to get into field goal range, however, and the offense was again unsuccessful following Fitzgerald's go-ahead touchdown. Fitzgerald remains undefeated on the season and will square off with Fellowship Christian in the semifinals.
Fellowship Christian 40, Pierce County 22 
Fellowship led 10-0 after the first quarter and 20-7 at the half to move past Pierce County and into the semifinals. The victory advanced the Paladins into the semis for the second time in a row under head coach Tim McFarlin, who took over in 2021 after leaving Blessed Trinity. Fellowship will travel to Fitzgerald for a chance at the program's first-ever championship berth.
Appling County 44, Callaway 21
No. 3 ranked Appling County (11-1) picked up its 10th-straight win and outscored Callaway 28-7 in the second half after holding a narrow 16-14 advantage. The Pirates will face Thomson in the semifinals in a rematch of last year's 21-7 win over the Bulldogs in the Class 3A quarterfinals.
Thomson 56, South Atlanta 38
No. 4 ranked Thomson (12-1) advanced to the semifinals for the first time since 2016 in an explosive road win over No. 2 ranked South Atlanta (11-1). The Bulldogs led 14-12 at the half and held off South Atlanta's rallies before pulling away with a Jah'Kiaus Jones touchdown pass to Jaquan Hart on a key third-and-9 from the 41-yard line to push the score to 49-38. Thomson's Jontavis Curry provided three touchdowns in the fourth quarter to counter South Atlanta's production—including a 93 and 94-yard kickoff return touchdown and a 1-yard rushing score.
Class A Division I
Irwin County 42, Mt. Pisgah Christian 14
Irwin County briefly trailed 7-0 but scored the next 42 points of the game to sprint past visiting Mt. Pisgah Christian. The Indians' advantage was only 14-7 at halftime before they outscored the Patriots 14-0 in the third quarter and added two touchdowns in the fourth. Bo Payne and Ronnie Sanders both scored twice for the Indians and their dominant defensive performance over the final three quarters included an interception by Zay Payne.
St. Francis 37, Bleckley County 21
St. Francis stormed to a 27-7 halftime lead in the program's first-ever quarterfinals appearance and cruised to a 37-21 victory. Jaiden Jenkins gave St. Francis a 6-0 lead with a 1-yard touchdown run and then went through the air for back-to-back scores—including a 53-yard strike to Cameron Robinson to push the lead to 20-0. Jenkins tossed his third first-half touchdown after a Bleckley County touchdown pass to push the lead to 27-7.
Swainsboro 35, Rabun County 10
The second-ranked Tigers are advancing to the semifinals for the second-straight year following a 35-10 win over visiting Rabun County. Swainsboro trailed 10-7 in the second quarter before junior linebacker Jerrod Steward hauled in an interception and quarterback Ty Adams capitalized with a rushing score for a 14-10 halftime advantage. Adams finished the game with a pair of touchdown passes as well, and junior receiver Demello Jones had a touchdown reception and a score on the ground. The Tigers will face Irwin County next week.
Prince Avenue 23, Metter 7
With less than two minutes remaining in the first half, Prince Avenue trailed visiting Metter 7-0 and had run only two offensive plays. However, the Wolverines turned things around in a big way on both sides of the ball en route to a convincing win. A 26-yard touchdown pass from Aaron Philo to Josh Britt made it 7-7 at halftime before Prince Avenue took the lead in the third quarter on a Mac Bradley run. A blocked punt led to a field goal that put the Wolverines ahead 17-7 going into the fourth, after which Luke Leverett iced it with a 98-yard interception return for a touchdown. Britt added an interception of his own to thwart any designs of a comeback for Metter.
Class A Division II
Schley County 55, Wilcox County 23 
Schley County previously defeated Wilcox County 35-0 in the regular season and improved to 11-2 with a 55-23 win to sweep the season series. Quarterback Jay Kanazawa had two first half touchdown passes and Zayden Walker and Soloman Jalewis returned interceptions for Schley County touchdowns to fuel the Wildcats' 27-9 halftime lead. The Jalewis interception was Schley County's 24th of the season.
Bowdon 36, Early County 26 
No. 1 ranked Bowdon overcame a 19-0 deficit before closing out host Early County 36-26. The Red Devils got on the board with a Dylan Akins touchdown run before the half and recovered an Early County fumble to start the second half that was turned into an 11-yard Akins touchdown run. Akins' third rushing score and a Will Rainwater 2-point conversion gave Bowdon a 22-19 lead heading into the final frame. Bowdon extended its lead following an Early County interception and touchdown run that pushed the edge to 29-19. Early County cut the deficit to 29-26 with a Tycavion Stovall touchdown run, but Bowdon's Robert McNeal answered with a 39-yard rushing score with three minutes left to give Bowdon a 36-26 edge.
Johnson County 36, Clinch County 21
No. 6 ranked Clinch County (10-3) outgained No. 2 Johnson County (13-0) 314-to-242 in total yards, but was beset by five turnovers and the Trojans took a 24-7 halftime lead before advancing to the semifinals for the first time since 2005.
Lincoln County 24, Dooly County 21
Host Lincoln County took a 7-0 lead early in the second quarter on a touchdown run by Semaj Jenkins, but Dooly County's Jalen Hall hauled in a Bobcats' touchdown right before the half to tie it 7-7. Dooly County grabbed its only lead of the game early in the third quarter with a Lorenzo Clayton touchdown run, but Lincoln County's Trey Huff tied it at 13-13 with a touchdown run and Abraham Crawford connected on a field goal to reclaim the lead at 17-14. Jenkins returned to the endzone for his second touchdown run to push the lead to 24-14 and Dooly County's Clayton ran in his second score for the final tally as the Red Devils closed out the victory.